Seasonal Changes
At the start of season
Pedro Justiniano (€500K), Dmitri Shamov (€105K) and Luan Capanni (€110K) joined at the start of the season. For some reason I forgot to take a screenshot for Luan though, so that is at the end of the season.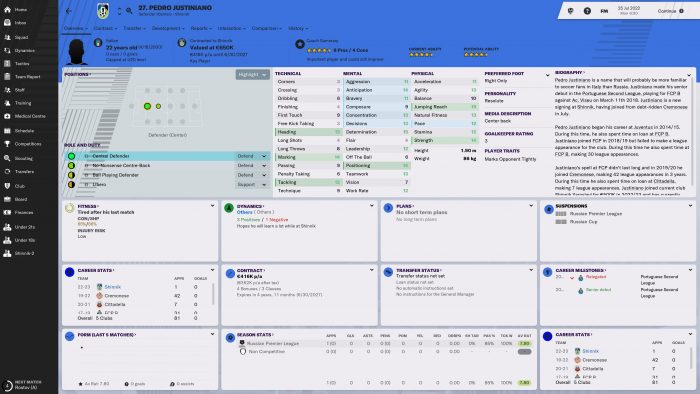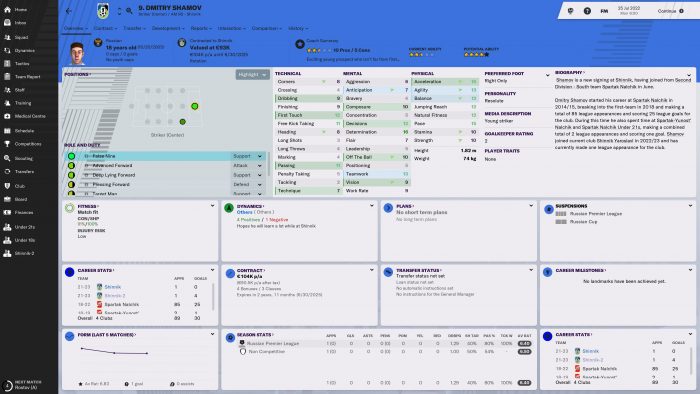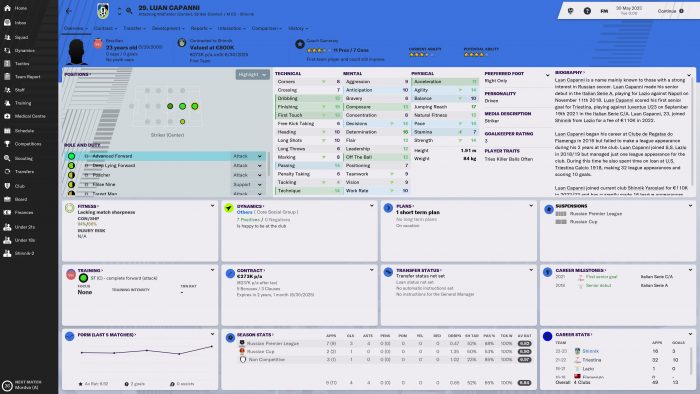 Vasyl Grytsuk (free) joined for one season before retiring. He was installed as the captain as per assistant's advice, but he managed only three appearances and perhaps it was a poor decision.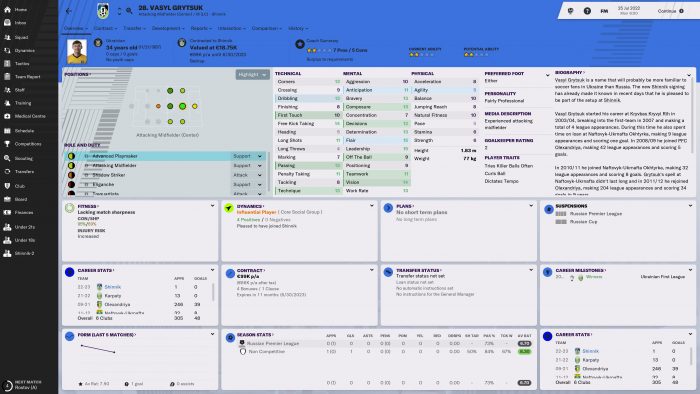 Finally, Viktors Krizanovskis (€30K) joined from Latvia. He was not intended to be in the first team for this season, but he was used as substitutes for five times, usually because I wanted a tall striker, and Luan Capanni was a bit injury prone so he was not always available.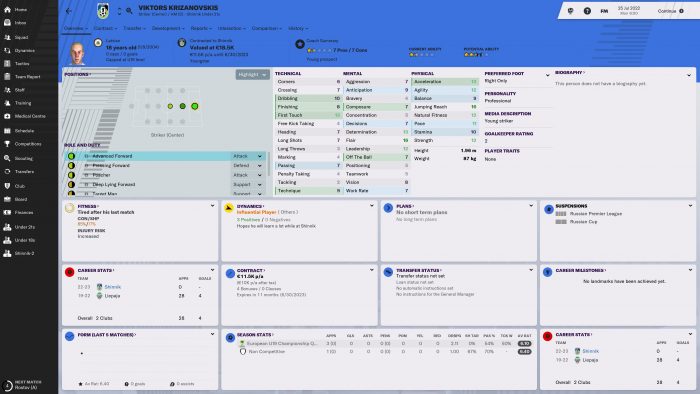 Mid-season break
Branko Hustic (€325K) is brought in as a better option than Terekhov and he has better mental attributes than Matskhashivili.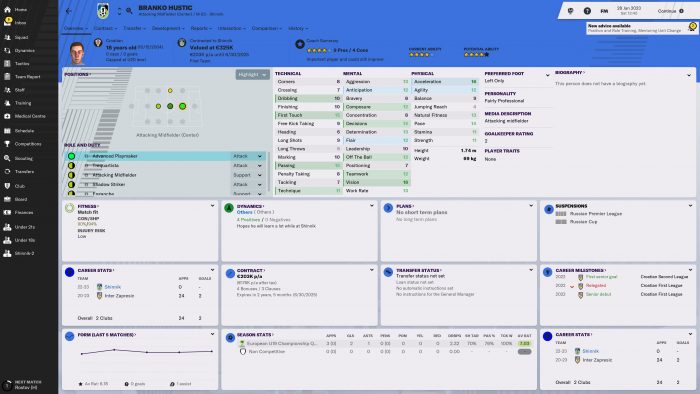 A major problem at the mid-season break was that Lyubimov was deemed unable to properly adapt himself to the left midfielder position despite given much playing time, and he was also not good enough for me to adapt my tactics for. The other option for the position, Williams Santana, declared retirement and was a bit too slow to start a game.
After trying to find a better option and failed, I reached to my "plan B" option in my shortlist, Daniel Paulson (€200K).
He turned out to be my best capture in this season. He scored 6 goals and assisted once in his 9 starts for the second half of the season, with an average rating of 7.81. I seriously doubt I would get a comparable option if I did found my "better option".
The secret to his success seems to be his very high long shot rating. Perhaps that's what I have overlooked with my other inverted wingers!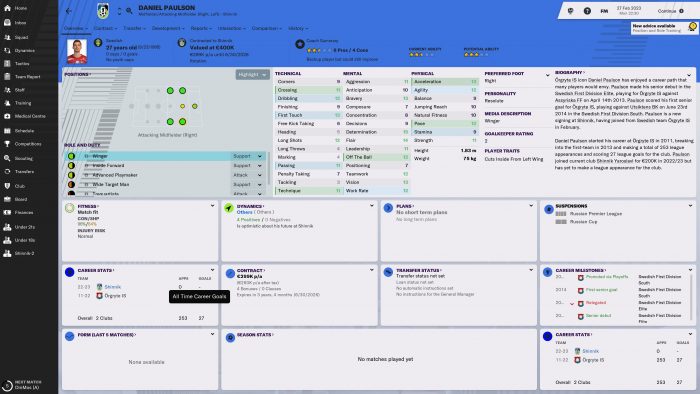 Kolbeinn Birgir Finnsson (€95K) was kind of a panic buy on the last day, as I feel I needed some extra versatility, and a cover for the very very thin left midfielder position.
The other addition is Andreas Sandstøl (€95K), as I was also trying to solve the problem where Kamilov was too influential and unsuitable for a super-sub position either. Later I reached a position where the selling of Kamilov was inevitable, and the addition of Andreas at least makes it less dangerous to lose an important central midfielder.
Foreign player limit
With all these foreign additions, and the Russian leagues actually gradually reducing its foreign player limits, I started to hit the limit in this season.
Part of the problem was that four of my five scouts were scouting outside Russia, so the known talents were proportionally distributed. I probably need some adjustment to scouting strategies if I want to stay within the limits.
Out
Lucas Minele was good, but Horváth was better so his time on the pitch was limited. And the right fullback position was well-covered, so he was sold for €95K.
Kuzmenok was unhappy after Justiniano joined, and I probably said something wrong and he was unhappy so he was sold for €20K after playing four games with high rating.
Ivanov (€10K), Geloyan (€45K) and Kamilov (€350K) played too little to be happy, so they were sold as well. Kamilov was actually quite strong, but I was stuck in the dilemma I explained before, and selling him for a healthy profit seemed to be the best solution.
Youth Intake
Another year of disappointment.
The best players are Alexandr Sidorov, Alexey Litvinov, Valery Kazakov and Victor Zyuzin.
This reminds me that different clubs have different tendencies and preferences. Some clubs really want to set up a good youth system, some do not. Apparently, Shinnik does not begin with a good one, and the board does not like it when I tried to bring the topic up.
Alas, I guess sometimes I can only change it gradually…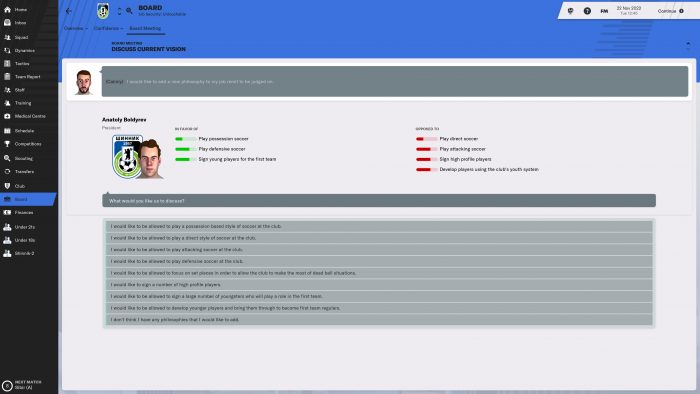 Season Summary
After spending the first half in top three positions, the first few matches after the winter break were less successful, and we needed a win to ensure a place in Europa League.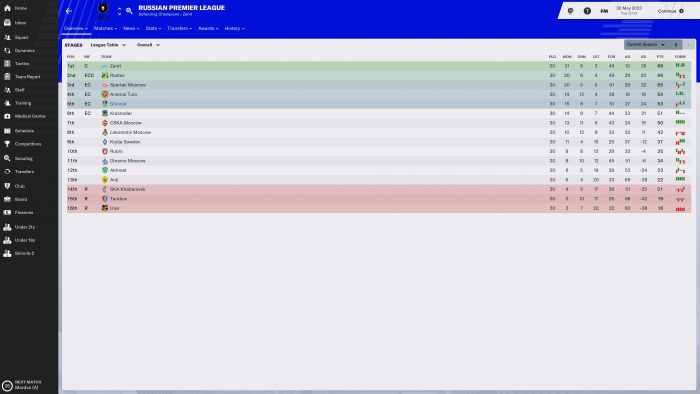 The cup run was not even quite incentivized, since I chose low bonus, but we won the second place after a lucky win against Lokomotiv Moscow.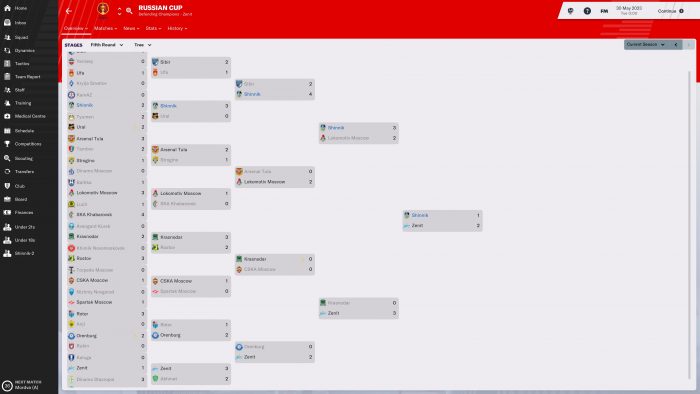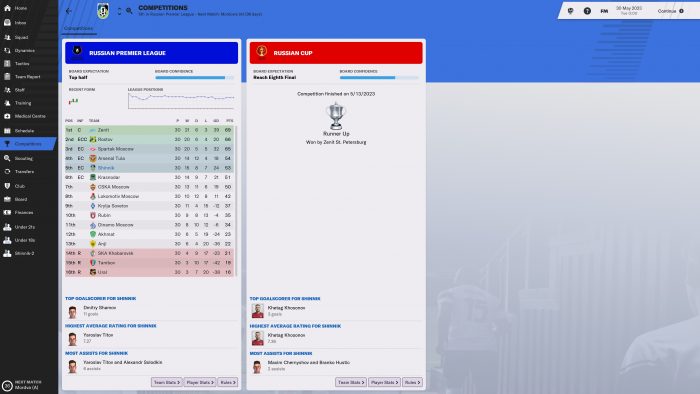 Shamov, Khosonov and Matviychuk entered the overall Best Eleven.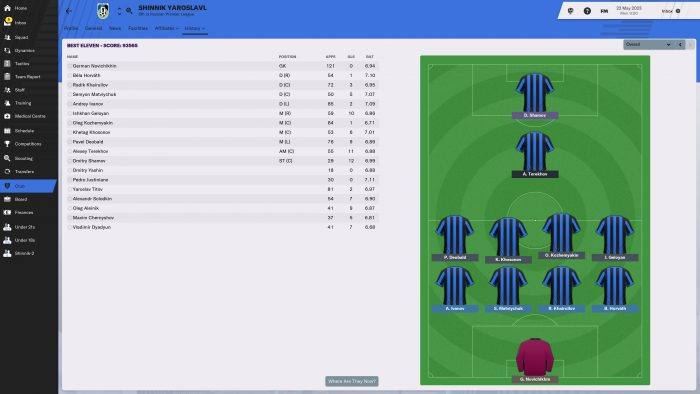 I personally think the most improved aspect of this season is attacking, as Shamov scored 12 goals and Paulson scored 6 goals in just 9 games. Overall, the we are 2nd best at goals scored, and only 6th best at goals allowed. Hence I would probably give more credit to the attacking players. But perhaps this shows that the in-game Shinnik fans pay more attention to sold defensive works, and the three fan favorite players are all defenders!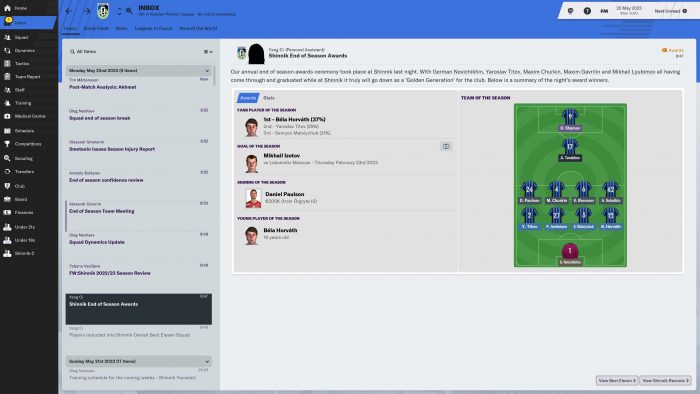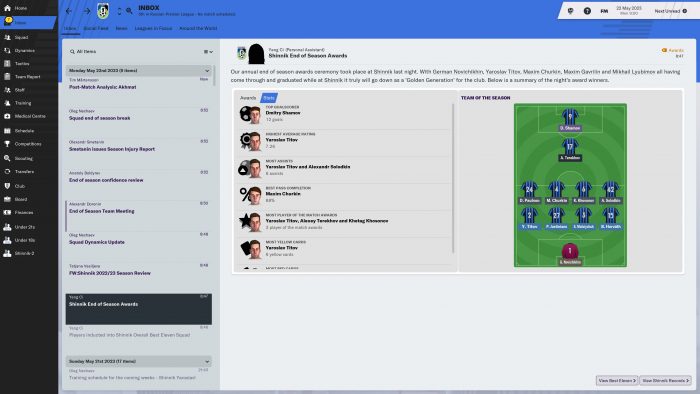 Horváth won his first ever Hungary cap.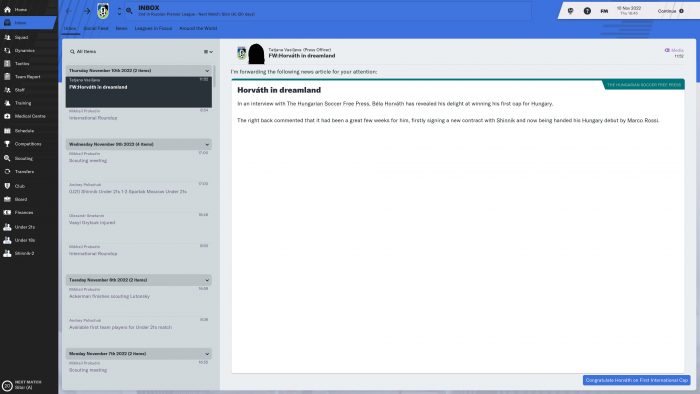 Awards
Me: Russian Head Coach of the Year.
Yaroslav Titov: Russian Premier Division Young Player of the Year.
Novichikhin: Russian Goalkeeper of the Year.
Mikhail Izotov: Russian Second Division – West Top Goalscorer. Well, he actually only played 6 games and scored 9 times in the B team, but it was good enough to win him the award. He also featured 12 times in the Premier Division, with just 2 goals and often cannot receive ball at all once opponents got used to his pace.
Player Development
Yaroslav Titov
Titov earned extra Work Rate and Leadership, making him even closer for a future captaincy.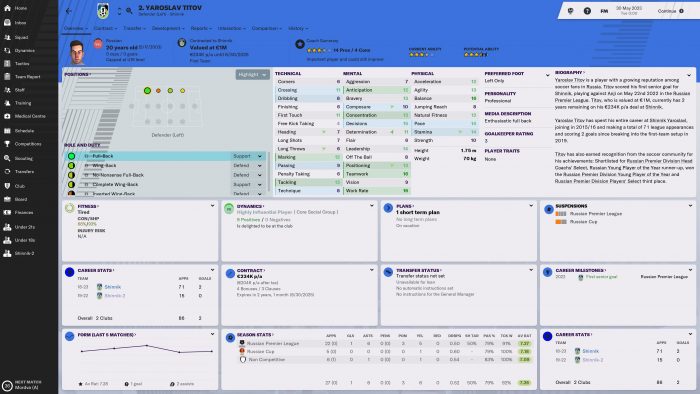 Maxim Gavrilin
Last mentioned in Season 3, Gavrilin is the reason that I do not need Minele any more. He has improved substantially in virtually all aspects, though I am not sure if "balanced" is better than "realist".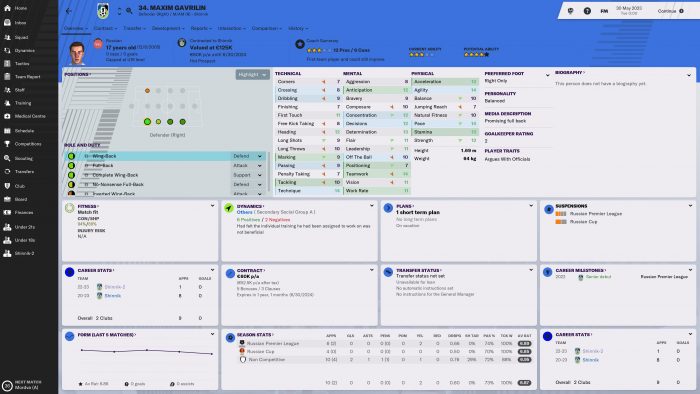 Mikhail Izotov
Izotov was last mentioned in the S1 post, but due to my lack of a fast striker, he was actually afforded decent amounts of matches for each of the five seasons, and his high natural fitness and excellent form in lower leagues ensured his growth.
However, since he is not quite effective in the Premier League, and is constantly unhappy in this season, perhaps I would still end up having to sell him.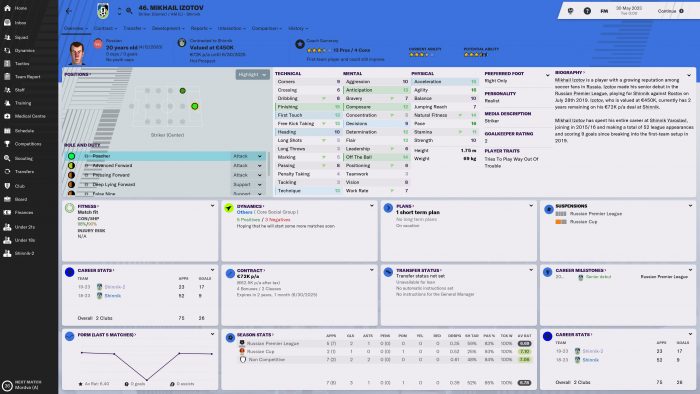 Others
Béla Horváth has grown 2cm taller, but lost 1 point of determination (now 12).
Finances
The general theme is that we earn more and spend more, making ever bigger spikes at the start of seasons and digging bigger holes near the end of seasons.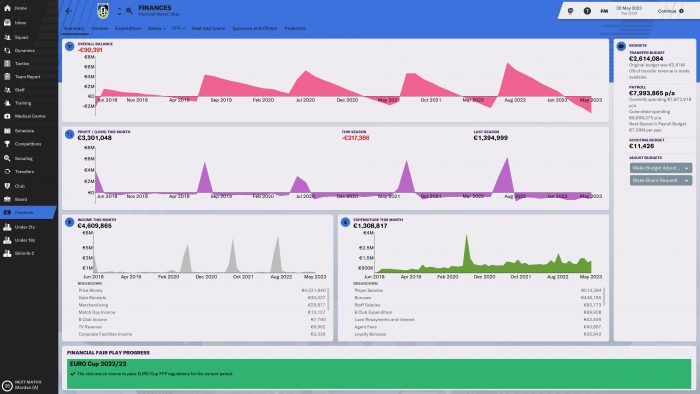 At the beginning of the season, good stuff happened.
…and at the end of the season, the bubble burst.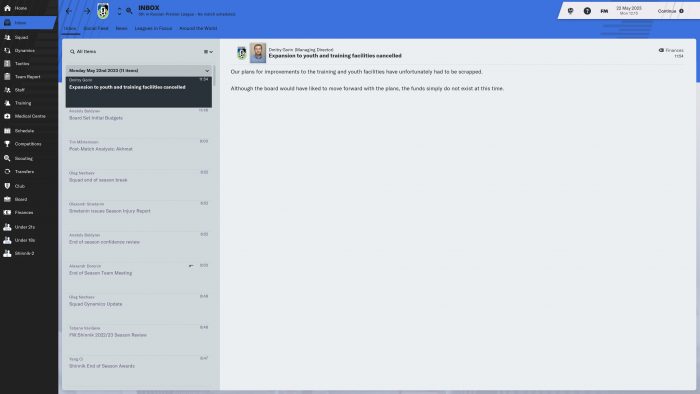 Well, I guess I need to concentrate more on controlling the spending. Staying within the budgets is easy, but actually helping the club's financial situation requires even tighter control.
On the other hand, Europa League in the next season probably requires extra squad depth, which either requires investments, or requires strategically giving up. I guess I would pick the latter.
I tried to pay more attention to social groups. At the start of the season, the three groups were similar to those of the last season.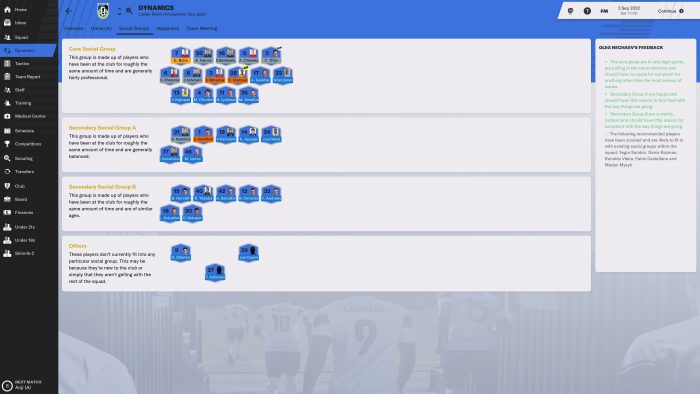 The previous Social Group B became more influential due to good performance and more starts, so it swapped with the previous Social Group A.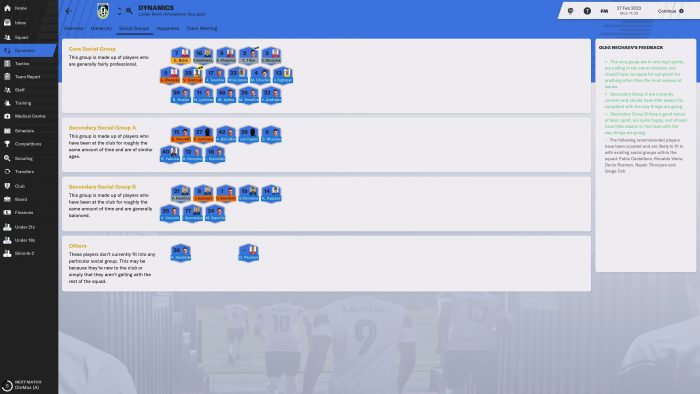 …but… near the end of the season, suddenly all players became one group.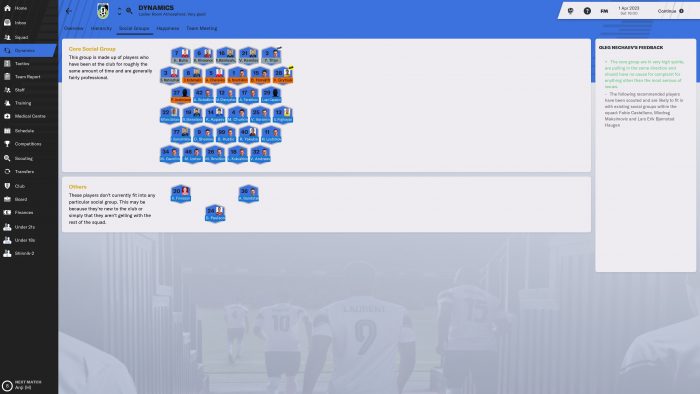 The big blob then split again, with joining time and personality as the major splitting factors.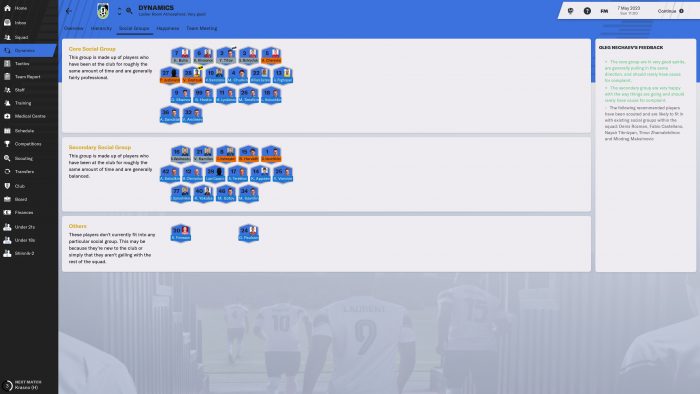 … and finally, the "fairly professional" group further split, this time the "newer player group" became the new core and "older player group" became the new Secondary Social Group B.
With the departure of Grytsuk and the gradual loss of influence of Bulia I guess it would eventually merge with the core group again…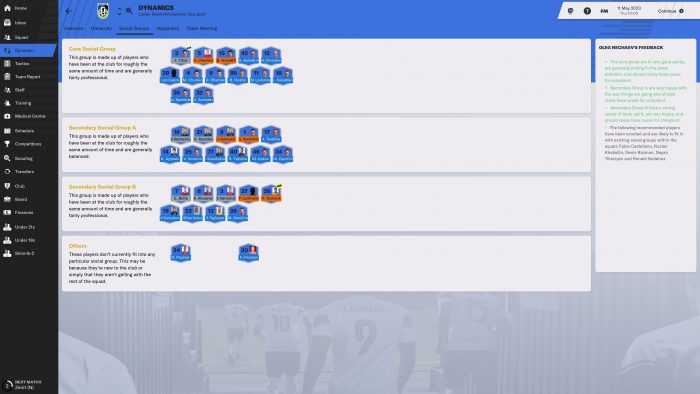 Conclusion
Attacking football and a place in the Europa League are what makes the next season even more interesting. However, the board (I mean, the AI) has been miscalculating for finances and I need to either be careful with spending, or be bold and bring some further rapid change that can send the team to the championship quickly, and fix the financial problem later, and with an increased income.