Seasonal Changes
Following the excellent performance in the last season, Shinnik 2 had entered Second Division – West, and turned professional. I guess the previous semi-professional status was imposed as part of the league limitations, but implementing it to B teams still sound weird.
Attackers
To fix the severe forward problem, I brought in Vladimir Dyadyun and Khyzyr Appaev: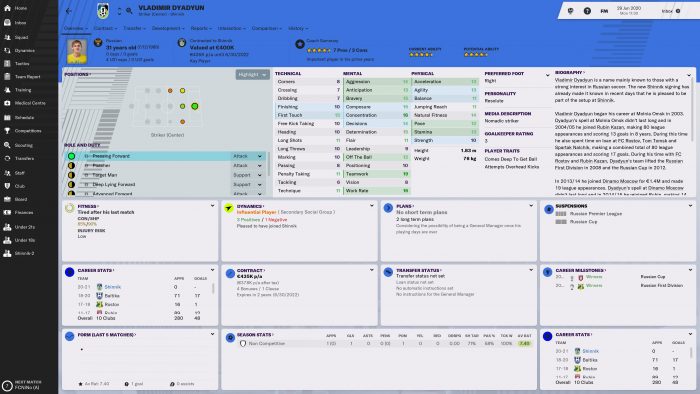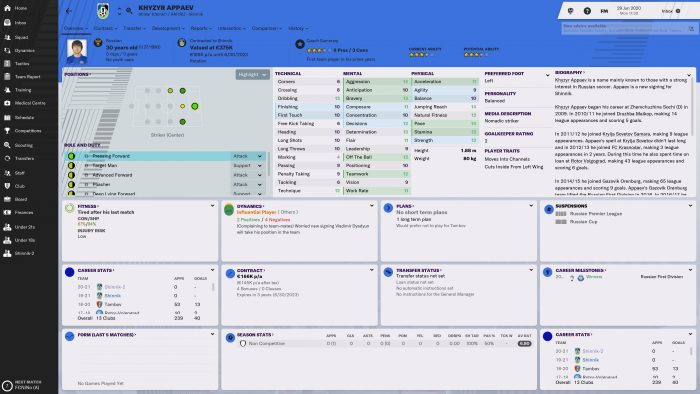 Unfortunately, Dyadyun joined later than Appaev, and Appaev immediately complained as he felt his position was threatened by Dyadyun. My attempt to appease him without making promises backfired, and I ended up with an unhappy Appaev.
To make things worse, Bulia was still angry about the selling of Tarasov. I thought his request was like "give young players a chance", but actually he also cared about their performances, and my attempt to bring more young players to play made him even more unhappy about the result. It was until the later stage of the season he decided to forget about it.
A more important addition to the team is Alexey Terekhov (screenshot taken at the end of the season). He solved my "where should I play Matskhashivili" problem — now that I have two strong AMCs, it became mandatory that I build my formation around this reality. And hence 4-4-1-1 became my main tactics for this season.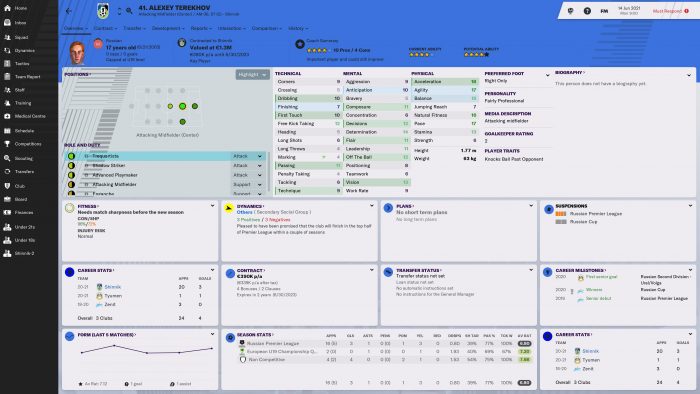 Defenders
Igor Kuzmenok (€11K), Roman Yakuba and Papa Gueye (€165K) are added to reinforce the defense line. Unfortunately, Gueye spent one season (with 12 appearance and decent performance) before he decided to retire.
Kuzmenok had been the fourth pick, and Smolkin was also often ahead of him because of his young age and Bulia's unhappiness thing. As a result, Kuzmenok was a bit under-utilized.
Yakuba was loaned out.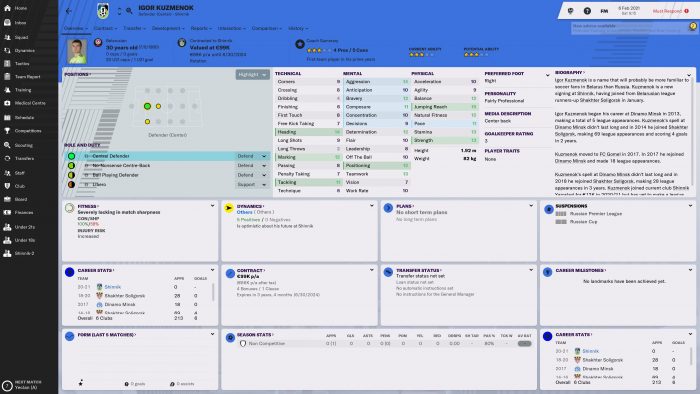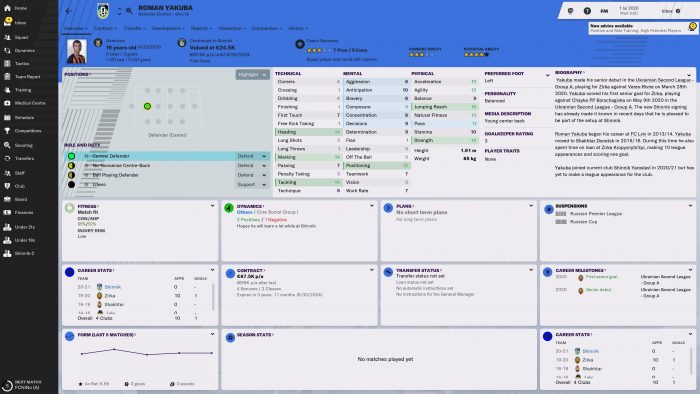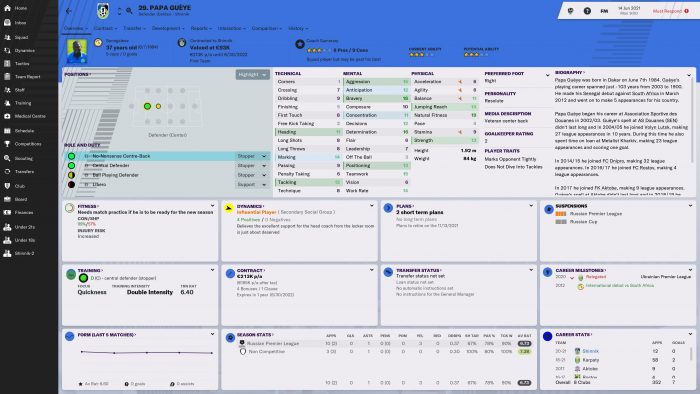 Outgoing Players
Evgeny Steshin and Dmitry Samoilov were sold out as they still had long contracts and were good players but under-utilized in the previous season.
The youth player Dmitry Beznyak fetched €165K after being unsettled by his favored club SKA Khabarovsk. At least no senior player is mad at me this time.
Cherevko is still very useful (in both mentoring and playing), but he generated rather poor coaching abilities, and he only wants a coach/player contract, which I ran out of slots for.
Youth Intake
Another year of disappointing youth intakes. I guess it proves that the youth coaching and youth recruitment ratings matter much more than Head of Youth Development attributes.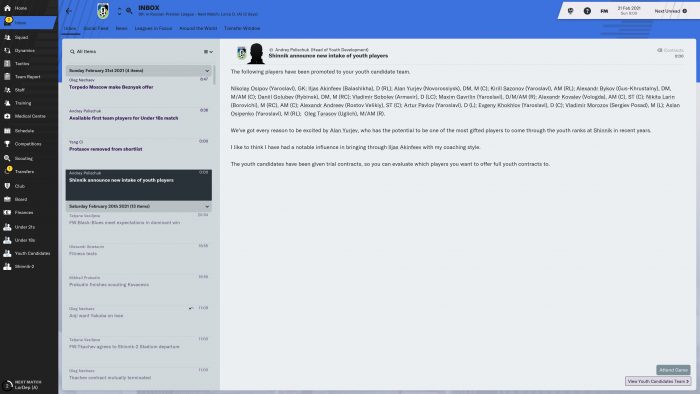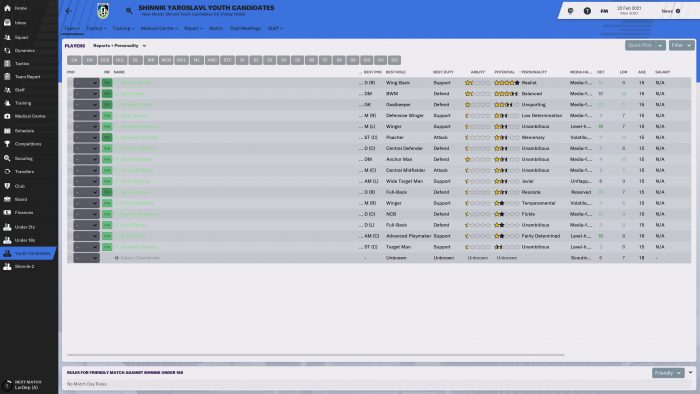 Anyway, Alan Yurjev and Maxim Gavrilin might be useful:
And Iljas Akinfeev might bring some positive change to the U18 team, I guess.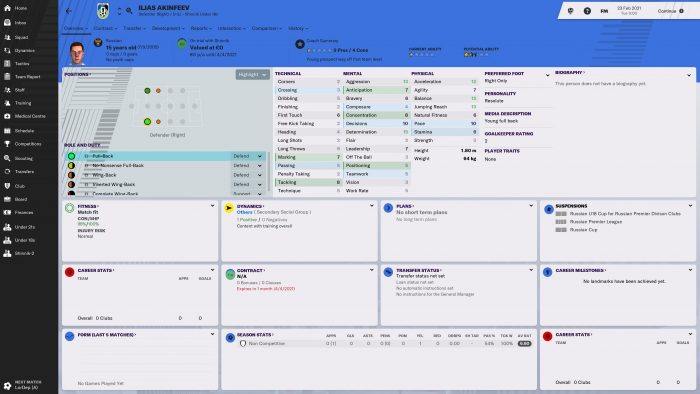 Season Summary
Since the original captain Nizamutdinov had retired, I chose Cherevko as the new captain for his decent leadership and awesome personality. However, there are three or four players who were more popular than Cherevko, and my decision caused a wave of unhappiness. Which turned out to be a metaphor of what is to come during the season.
Unhappy forwards, less-useful-than-expected defenders, and apparently my wingers also connecting fewer crosses (possibly due to my opponents figuring out how to counter me), and my second season in the top tier league was an unfortunate one. We ended up in the 13th position, and had to avoid relegation via the away goal rule.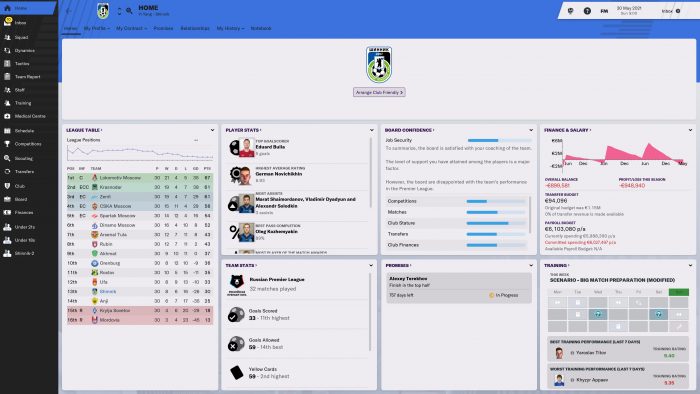 The team best eleven makes little change.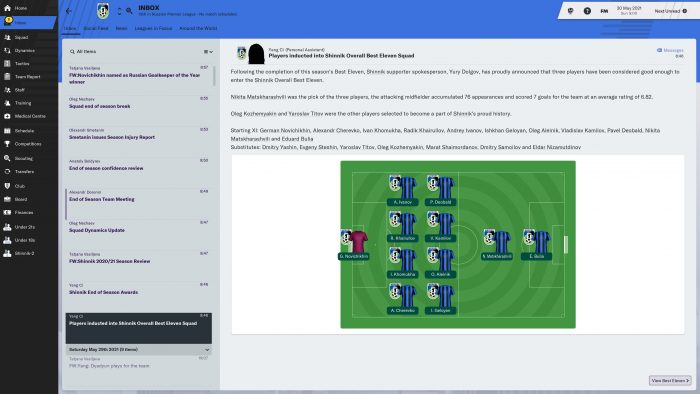 None of the players had an average rating over 7, and the best player is our goalkeeper, Novichikhin.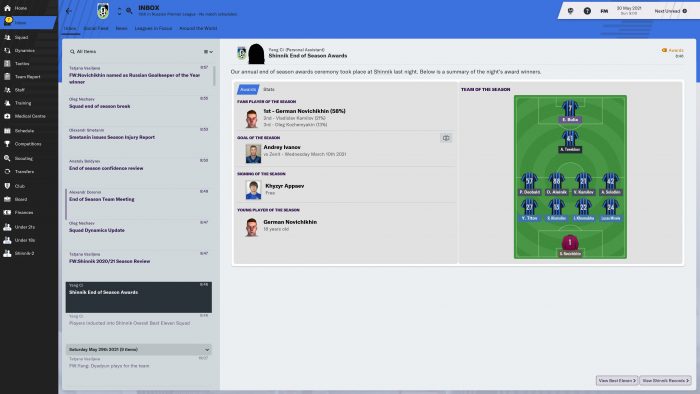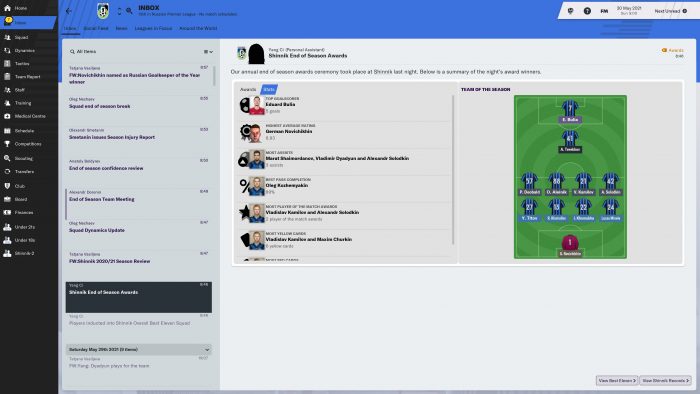 Another positive thing that happened in this season is that we managed to upgrade the training facilities to "great" and the youth training facilities to "average".
Player Development
German Novichikhin
The attacking sweeper keeper has been the top player this season. He also won the second place of Russian Young Player of the Season.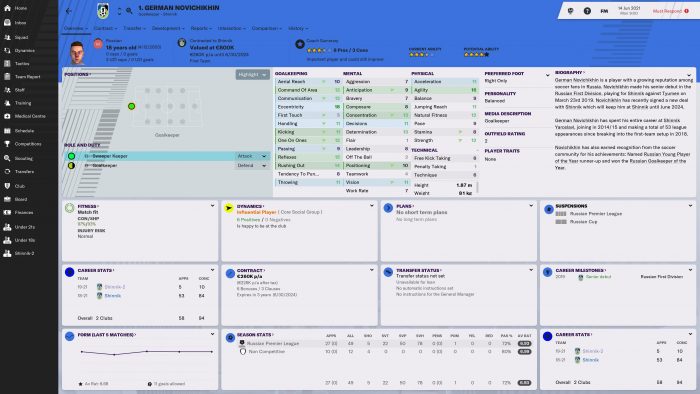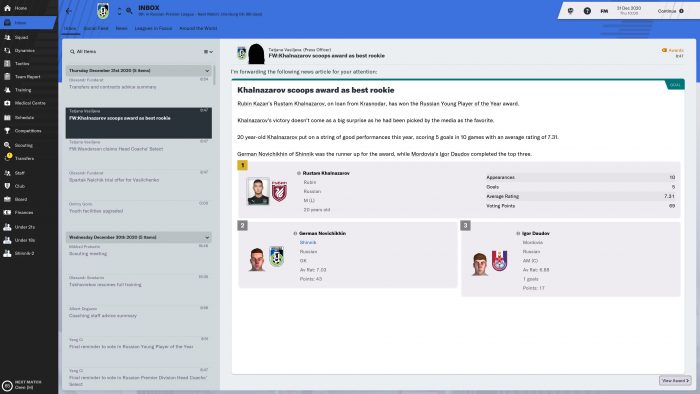 Yaroslav Titov
Titov has been rather poor this season. However, in one match he had been so poor that when I fined him for poor performance, he learned from his mistake and changed his personality to Professional.
Of course, professional personality with determination 9 and also a low ambition is about the worst kind of professional, but it is still something nice to have.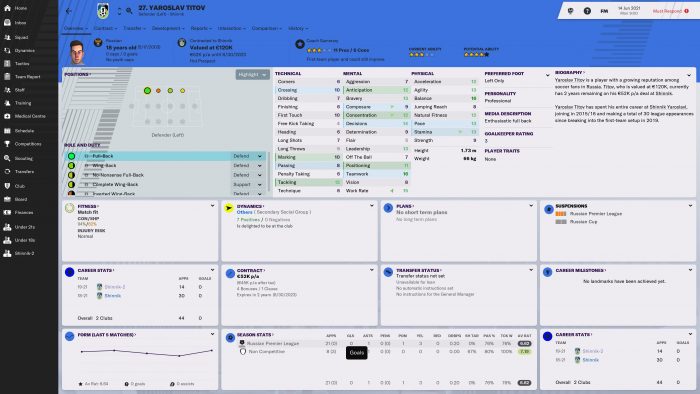 Maxim Churkin
Finally, Maxim Churkin has featured in many matches this season after getting familiar with the more advanced position (MC as opposed to DM).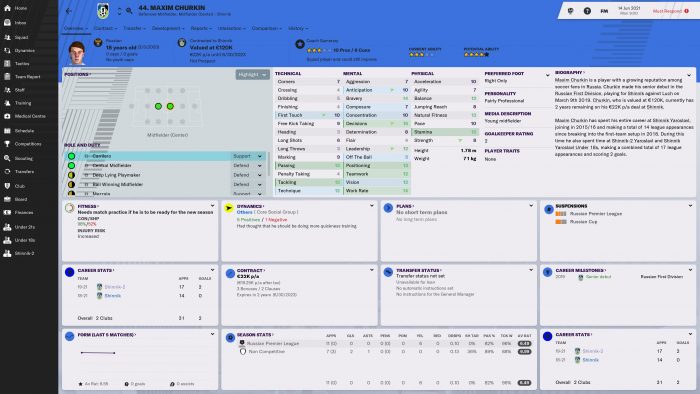 Finances
Higher expenditure, projects to upgrade training facilities, and lower season bonus (due to a worse position) makes a much worse financial position.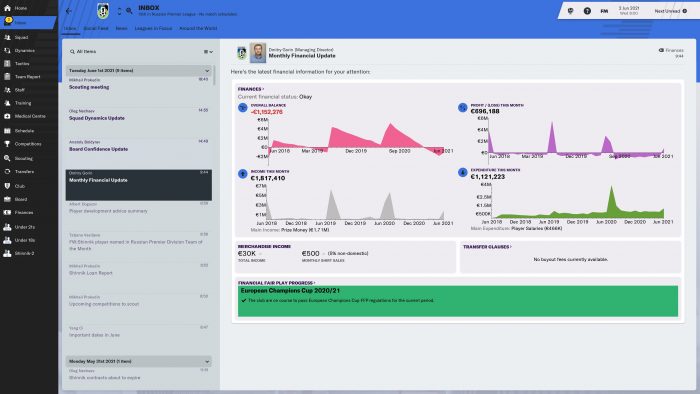 Conclusion
I get the kind of dramatic downturn that makes this game so interesting. Everything falls apart, yet I survived.
Now we can enjoy the hard fought season break, and hope that the next season will be more lenient to us.