Seasonal Changes
Both Nizamutdinov and Yashin decided to retire after this season.
Due to the aging of Nizamutdinov and the end of the loan of Samodin, the team was lacking in attacking, and I brought Serbian former national team striker Dragan Mrdja. However, Dragan is too slow to pose much threat in front of goal, and he had to contribute more in the form of assists. He also decided to retire after this season. Despite scoring only two goals, he managed to make it into the overall best eleven.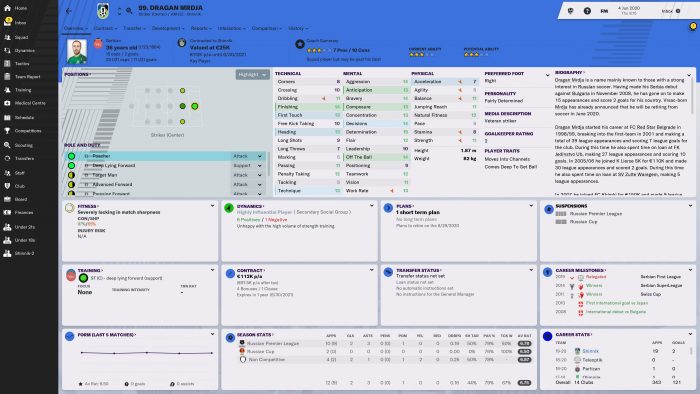 Injury problem also led me to reinforce the left midfielder position with Vladimir Kamešs, a Latvian national team player who had played in Russian for years.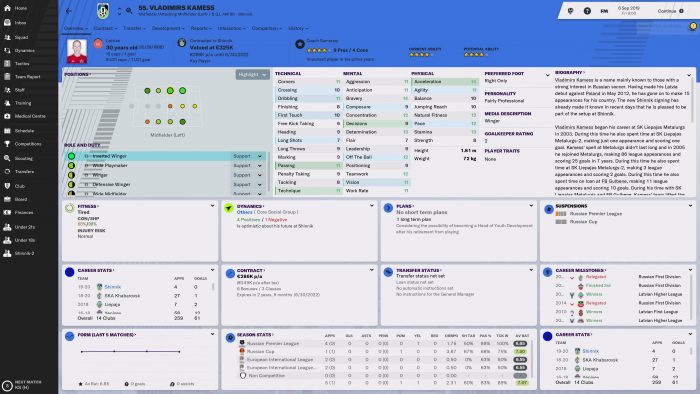 The lack of strength in central field led me to bring in Oleg Aleinik: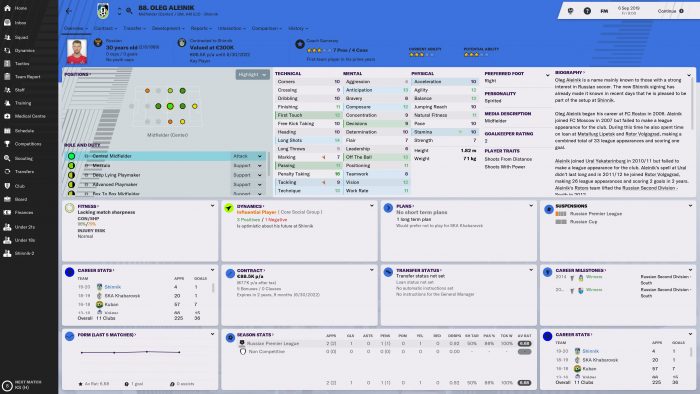 And the future of my defense line might lie on the expensively bought defender, Marat Smolkin: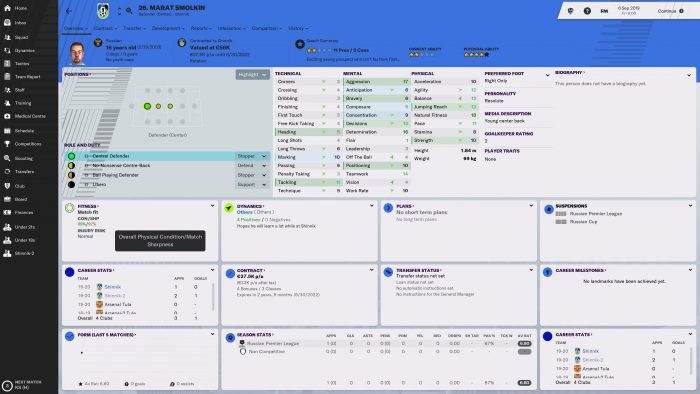 Another future star, Alexandr Solodkin, turned out to be too injury prone to do anything this season. Despite the unfortunate events, he might still have a future here.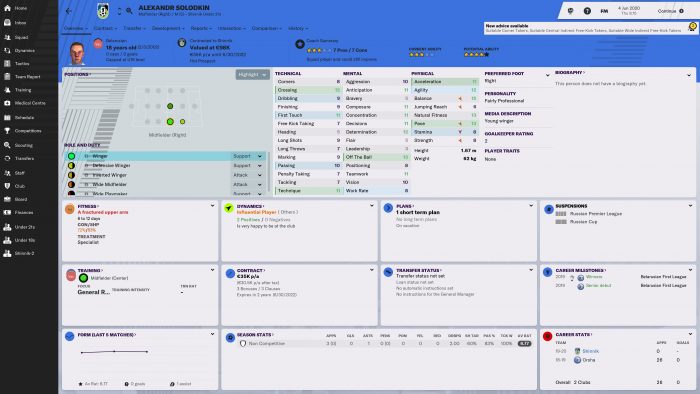 Roman Tarasov was unhappy when I blocked a transfer request, as he was too ambitious to stay here. Failing to convince him that he had a future here, I decided to allow him to go for the right price. Unfortunately the right price (€450K) is lower than I wanted, but I needed to keep the atmosphere.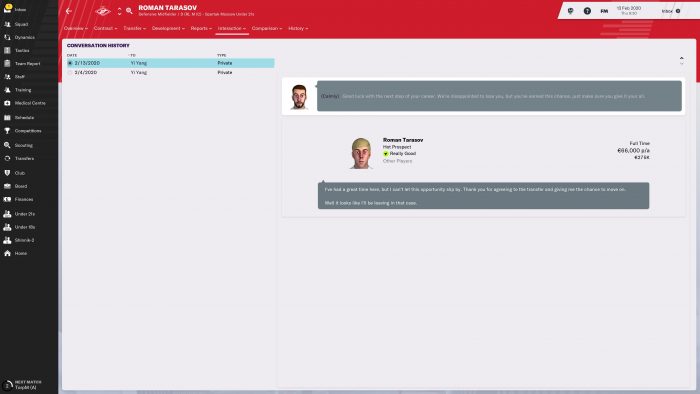 Well, things were not so simple. Bulia was upset that I sold the future star at such a cheap price (which I agree, sadly), and I had to promise him that I will play young players regularly.
Finally, Ivan Khomkha turned out to be a very important addition to the team.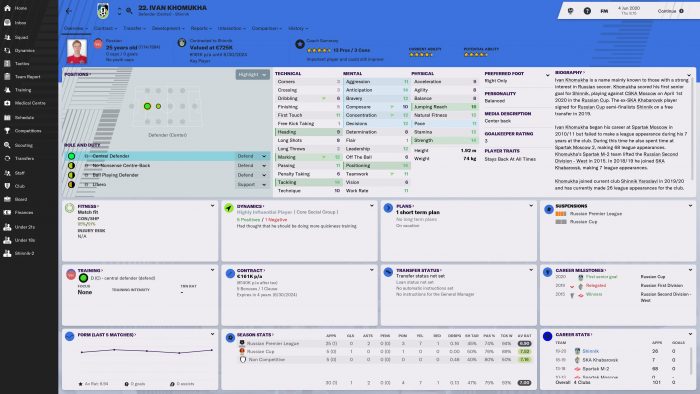 Youth Intake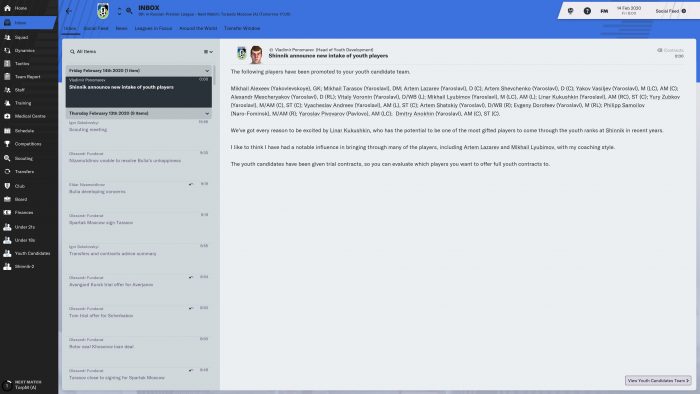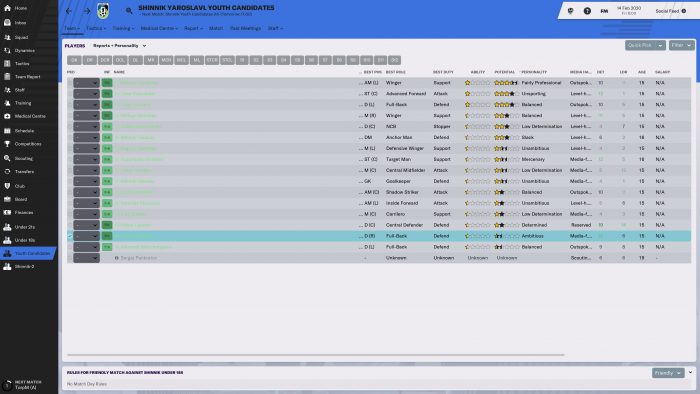 I was not satisfied with the quality of this youth intake, and I quickly sacked the old Head of Youth Development and hired a new one. But now that I think about it, perhaps the players have lower ratings only because the club is now in a higher position and has higher expectations.
Among the youth players, Mikhail Lyubimov looks the most promising: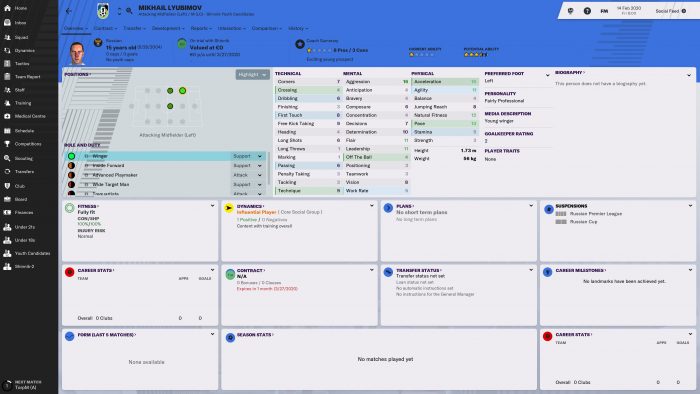 The other promising guys include Vitaly Voronin and Linar Kukushkin: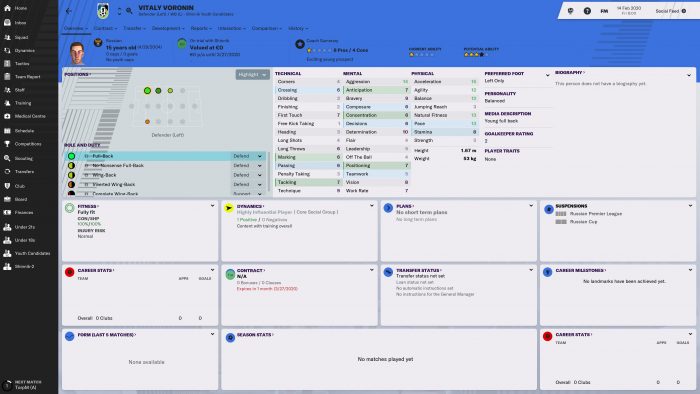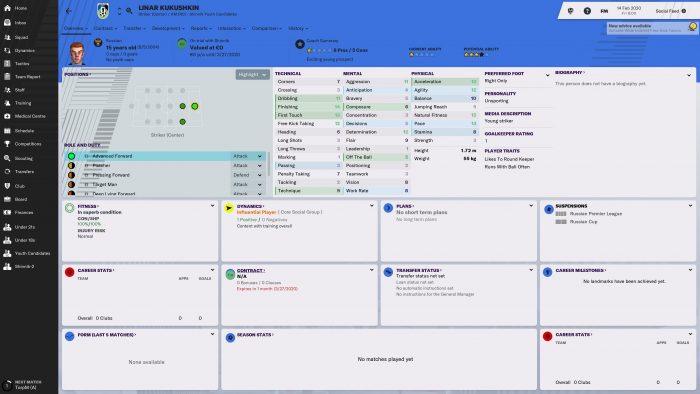 The old HoYD, Vladimir Ponomarev, had excellent personality but not so much ability. Perhaps I overvalued the former and undervalued the latter?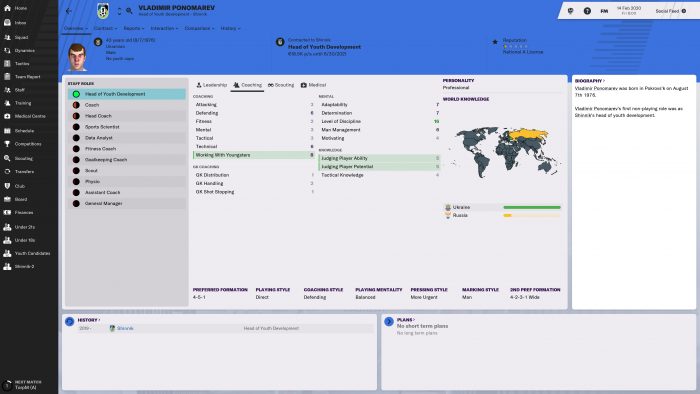 … anyway, I replaced him with Andrey Polischuk, who is much more expensive but is excellent in both. Let's see if he can bring in better young players in the future.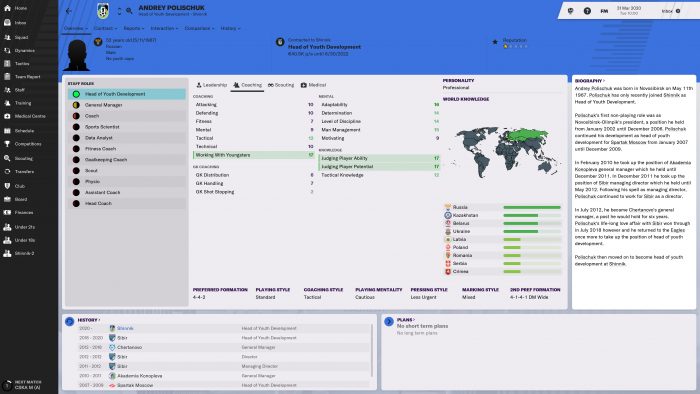 Season Summary
Despite the pessimism of my team, it turned out that my defense line is mostly solid (as long as I don't use double attacking full backs), and it enabled me to more or less consistently fetch points against weaker teams, and also won 3-0 against CSKA Moscow in a lucky encounter. We ended up in the 8th position (the tiebreaker between Shinnik, Zenit and Arsenal Tula had gone in favor of us).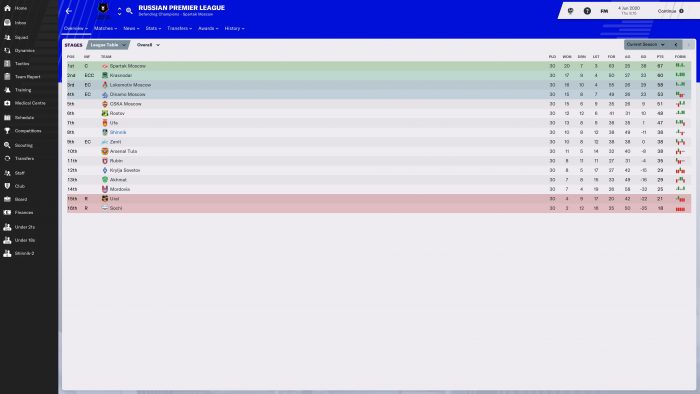 The result also earned me a Head Coach of the Year.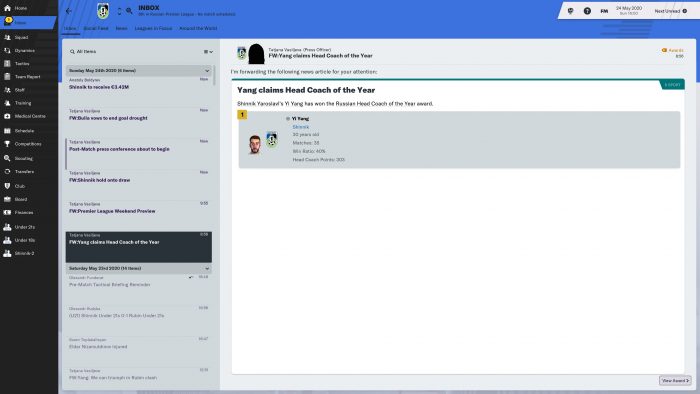 But possibly more importantly, Shinnik 2 had also been promoted to the Second Division. It is currently still of semi-professional status and uncontrollable, but perhaps the status will change once we reach even higher position?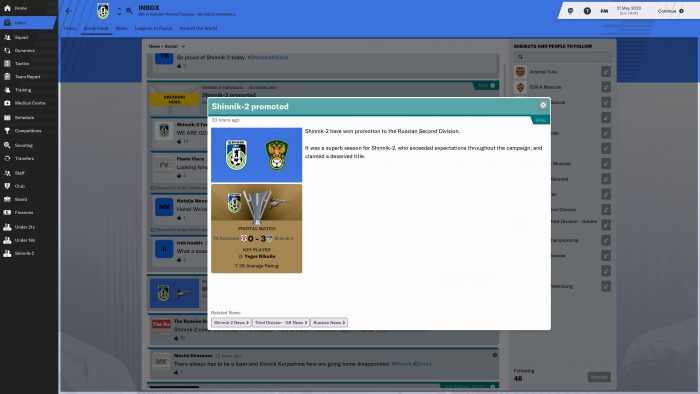 Since our success builds on a solid defense, the various seasonal awards go to defenders.
Attribute Changes
Nikita Matskharashivili has grown into one of the most important players in the team, though his lack of versatility still makes problems.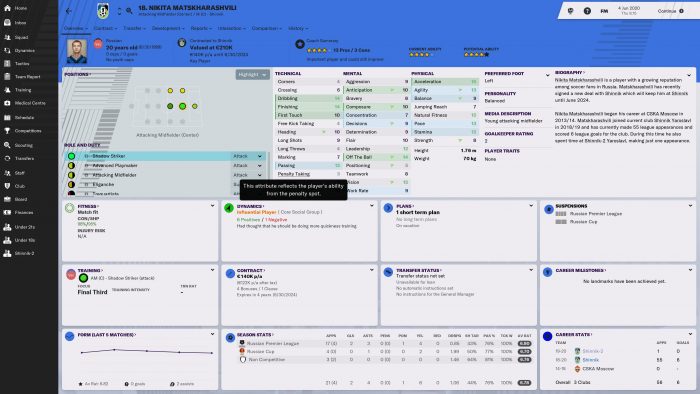 But more impressive is German Noivichkhin, who is now my first choice goalkeeper, and has completed his first assist in the league in this season.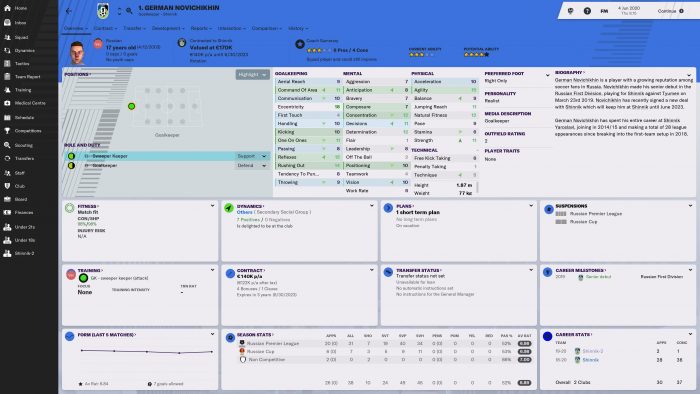 Finances
The board had set strict budgets and had accused me of overspending, but apparently by avoiding relegation, the club is in a rather stable financial situation right now.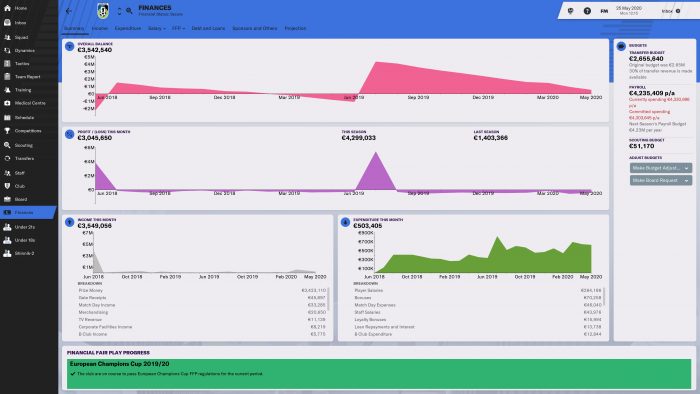 The club also agreed to improve both senior and youth training facilities. They are currently "good" and "adquate" respectively.
End-of-Season Thoughts
The last season was a defenders' success, but the lack of strength in attack will become more severe now that both Nizamutdinov and Mrdja retire. It is a problem that needs to be dealt with or I will have big trouble.
The promise to Bulia more or less dictates me to continue to use and try to improve the youth players. Which is a bit troublesome due to how far they are from first team level.
The right back position has been very successful these seasons, but Cherevko is aging and his future replacement, Minele, has a low determination score, and it is a problem with big match catch-ups. The central midfielder position has a similar problem with old Aleinik and young-and-less-determined Kamilov, but Kamilov's sheer ability makes it less a problem.