Pre-season Overview
The initial team hierarchy looks like this.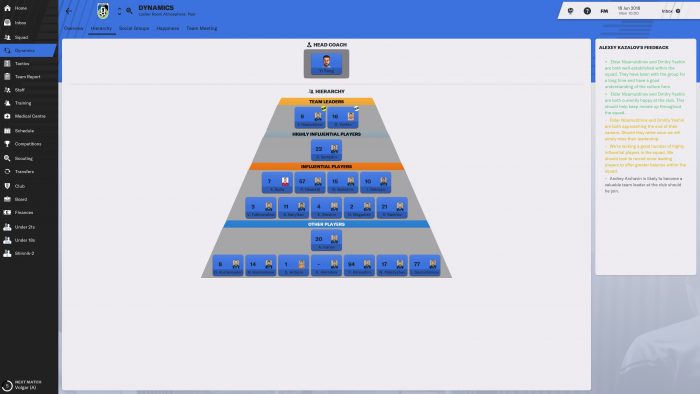 And the list of players.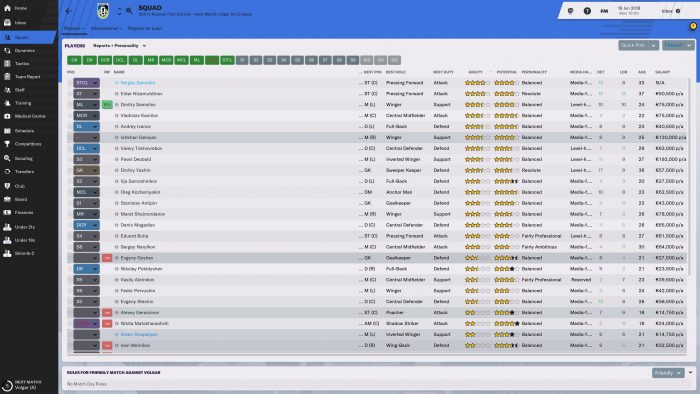 Key Players
Eldar Nizamutdinov
The team captain, Eldar Nizamutdinov, is 37 years old, and one of the few players with a positive personality. If he stays healthy he could be the key of short term excellence. And in any way, he would be useful in tutoring the young lads.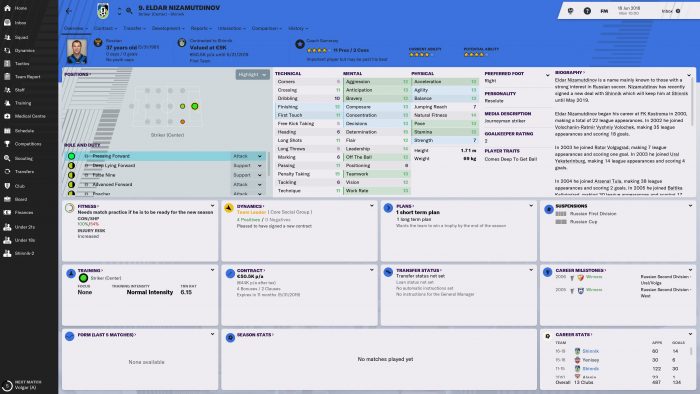 Dmitry Yashin
The vice captain, Dmitry Yashin, is also 36 years old, and also resolute. However, as a goalkeeper, he could probably stay on team for longer, and potentially be the captain for the next few years. The in-game media description of "journeyman goalkeeper" is quite unwarranted, as Yashin has stayed in Shinnik for 6 years.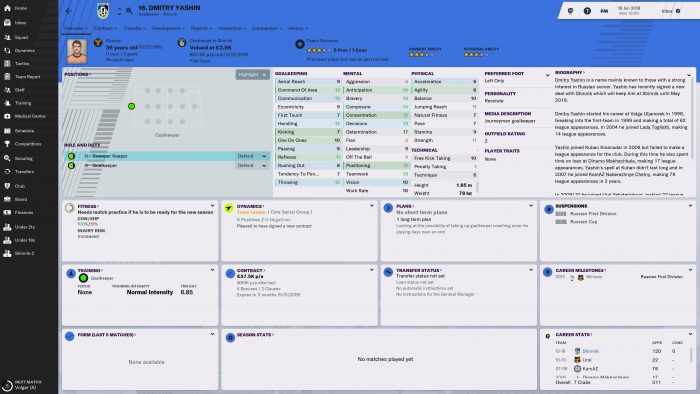 Sergey Samodin
The third important player, Sergey Samodin, 33, is a loanee forward from Krylja Sovetov. He isn't particularly strong, tall or fast, but is all-rounded and hard working. It's a bit hard to imagine him to feature prominently in my team, but it's also hard to imagine completely ignoring such a useful player.
He previously had a successful spell (11 goals in 17 games) in Shinnik. Perhaps that explains his high club status despite being a loanee.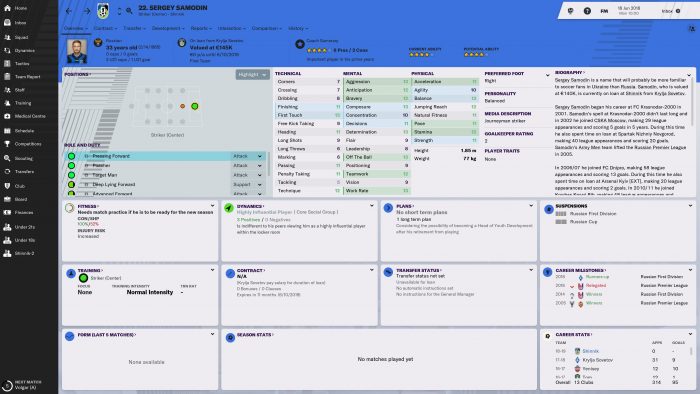 Eduard Bulia
A forward that is both tall and fast. He is not terribly good at headers, but he makes it up with various other qualities. And he has good mentality attributes.
He will probably be important in a pressing game, and probably part of the team core when the older players retire.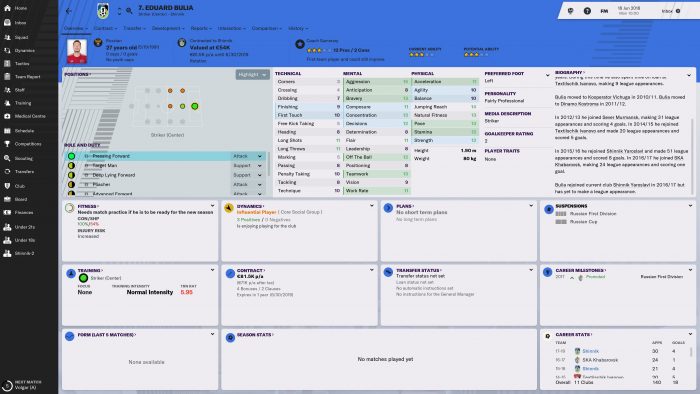 Future Stars
Nikita Matskharashvili
Young and nimble attacking midfielder, ex-CSKA trainee. I need to find a way to boost his determination, but more importantly, he plays at a position where virtually nobody else in the club plays at. Either I accommodate for his talents and build tactics around him, or I train him into a deep-lying forward. I feel the second plan is risky. I never fully understand how to properly train players to unnatural positions, maybe it's not a good option to begin with.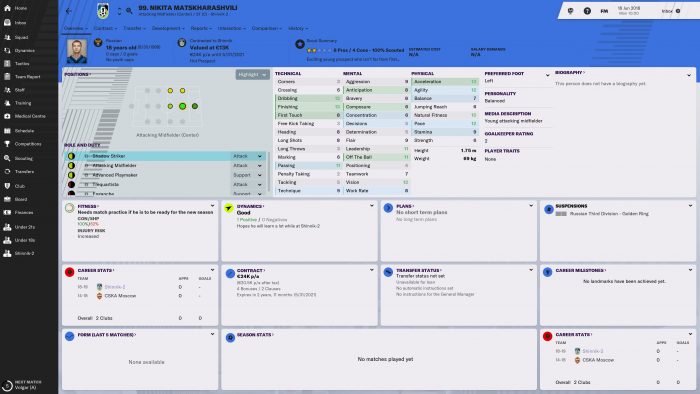 Andrey Ivanov
20 years old and already the first pick left fullback. Looks quite versatile.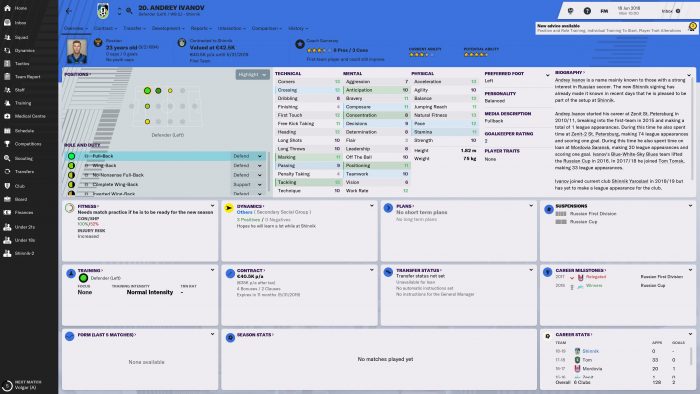 Oleg Kozhemyakin
First-pick defensive midfielder and third-pick central midfielder. Similar to the situation of Nikita, Oleg's presence makes me want to decide whether to use a defensive midfielder in my formation. But to be honest, the decision will probably be based on the opponent, rather than my own plan. Anyway, it looks like Oleg will be part of my plan in many different ways.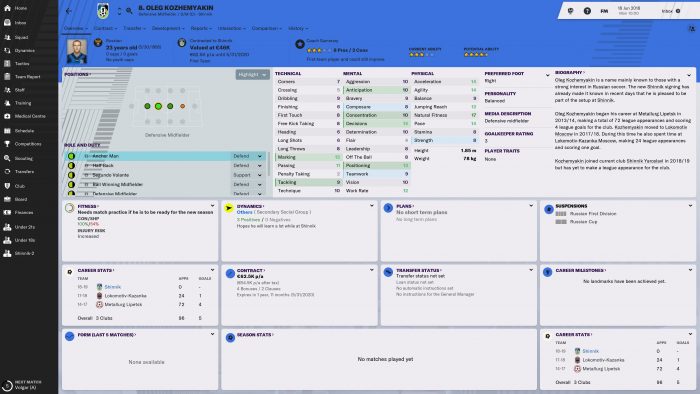 Tactics
Following the discussion above, I prepared three tactics. They are currently all basically gegenpress of some kind, but with different formations: 4-4-1-1, 4-4-2 and 4-1-3-2, with  the major variation being about whether to use an attacking midfielder or a defensive midfielder.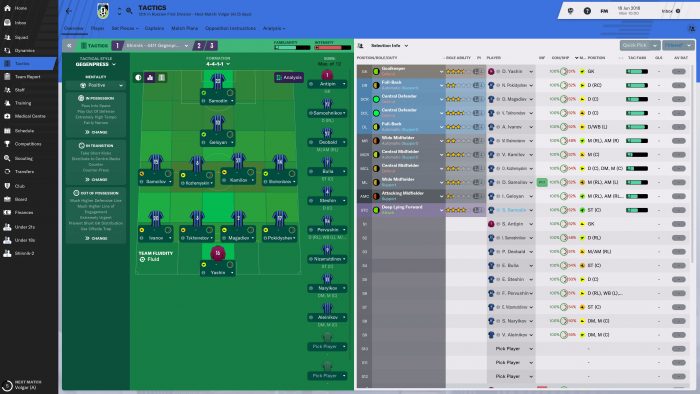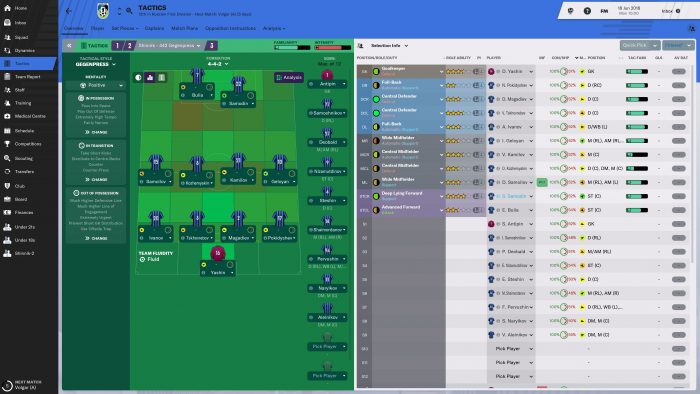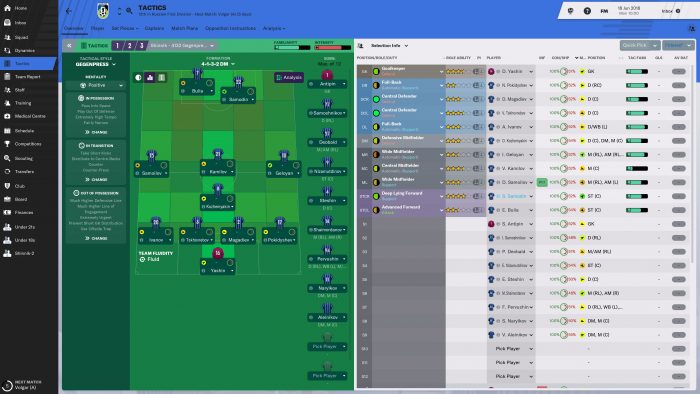 Youth Intake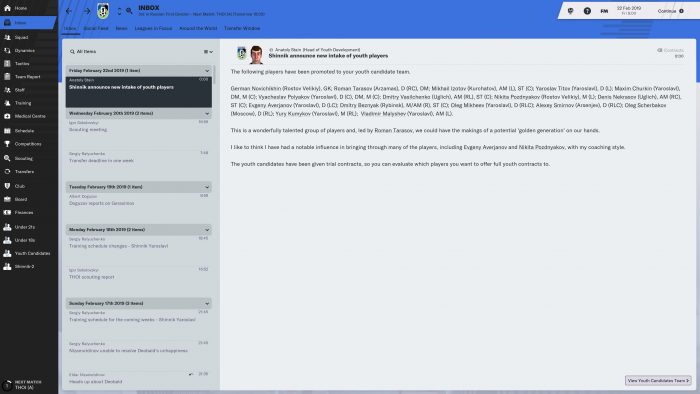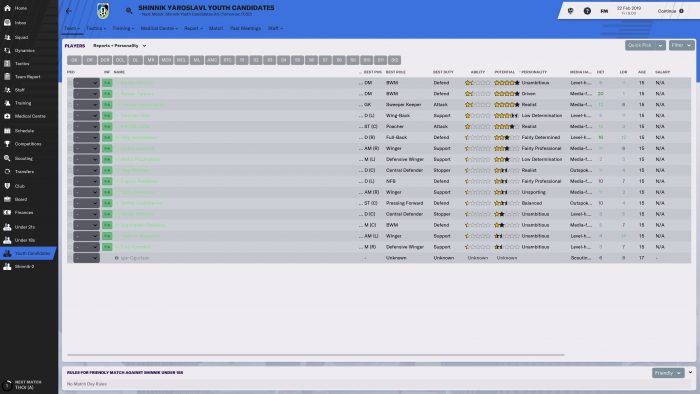 The best young players are Maxim Churkin, Roman Tarasov and German Novichikhin. The former two are both defensive midfielders, while the latter is a very eccentric goalkeeper.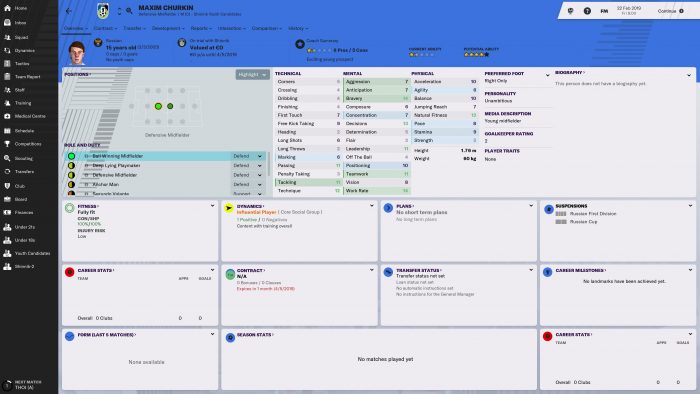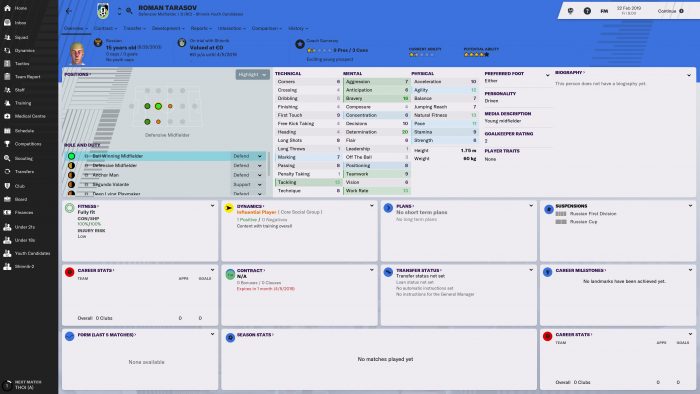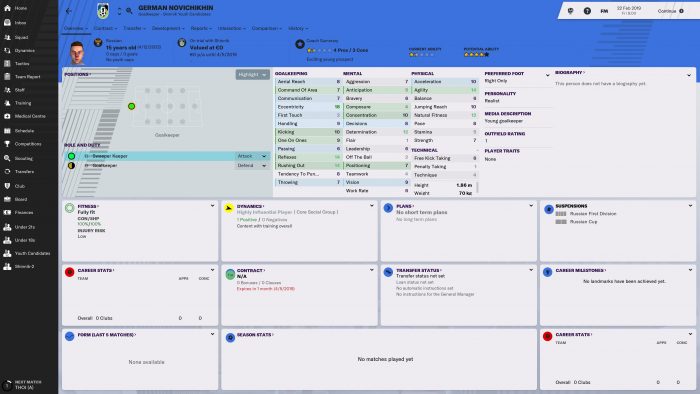 Finances
With just 2,000 season ticket holders and average attendance of just 2,169, the club mostly relied on grants and sponsorship, which means the board room tends to give generous budgets but become more and more stringent during the season. It also resulted in a transfer embargo during the winter.
It turned out the season actually ended in a profit and hence needed to be taxed. FM finances is weird. Or perhaps football financial rules (I'm looking at you, FFP) are weird in general.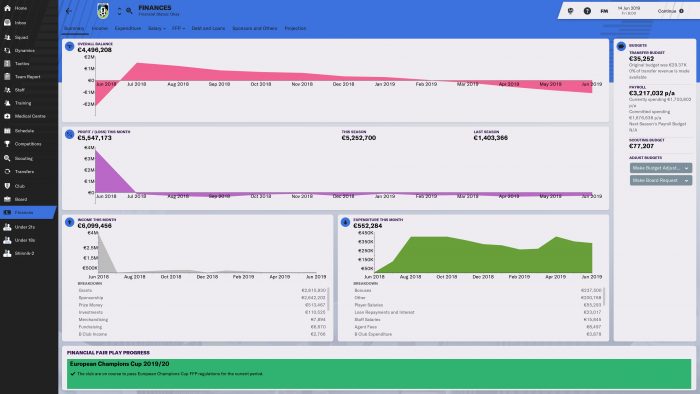 End of Season Summary
Despite a slow start (probably due to tactical familiarity), we managed to win the First Division with one game left.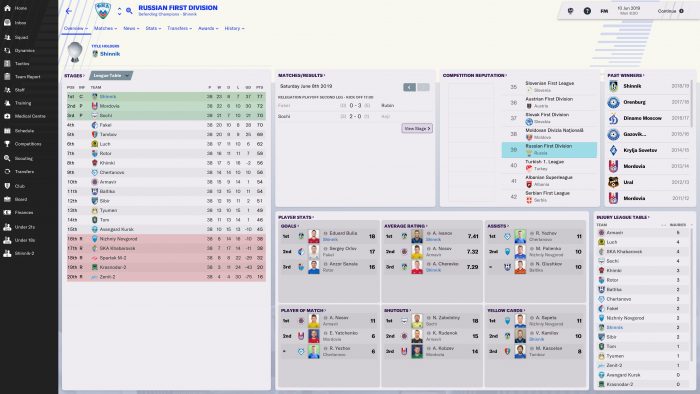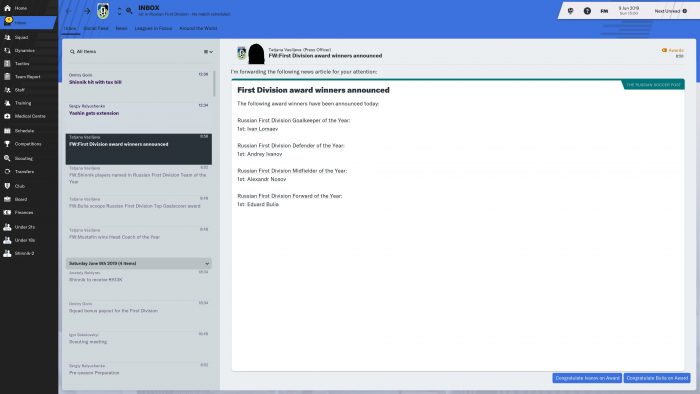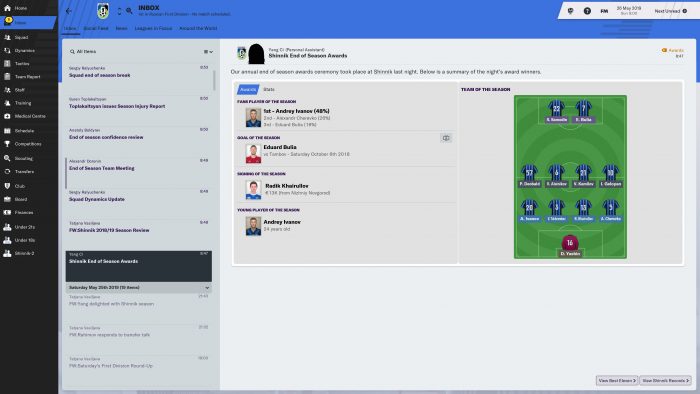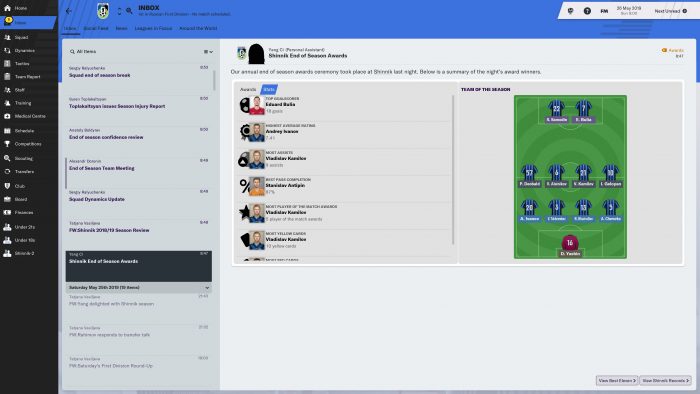 Bulia turns out to be even more useful than I thought. He completed two hat-tricks and is generally unstoppable in the league, though he is also a bit injury prone.
Deobald could play as both Wide Playmaker or Inverted Winger. Inverted Winger sounds like the more natural choice but that never worked out well, but on the other hand Deobald as the Wide Playmaker worked particularly well, and having an attacking left full back, Ivanov, who is also the best performer in the team, certainly helped.
The position of right fullback was problematic until Cherevko was brought in. He is old (30 years old) and expensive, but well worth it. He is also professional and has many positive traits, a perfect tutor for my fullbacks and maybe wingers.
Matskharashivili is not featured in the team but actually played more games than Samodin. He showed great improvement in the season.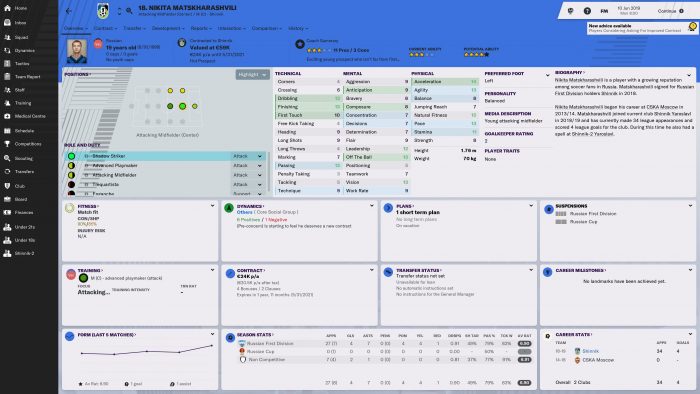 Kozhemyakin, while successful, unfortunately spent lots of time in injury. Ivanov is super good but not "future star" in the sense of improvements: he has probably reached his potential.
End
The end-of-season team meeting ended in a surprisingly pessimistic manner: I tried to talk about the potential hardship of avoiding relegation in the next season in Russian Premier League, but all the players felt necessary to educate me that it was no fight and we will be relegated.
On one hand, it means there will be less pressure on me in the next season; on the other hand, it makes me terribly curious about how hard it will be.