Having learned that playing Argentina lower leagues in Football Manager 2019 might be a bad idea, I decide to start another game… And hopefully, this time it should not involve complicated mods, or too many mods.
I first considered Algeria, a country that speaks Arabic, Berber and French, which is a very interesting mix considering the in-game language mechanics. However, I decided against it because the game by default offers very little in Africa, as only one country (South Africa) is included by default. I will have to include lots of African databases. And no, I don't want to debug wild databases this time.
Then I considered Spain, which has an interesting mechanism in that B teams are allowed to play in regular leagues. However, I also decided against it because the Spanish league is so successful. After a successful game in Bundesliga I want to play in a slightly weaker league.
The B team thing leads to another place, Russia.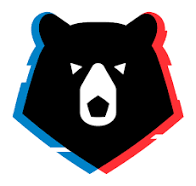 And, looking at the bear logo of the Russian league, I know what team I am going to pick.
FC Shinnik Yaroslavl
The club was formed in 1957 as Khimik ("chemist"), then changed its name to Shinnik ("tyre worker", as the club started with workers from a local tyre factory). It spent considerable time in the top league of both USSR and Russia. However, since 2009 it is stuck in the second tier of the Russian league system.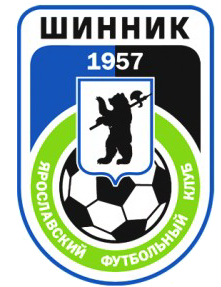 Its nicknames are also straightforward. Shina: tyre and Cherno-Siniye: Black-blues.
Oh, and that cool halberd-bearer. It is actually the coat of arms of Yaroslavl, and probably my favorite coat of arms among Russian cities.
Custom databases
FC Shinnik Yaroslavl is in the second tier, but its B team, FC Shinnik Yaroslavl 2, is in the fourth tier, which is not enabled in the official database. Hence the need to hunt for a custom database.
Thankfully, enabling the fourth tier does not involve any fancy database. The regular "country pack" available is good enough.
The original "country pack" was developed by Claassen, but they were only designed for 19.0.0. Riddler created updated versions for 19.3.0, but he only updates when the original Klassen database does not work. To further complicate things, both Claassen and Riddler have uploaded their databases elsewhere (Claassen's version is on fmscout and Riddler's version is on sortitoutsi), and the versions are different from their Steam workshop versions!
In the end, I judge the mods by their sizes: the Riddler mods from sortitoutsi are larger than those from Steam, so I assume they are newer. The Claassen mods from fmscout are also larger than those included by Riddler, so I assume Riddler accidentally included an older version from Claassen.
I also included a few neighboring countries such as Ukraine and Belarus, which are otherwise often untouched in Football Manager games. Yes, I know the names "Ukraine" and "Russia" are touchy when they appear together, but this is football, which is (or should be) more beautiful than realpolitik.
Quick tests in editors showed no obvious problems. I said I learned a lesson before, but sometimes there are only so much I can do when the mods are big and numerous, and trying to figure out what happens in the mods can create even larger problems… Hence, some luck is required.
Game Setup
As this time I will start with a quite strong team, and I don't particularly feel like challenges this time, I go with a profile with a good coaching badge and some playing experience.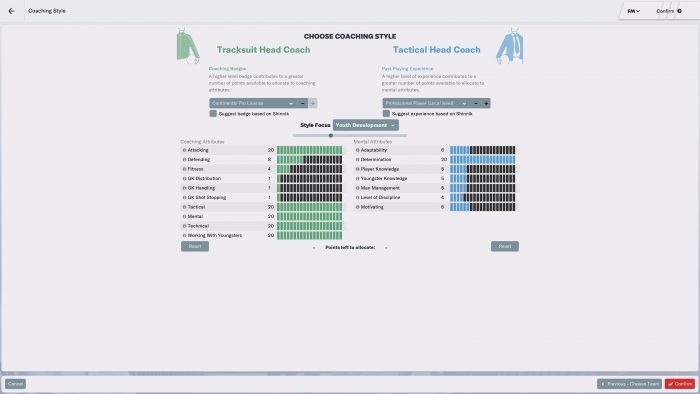 It should make the manager useful in coaching, and leave the man management part challenging.
And I enabled the following nations and leagues: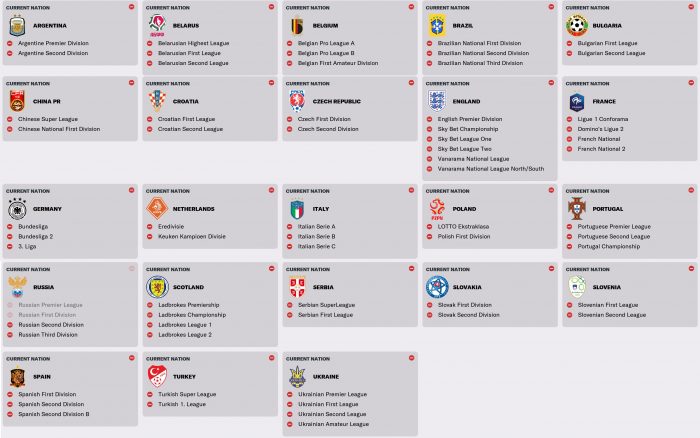 As you can see, Slavic nations have been given a priority, Russia down to details because that's where my team will play, and China is always included.