The hard disk failure has stopped me from playing FM for a while, but I am eventually back…
Seasonal Changes
Yaroslav Titov
The singular definitive moment of the season was when the club received an offer for Yaroslav Titov for €725K and deemed it too good to turn down. Since I had basically only one left full back, this decision felt outrageous.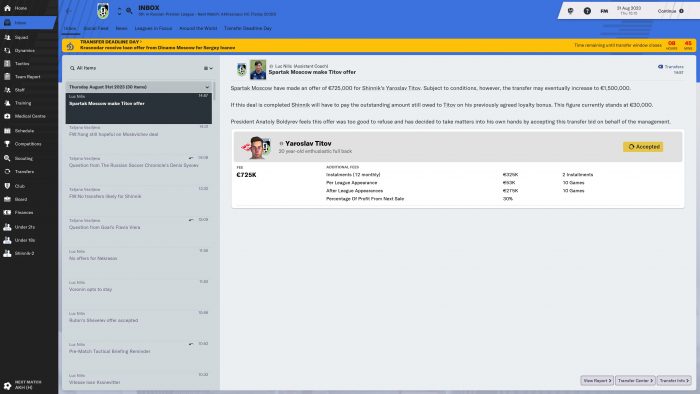 And it was not just me, but basically the whole team who was unhappy about it: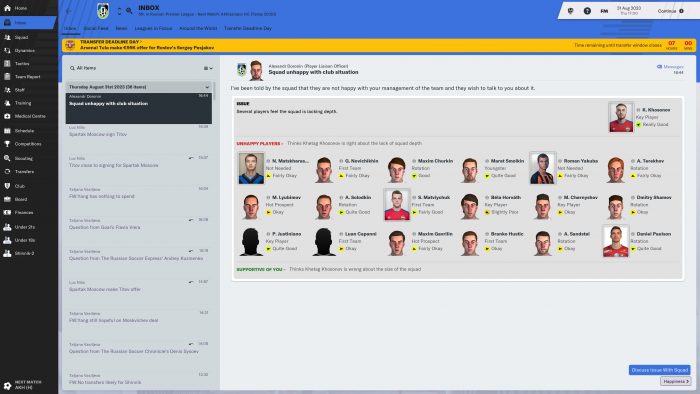 And I openly complained to the media about it: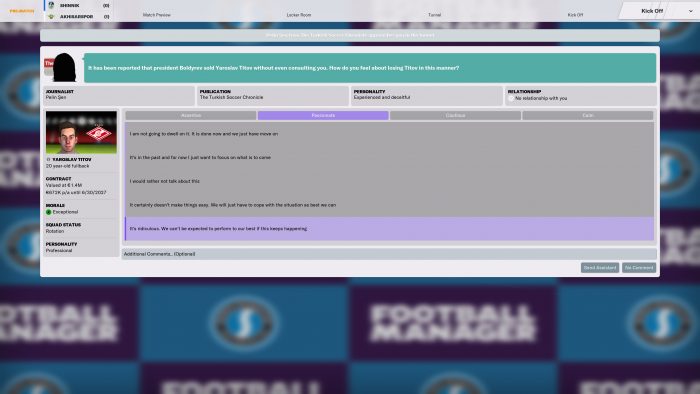 OK, at least on the plus side, Yaroslav Titov is doing well and we are earning the conditional income: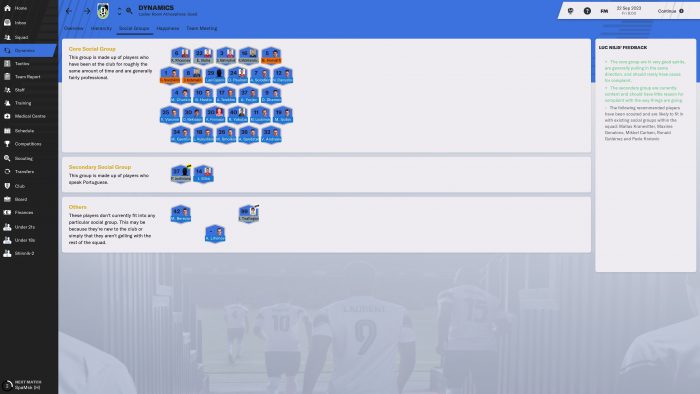 Season start
Alexey Isaev was a panic buy at €69K for the left full back role. He struggled on that position upon arrival, but gradually blended in. Now it looks that we have a competent replacement for Titov.
That said, Titov was also the candidate for our future captain, and Isaev does not fulfill that role.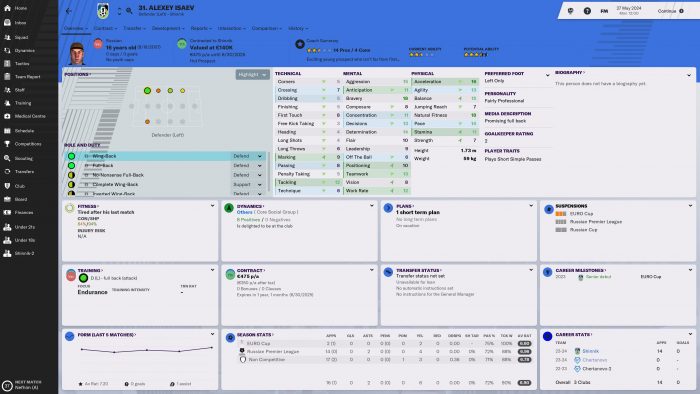 The experienced Ibragim Tsallagov was brought for €100K as an additional cover. It turned out that he was't particularly great as a full back. However, he was very good as a defensively minded midfielder, and can cover many positions. And he is a good mentor.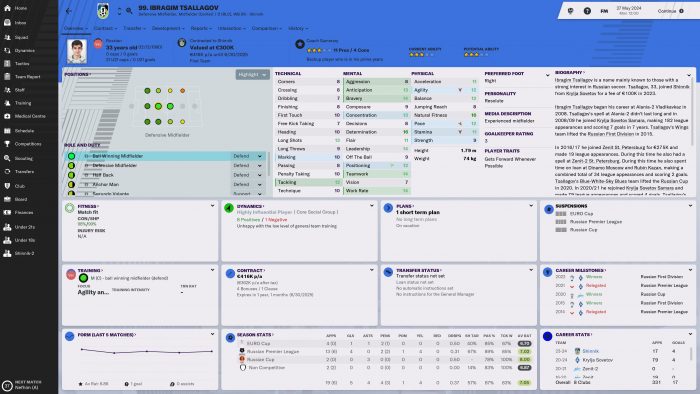 Jorge Silva at €64K was also a good deal, though he taking a foreigner slot keeps it from being a great deal.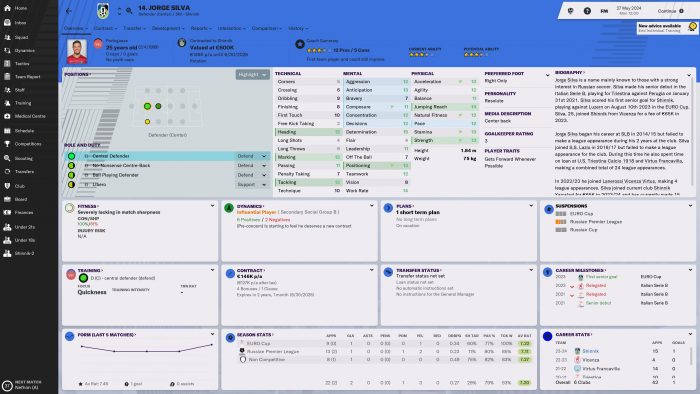 Alexandr Osipov at €750K returned me one goal in his 11 featured games. It was not a good deal, at least not in the term of immediate return. But what else can I do? I got the transfer budget, and I do need some strengthening.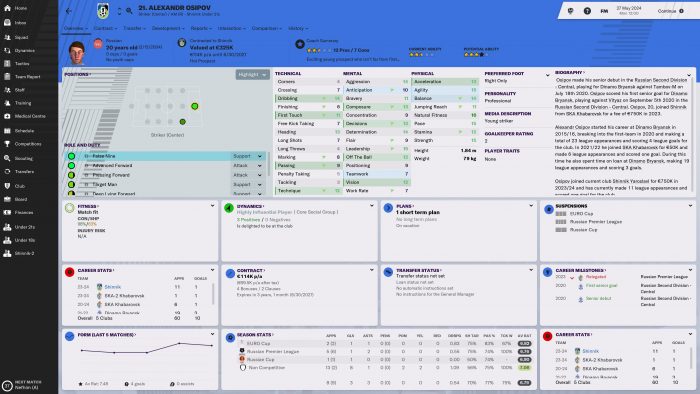 Finally, Maxim Berezov at €3.5M. Despite the price he is still not as good as Hustic, but he is a Russian so sometimes using him allows me to play a foreign player somewhere else, and he is younger.
Also, Berezov is a natural Shadow Striker, which probably helps a bit since that's my default approach to games.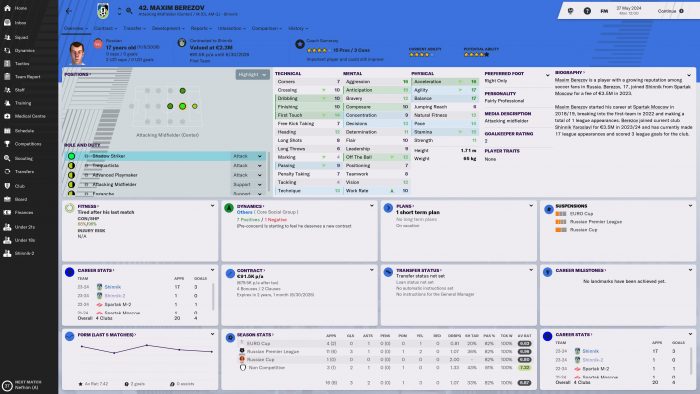 Departures: Kamilov (€350K), Poghoshyan and Titov.
I also tried to sell Matskharashivili, but that immediately backfired and I had to keep him until the end of season, at which he leaves for free. Not the best deal, but I have to take the morale into account.
Mid-season break
Marko Leovac for €210K, 3 goals in his 11 games in his half season at Shinnik. I think it's a fair result.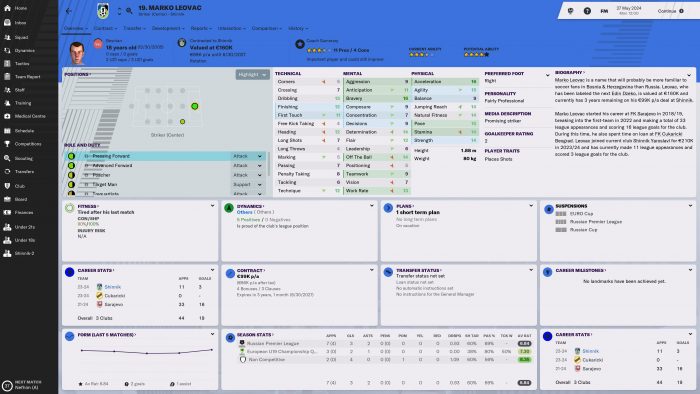 And finally, Luigi Pinto at €2.9M. Yes, I am paying lots of money for a position I am already have good players for. But hey, he's a model citizen! Also, who wouldn't take that chance to taunt the club for thinking selling our future captain Titov for at most €1.5M was a good idea?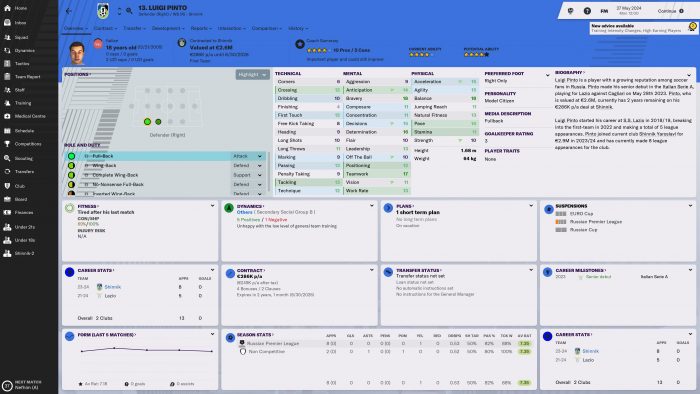 Departures: Yakuba (€60K), Kozhemyakin (€100K), Izotov (€425K) and Matskharashivili (free).
Youth Intake
Our youth intake is getting ridiculous. A whole squad that lack ambition?
Rumors say that it's not only the Head of Youth Development but everyone involved in youth team that decides the young player mentalities. Perhaps I need to look at that.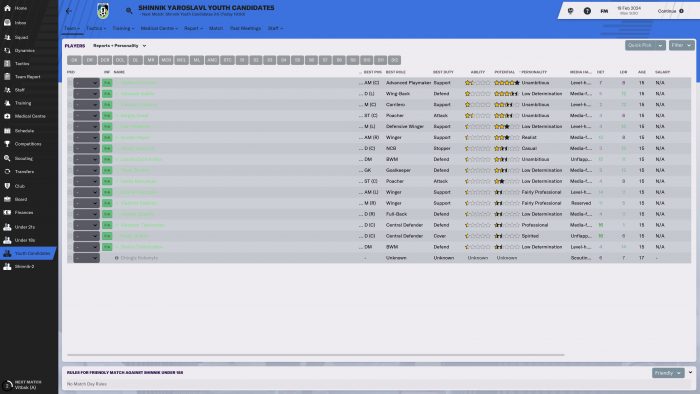 Anyway, I might still want to keep an eye on Sergey Koval'.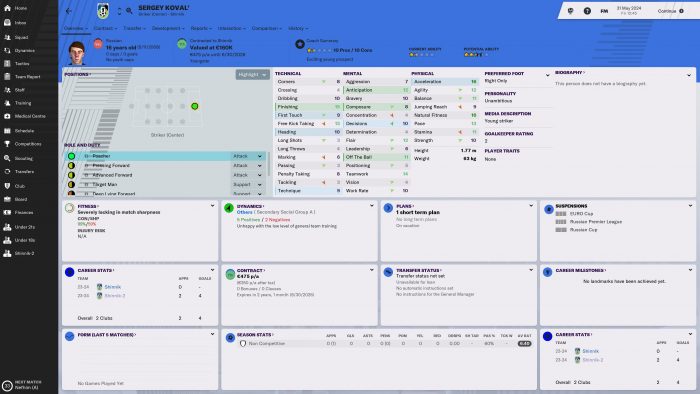 As well as Vladimir Voronov.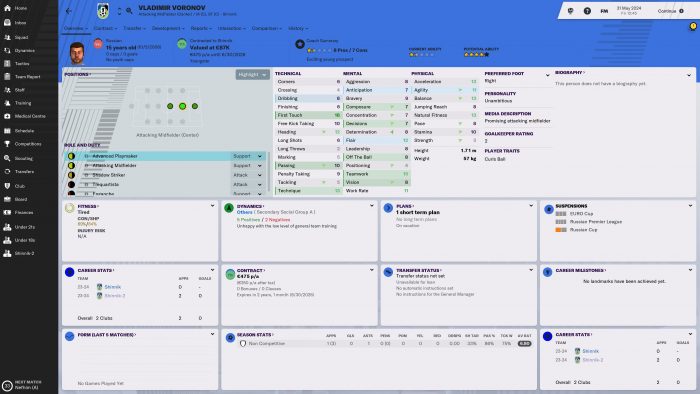 Season Summary
Despite losing Yaroslav Titov and having a tough time when I had to play both the league games and the Europa League, the season actually went well and we almost reached the Champions League. Only in the last minutes, a CSKA Moscow goal against Spartak Moscow ensured a second place for CSKA and ended our Champions League dream for the next season.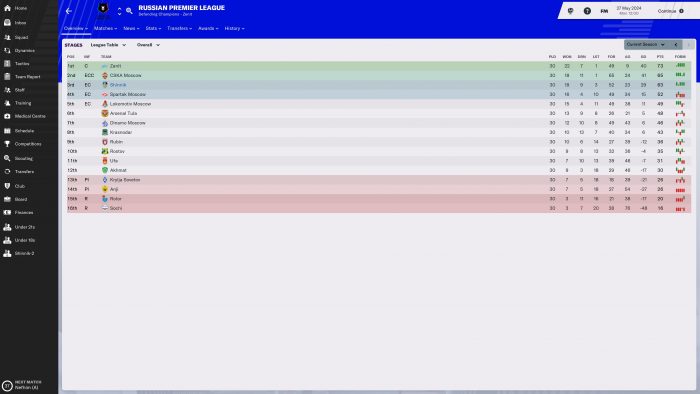 Awards and stats.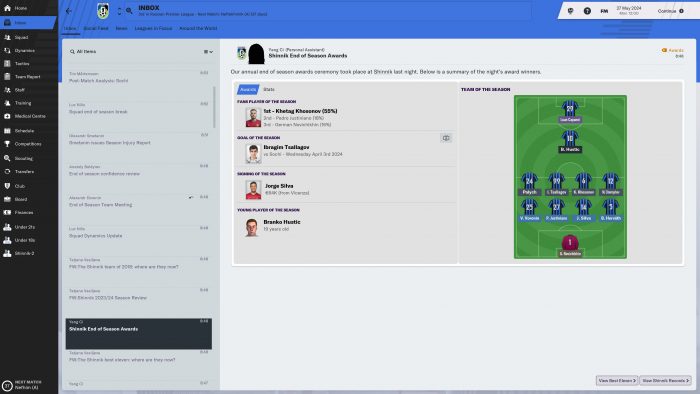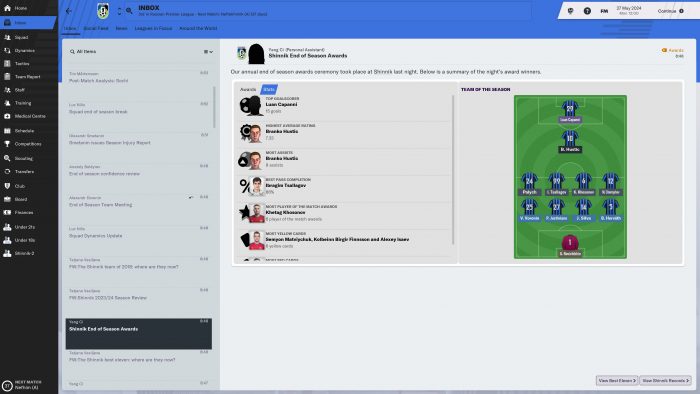 Player Development
Hustic grew well.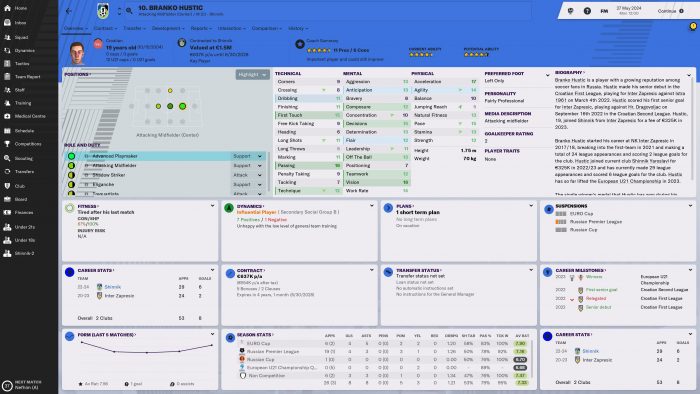 Capanni turned into a goal machine for us.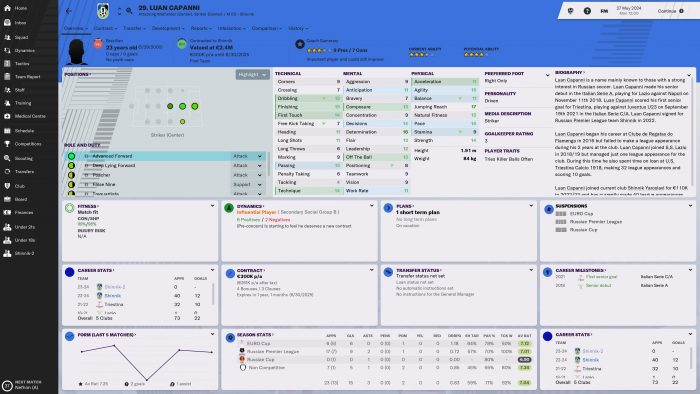 In the U21 team, Vadim Gonchalov looks promising.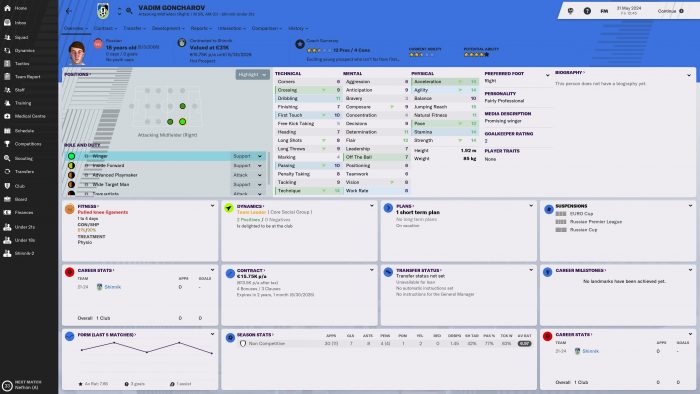 On the other hand, Dmitry Shamov has completely lost himself. He scored 11 times last season, but only once this season. He was magical, but now it seems that the magic has faded. He is fast, but not particularly fast; he is taller than average, but often not tall enough to beat the defenders. He is a jack-of-all-trades but he is not his former self and he is not happy.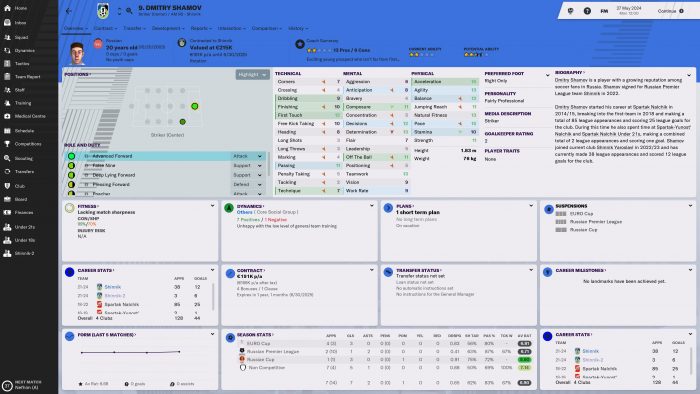 Concluding Words
This season finally established Shinnik as one of the top teams. We now have the depth and a professional core social group that would be the foundation of future success.