Another few months have passed without me posting anything about the Football Manager game. During those months I was generally very busy, and when I wasn't, I was playing MTG or No Man's Sky.
Still, I actually left my Football Manager save game at the end of Season 7, so it is time to quickly document what happened in the season.
Seasonal Changes
Transfer-in
Mikhail Yegorov (€2.7M). He instantly became an important playmaker. However, before he blended in the squad, he was influenced by the team and his personality changed to Fairly Professional.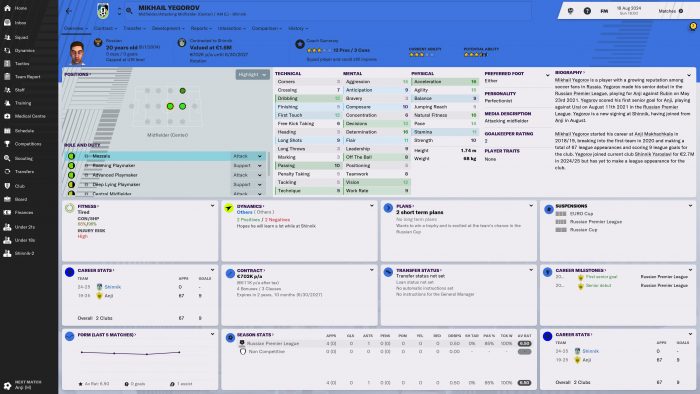 Vladimir Moskvichev (€2.1M). Defensive midfielder is a position I rarely use in this run, but he was also useful in the neutral position. He also turned into Fairly Professional.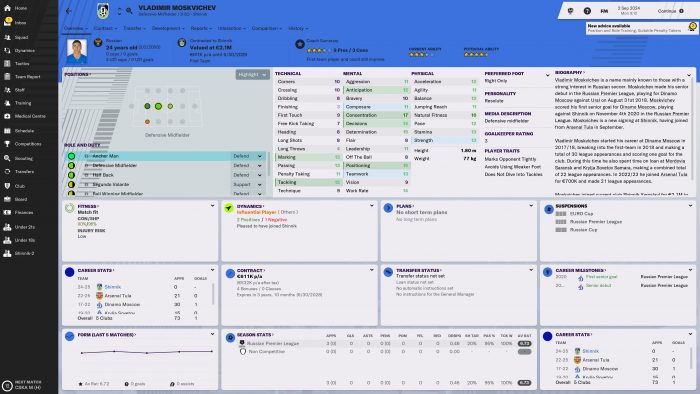 Magomed-Shapi Suleimanov (free). A good player, but does not perfectly fit in our current formations. Still, he contributed a lot in Europa League games.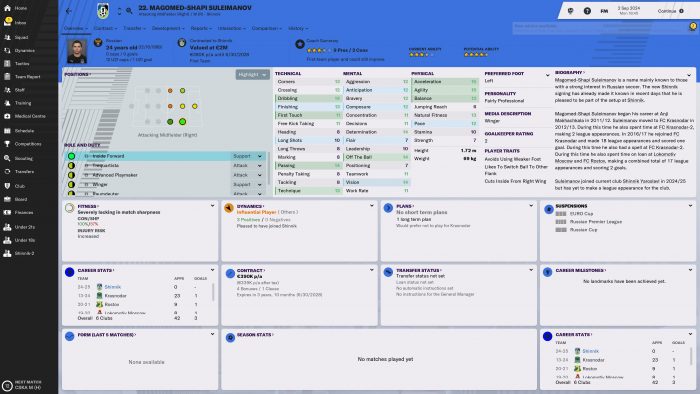 Bychkov (€1.3K). A transfer for the future, but due to injuries he actually started a few games.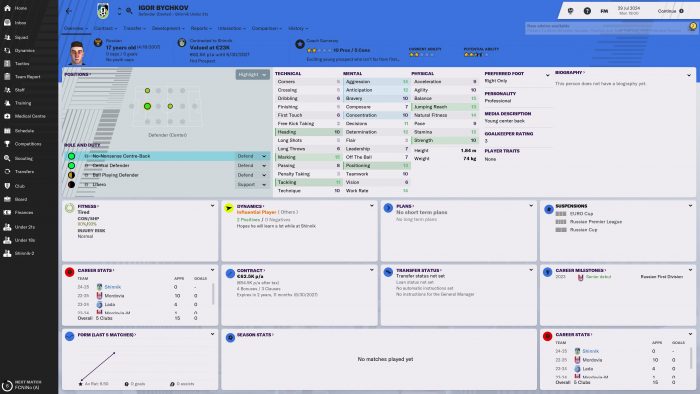 Nikolay Yarkin (€1.1K).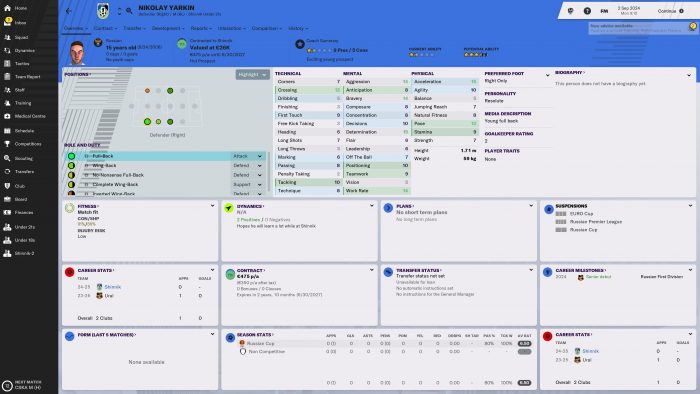 Kirill Andreichenko (€1.1K). Started a few games. Determination dropped to 14.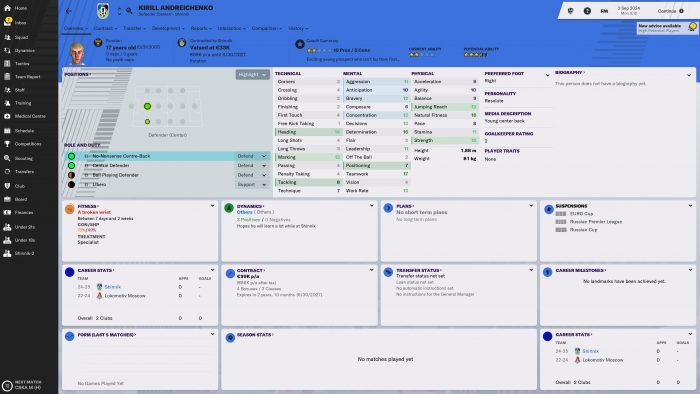 Alexandr Goncharov (€300K). He has good personality, but his height might be a problem if he were to be the first pick goalie.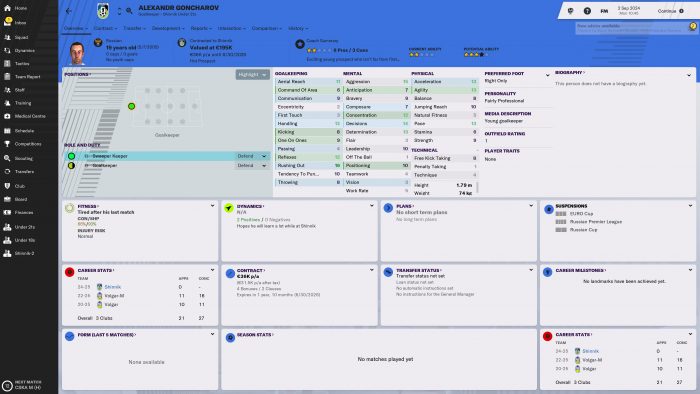 Transfer-out
AC Milan came up with a offer for Branko Hustic, which immediately unsettled the star of the last season. Instead of trying to force him to stay, I opted to negotiate a good deal. It ended with €2.1M with extra clauses that could potentially raise the value to €8M.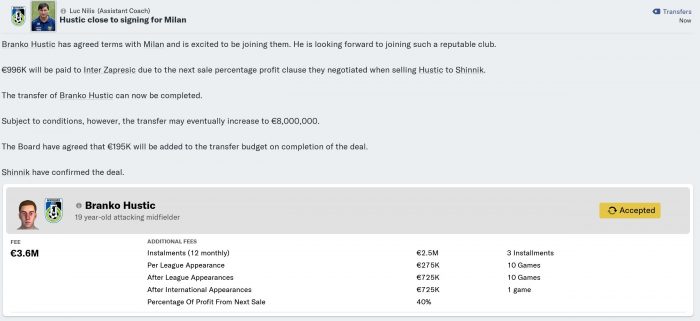 Youth Intake
Let's be honest: before I am able to persuade the management to increase youth coaching budget, I will not put too much hope in youth intake.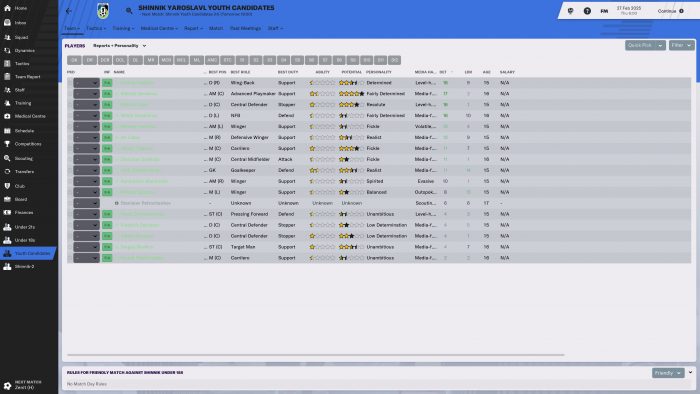 Still, the top ones look promising.
Mikhail Aliev.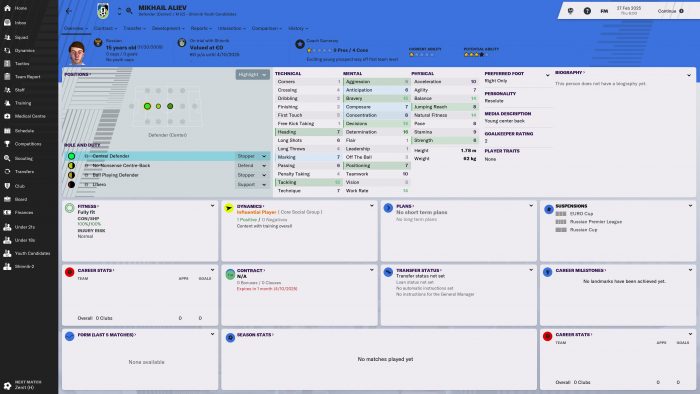 Andrey Vasiljev.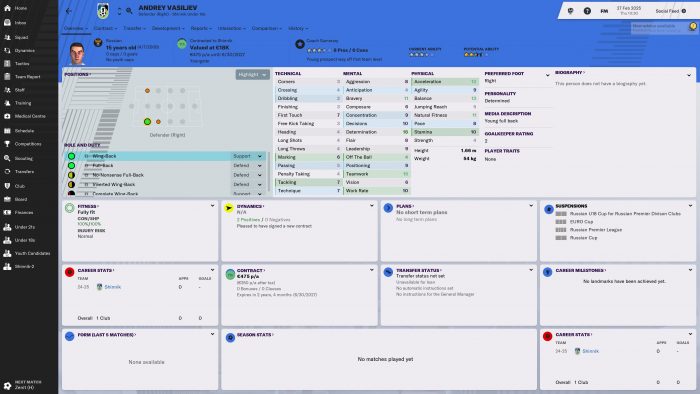 Kirill Balakhnichev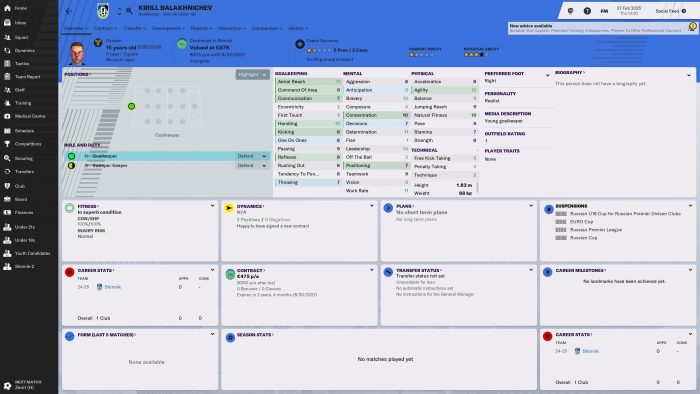 Alexey Fedorov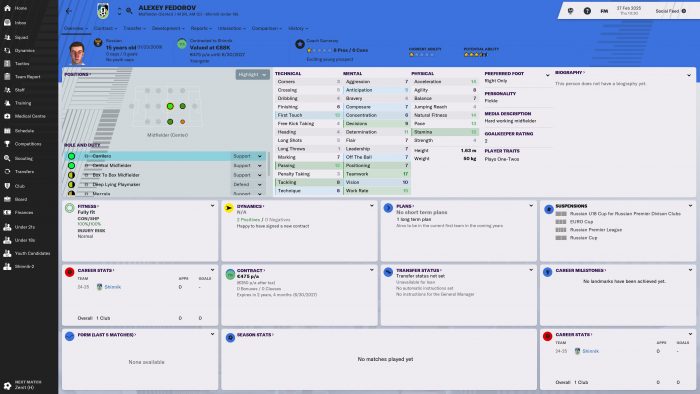 And Mikhail Semenov. I failed to take a screenshot during the youth intake, so the following image is at the end of the season.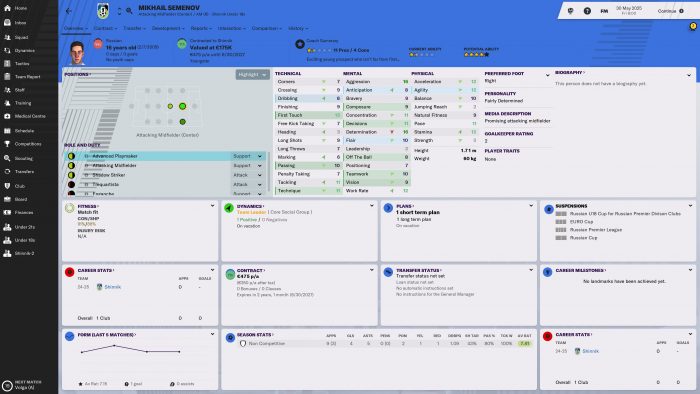 Season Summary
We finished the premier league at 4th, and will be able to play Europa League again. However, we lost significantly more games. Still, we are very above the expectations, and the results brought me another Head Coach of the Year.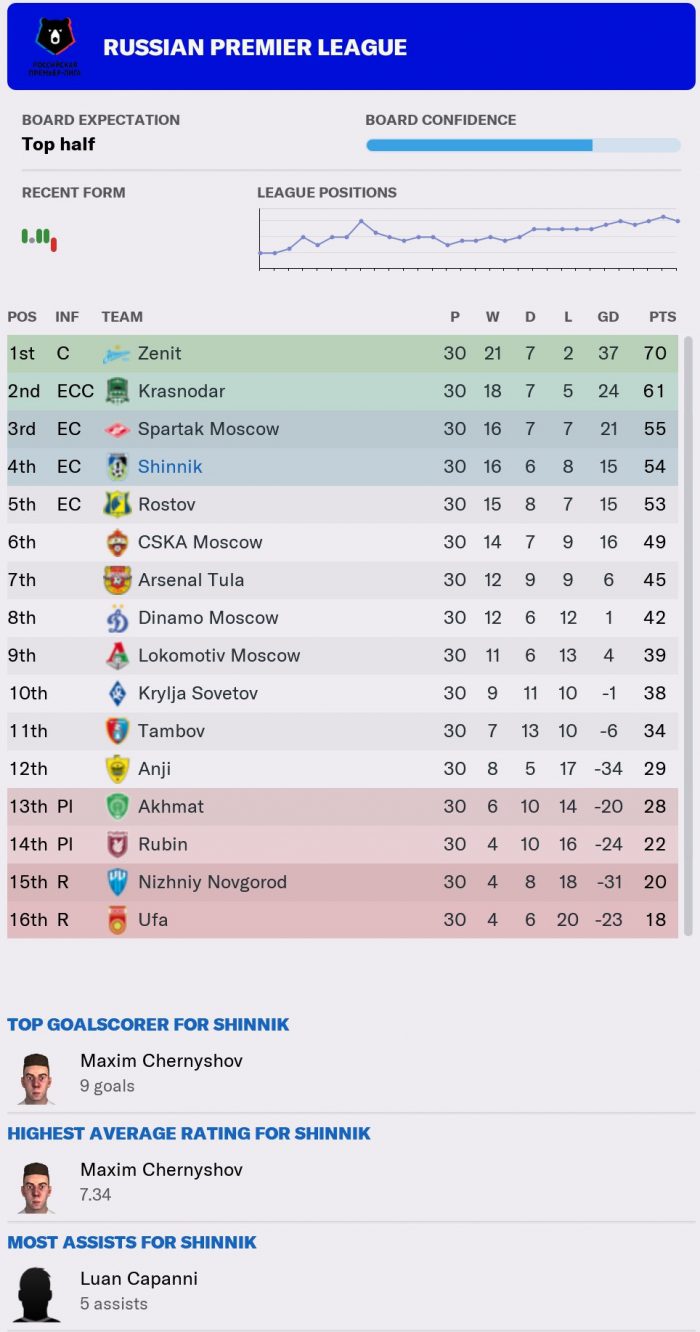 And now, the whole team agrees that we should be a Europa League regular.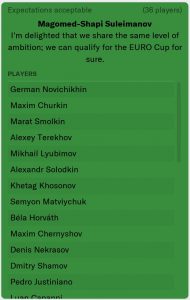 Despite the worse league position, we made progress on other fronts. In Europa League, we made it in the second knockout round, only to lose to Bilbao.
And we won the Russian Cup.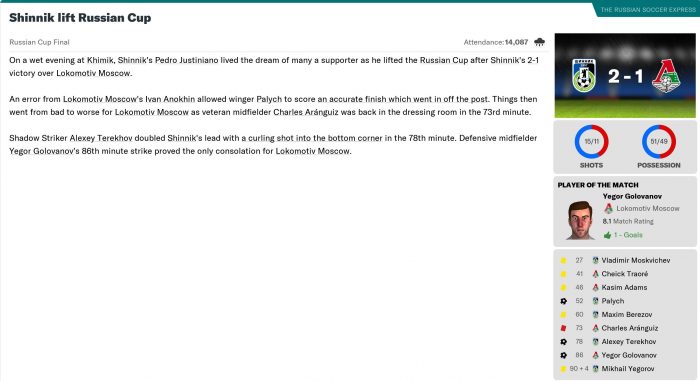 And finally, here are the end of season awards.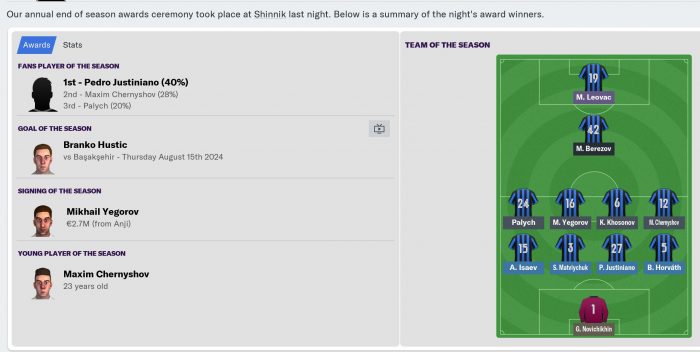 And seasonal stats.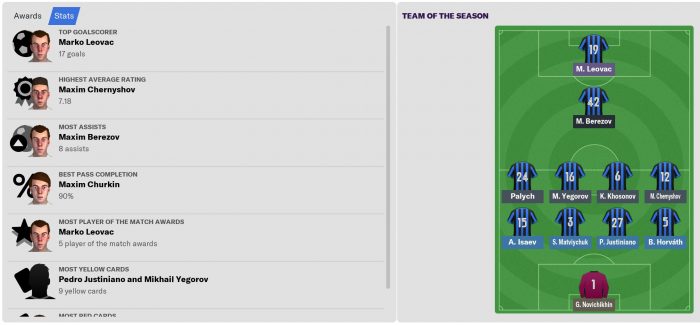 Player Development
Marko Leovac had a good season, though his attributes only increased a bit.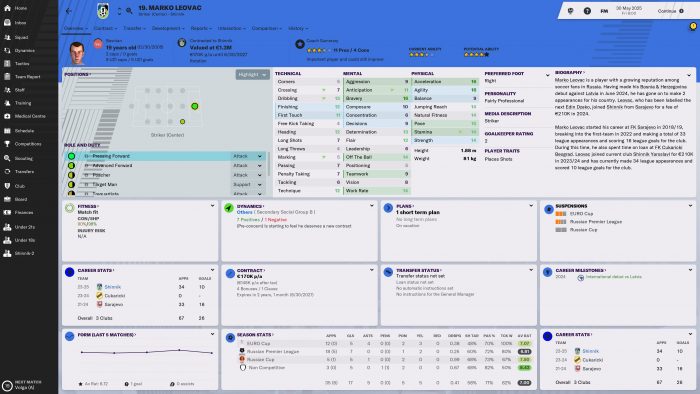 Ditto for Maxim Berezov.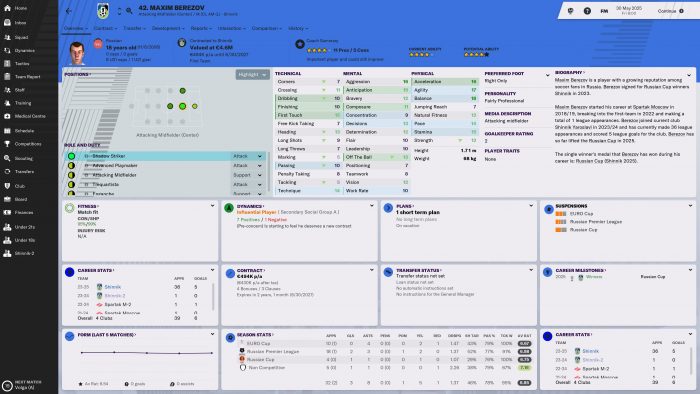 Luigi Pinto turned into a key player.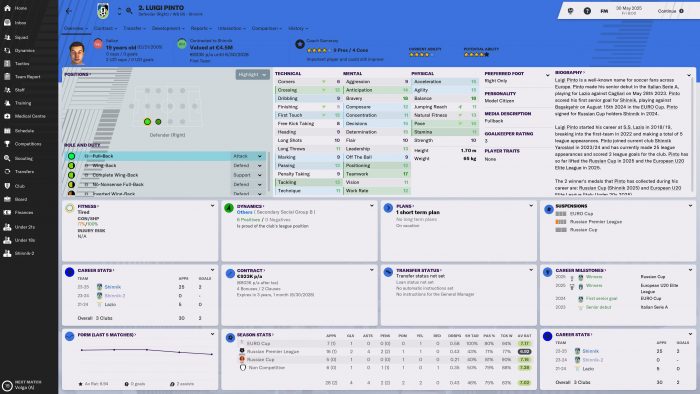 Luan Capanni had a disappointing season, troubled by injuries and poor form.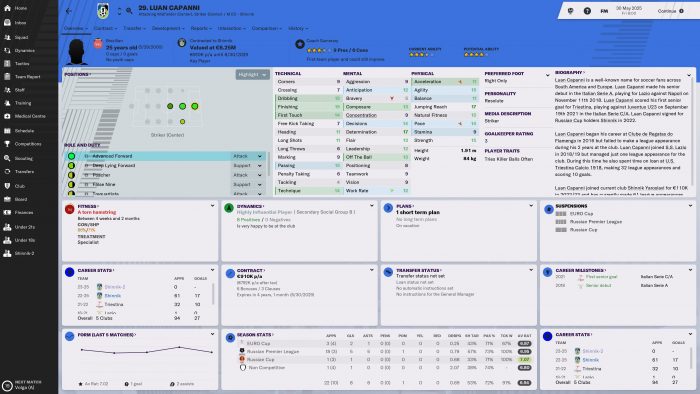 Maxim Chernyshov is the best performing player in the league this season, and he improved a lot as well.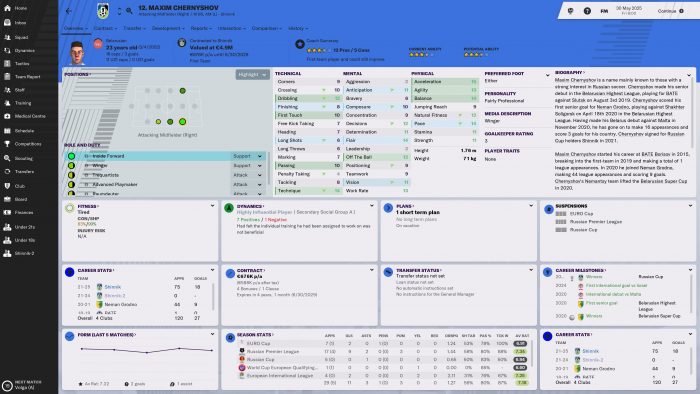 Alan Yuriev broke into the first team, as a rotation player.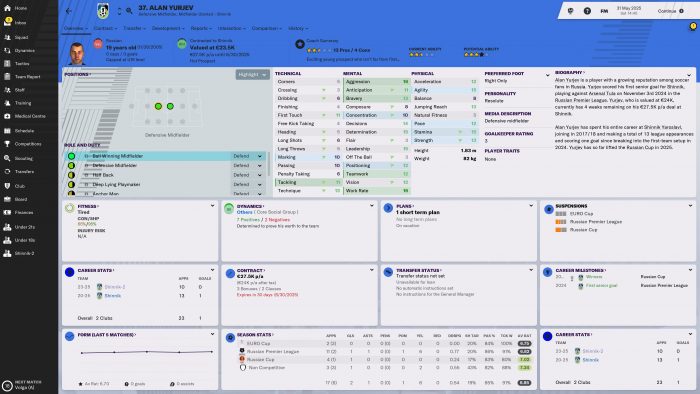 Béla Horváth regained some of the lost determination, and his addition of the left back position enabled him, Isaev and Pinto to coexist well.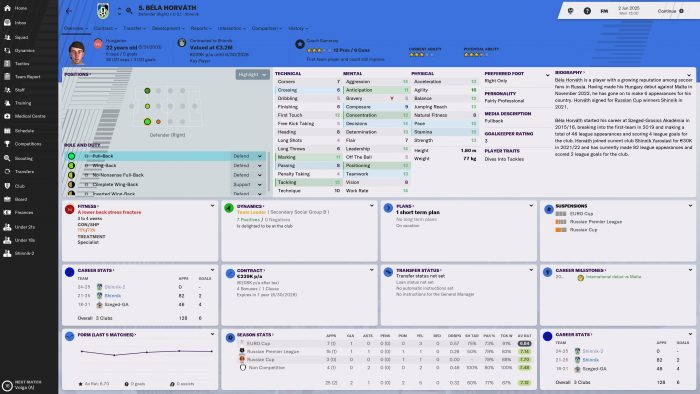 And the biggest improvement is probably from Alexey Isaev, whose continued improvement makes the loss of Titov rather forgettable now.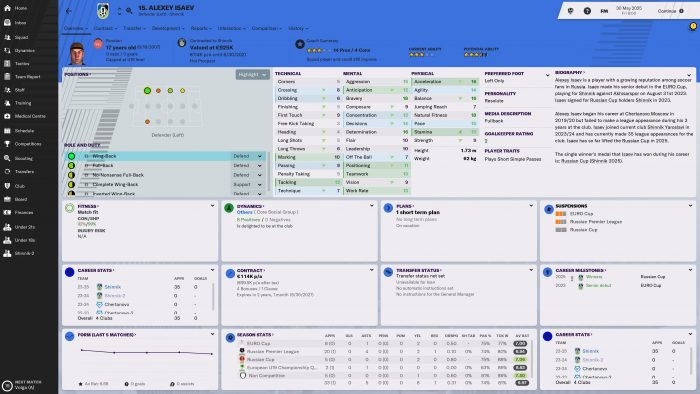 Concluding words
The league feels more like a grind now — instead of top performance, what matters is avoidance of poor runs. I am not expecting huge improvements in the short term now, since luck plays a big role. However, I expect to see gradual improvements in club reputation, facility, consistency in performance and depth in squad.