Yep. Another season. A season with the best results so far. A season with the worst events so far.
Seasonal Changes
The game engine has been criminally underestimate our income for quite a while. As a result, during the middle of the season I was unable to extend the contract of any player. The other teams seized the opportunity and bought players from me using the minimal price clauses.
As a result, multiple important players left.
Also, the season was marred by multiple terrible injuries leading to players resting for 5 months each. I had to buy players to cover the vulnerable positions. This was the theme of the season.
Transfer-in
Season Start
Igor Demenko (€1.2K)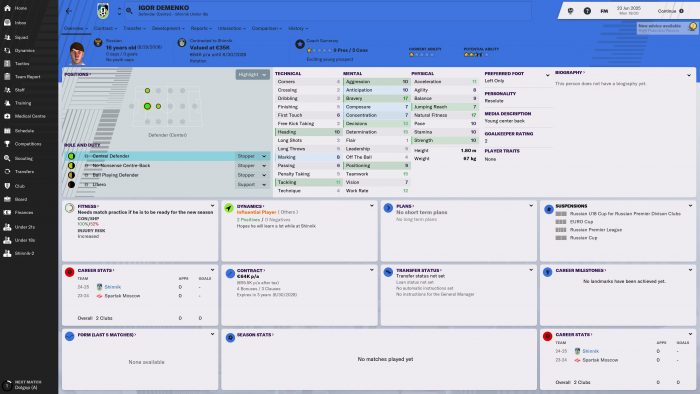 Arsen Megamadov (€190K) was signed to replace Novichikhin since he has a better personality. Unfortunately, his ability turned to be low, which made him not very influential and instead he was influenced and soon changed to be a Fairly Professional team member.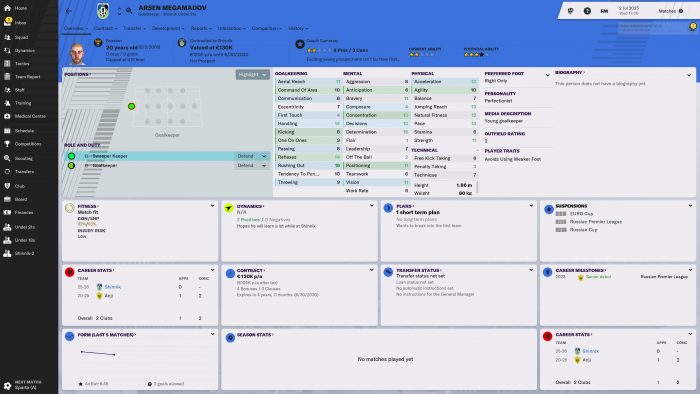 Denis Dorokhov (€1.5M). He was signed because we were severely lacking in the left midfielder position. On one hand he was the last straw to the (imaginary) dire financial situation, on the other hand he was about the only left winger I would rely upon during the season.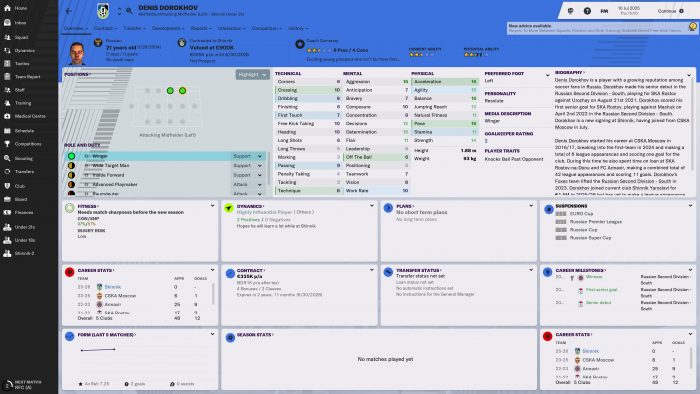 Sergey Frolov (€1.3K). Signed for perfectionism, but again, without reputation or ability to quickly establish oneself in the squad, one would only be negatively influenced by the team and turn into yet another Fairly Professional player…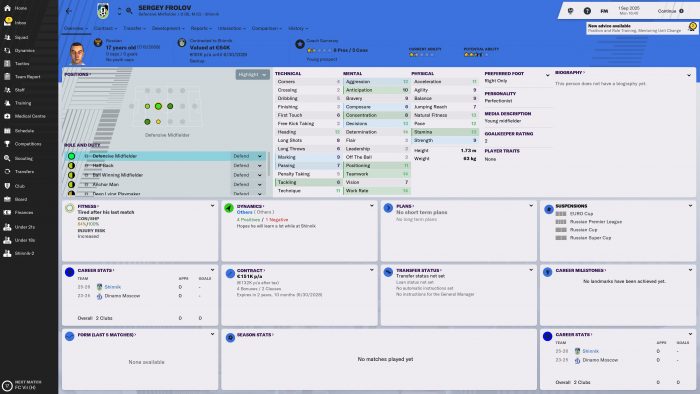 Mid-season
The mid-season window was one I lost lots of important players. So there were panic buys.
Danijel Goreta (€250K). Screenshot at the end of the season. Probably the future star, but foreign players tend to take longer to blend in.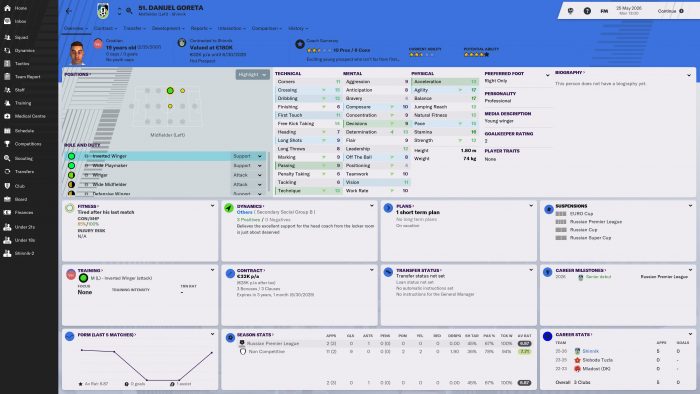 Victor Yerastov (€1.2K). Screenshot taken at the end of the season. The goal is to add some flair to a mostly defensive group of midfielders, but he was unable to add to the team in this season.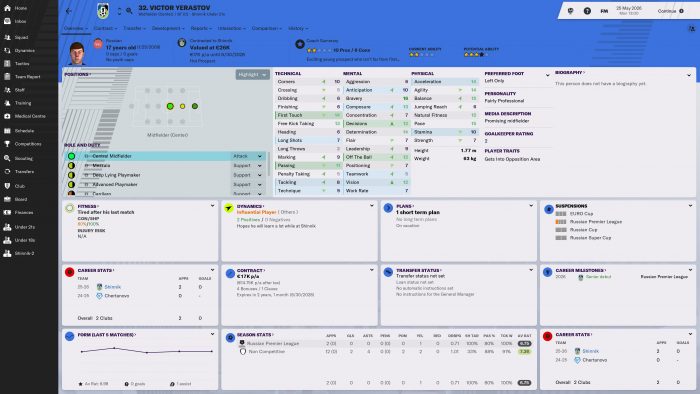 Andrea Marcucci (Free). Probably shouldn't have signed him.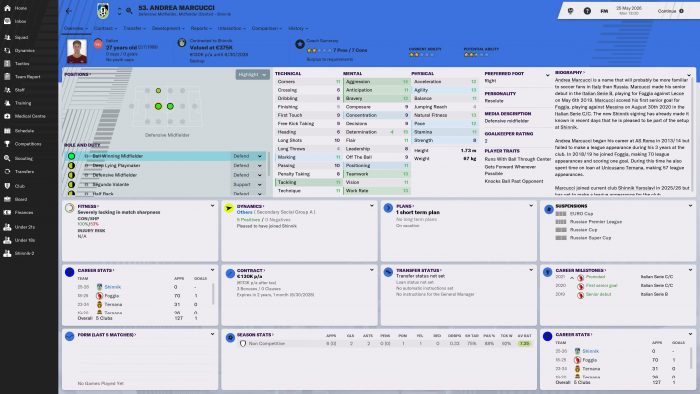 And Magomed Smolkin (€1.1K), an attempt to sign a youngster before the scout reports. Which was a failure.
Transfer-out
Koleinn Birgir Finnsson was unhappy about the number of matches to play here. He left the team.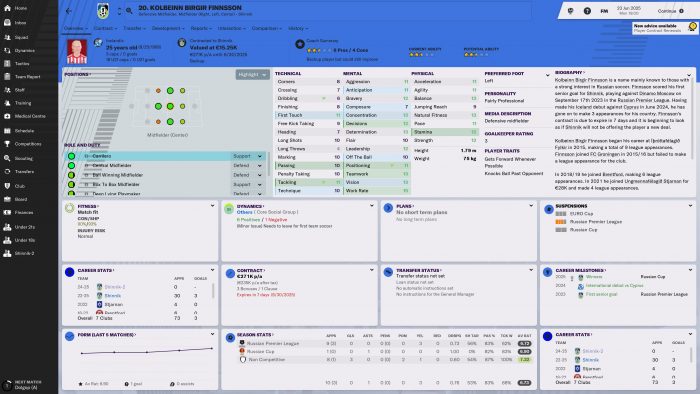 The mid-season fiasco began with an irrefutable request for Khetag Khosonov (€2.2M). Then Béla Horváth (€1.6M). Then Magomed-Shapi Suleimanov (€8.25M). I also used the time to sell Maxim Churkin (€450K), Alexey Litvinov (€120K) and German Novichikhin (€725K).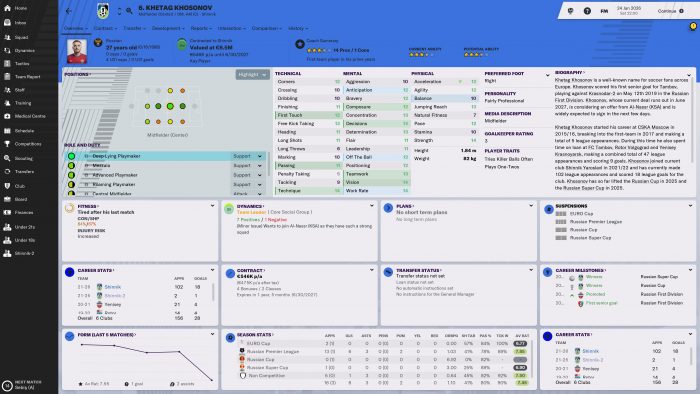 With only half a season in Shinnik, Khosonov still won the Head Coach's select award.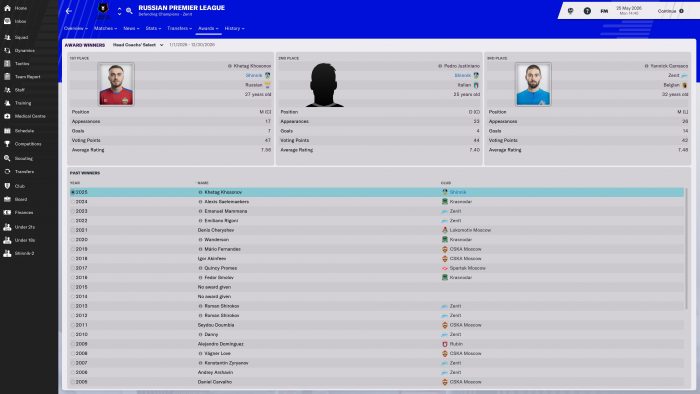 Youth Intake
We have some good players and professional players, but not both. In comparison, Aliev from the last season was much better.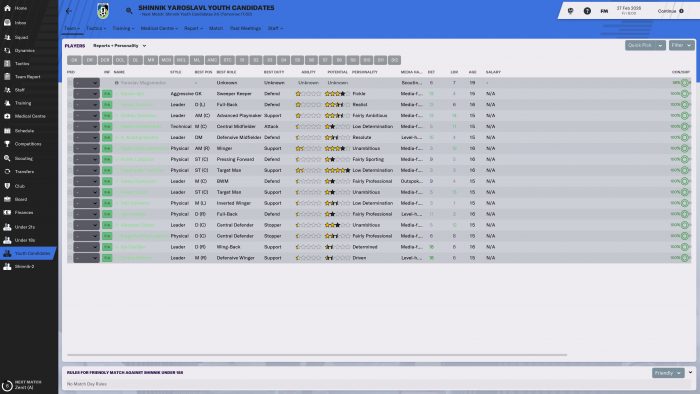 Some of the better players:
Vyacheslav Larionov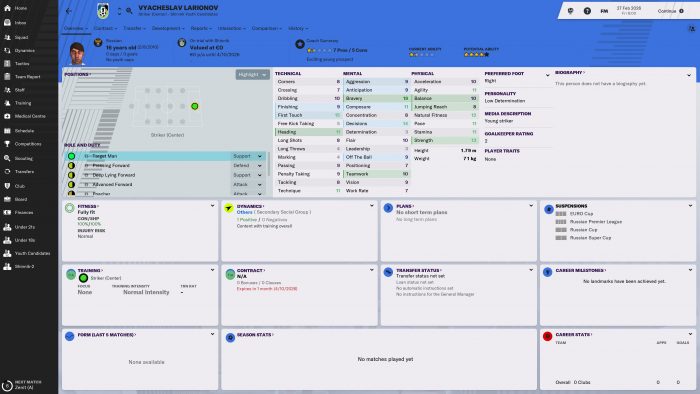 Radik Abdurakhmanov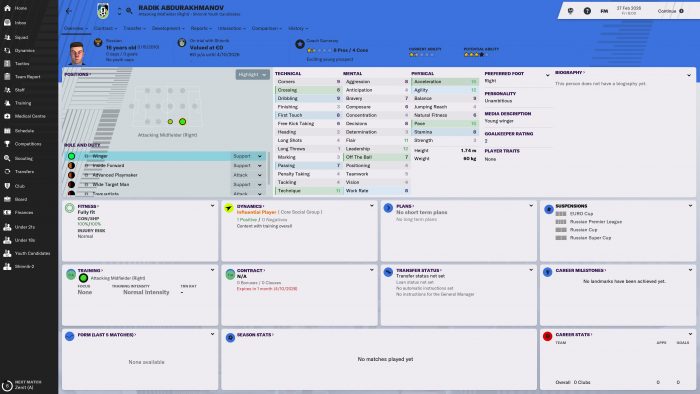 Andrey Samoilov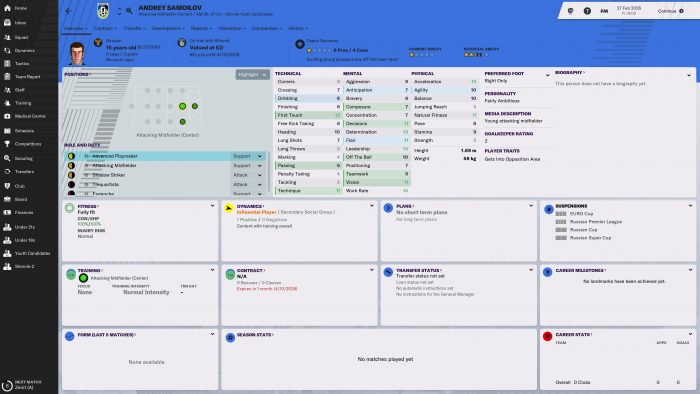 Hasan Smirnov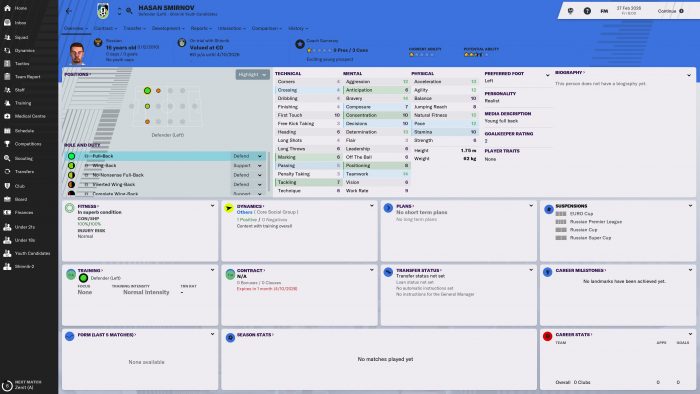 Maxim Iljin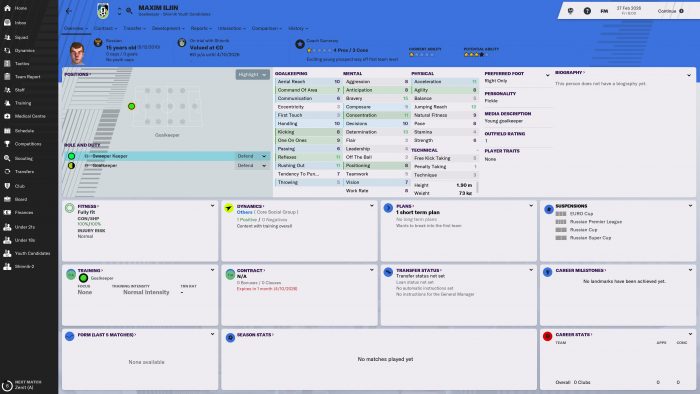 Season Summary
The season begins with the Russian Super Cup, a single match between the league winner and the cup winner. It ended up in our favor.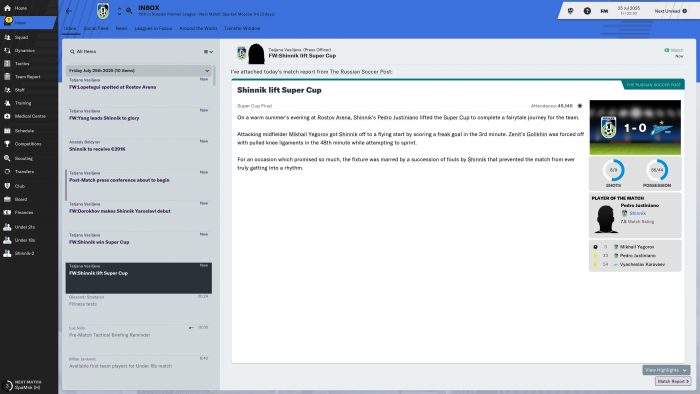 The Russian Cup, we were not lucky and drew Spartak Moscow in Eighth Final and lost. In Europa League we made it to the quarterfinal and lost to Arsenal. Ironically the eventual winner was Wolfsberg, which we encountered in the group stage and beated them on goal differences.
Finally, after a very long winning streak and a very long streak of not losing, the last few games were played rather poorly, and even a win against Dinamo Moscow in the last match was not enough for us to bounce to the top.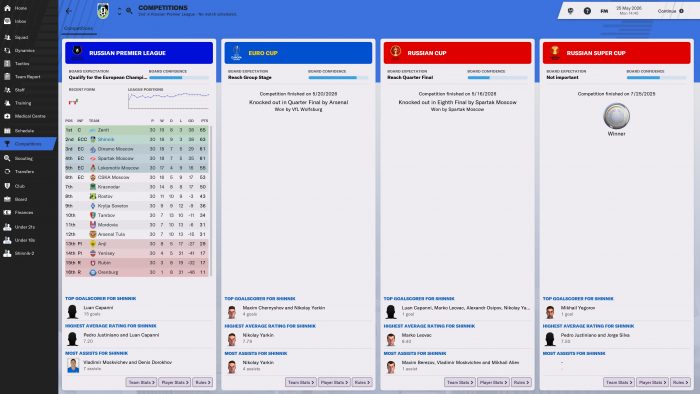 End-of-season awards and statistics.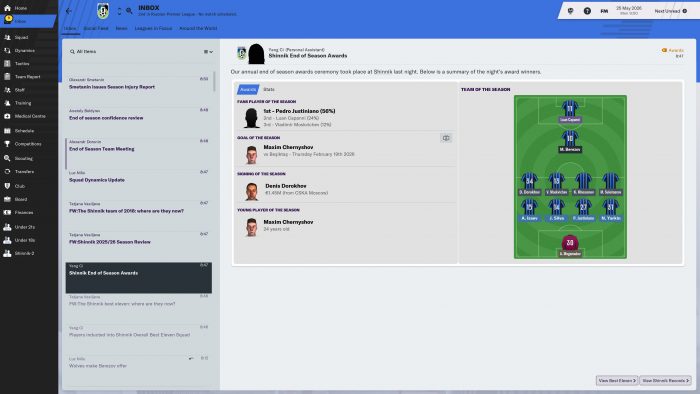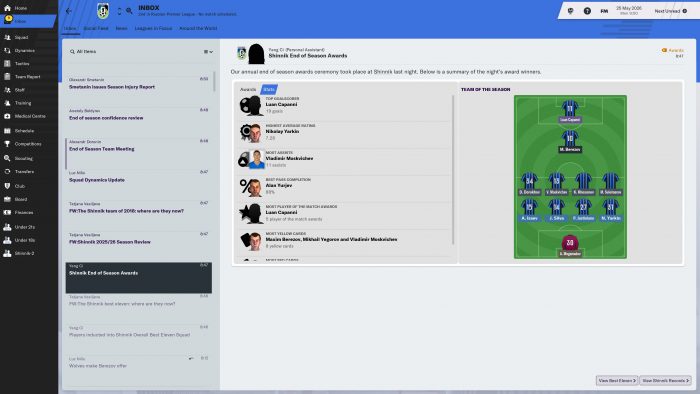 Voronin and Kukushkin won the best player and top goalscorer for the B-team respectively.
Player Development
Nikolay Yarkin. Due to Horváth's departure and Pinto's injury, Nikolay Yarkin turned into a very important team member. His primary position is still right fullback, but his ability to play on both wings helped a lot.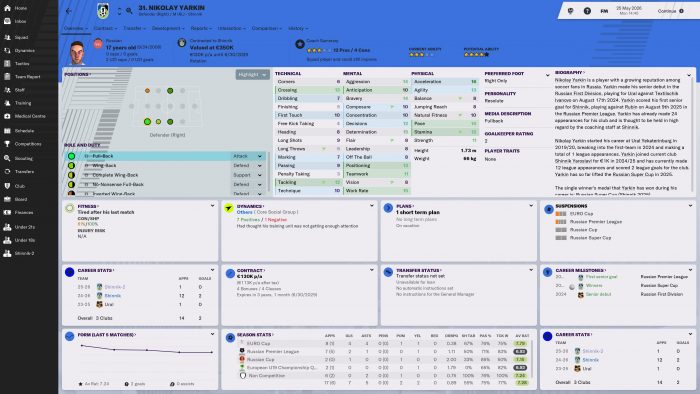 Isaev and Berezov continued to improve, but they probably hit their potential limit now.
Ditto for Capanni, who had a very good season.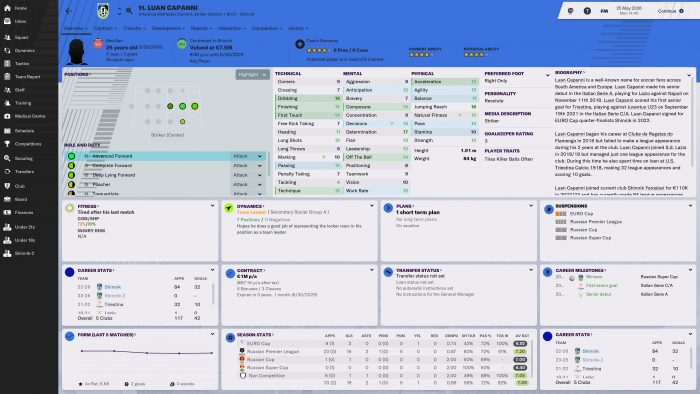 Mikhail Semenov, Mikhail Aliev and Ruslan Popov are able to start matches, albeit only occasionally.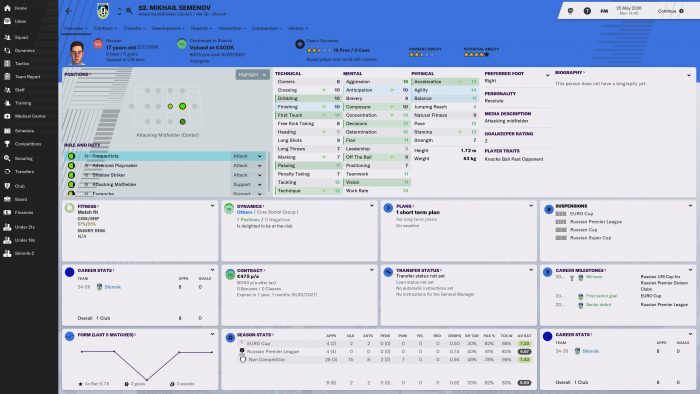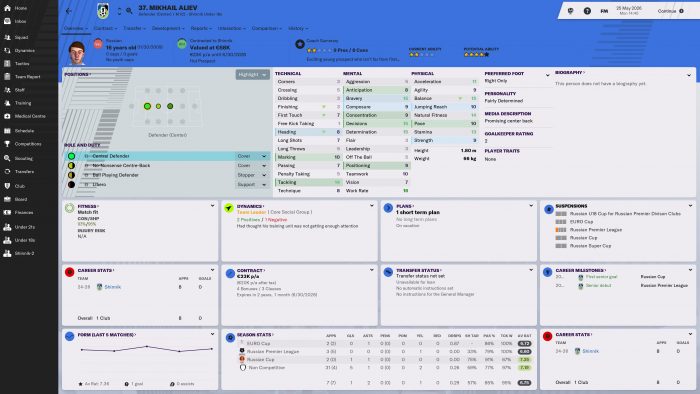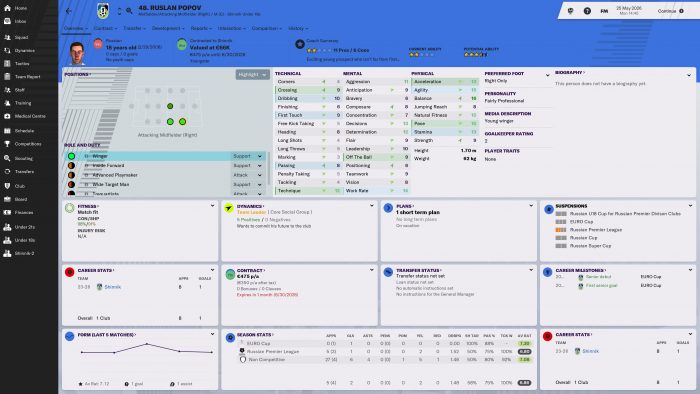 Unfortunately Alan Yuriev mostly worsened.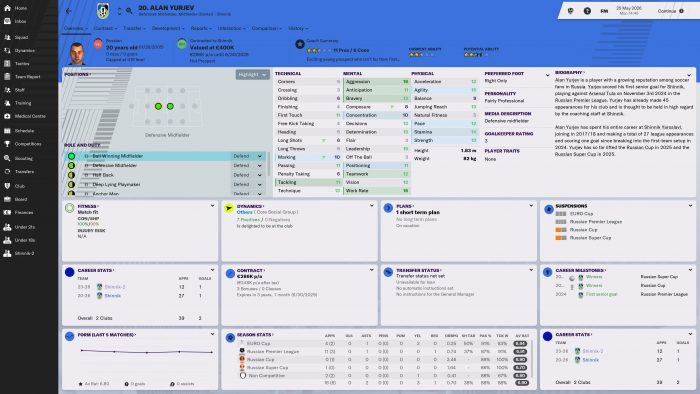 And Pinto, plagued by injury, was also setback.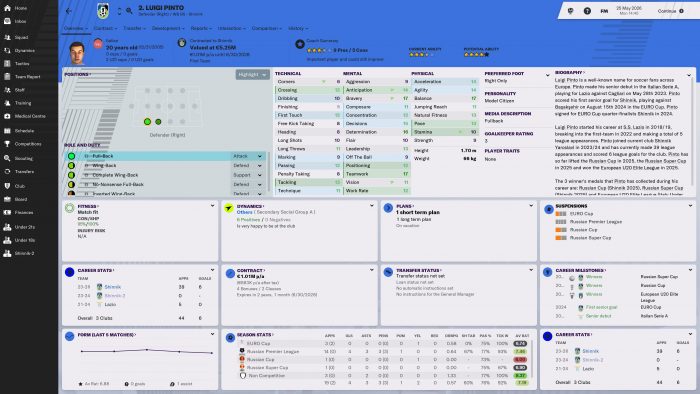 Concluding Words
It goes by the famous quotation "it's the economy, stupid", that without a solid financial foundation, the success won't last.
Ironically, due to how economy is modeled in the game, perhaps the best way to stay financially stable is to stay in the European Championship as best as I can. The prize money would probably be my single major income source for the future years.
For the squad, it feels weakened when compared to it was one year ago, but it also felt that we no longer have particularly weak or vulnerable positions. Left fullback is probably the most problematic position now, but a healthy Isaev would suffice.
Also, now I am with a transfer budget larger than I ever had, it is time to look for useful additions to the team.