After an eventful Season 8, the game (and the player, that is, me) never ceases to excite!
In short, I set a very high seasonal goal, then brought in many free transfers. It turned to be a disaster: the free transfers took too long to merge in the squad, meanwhile dragging down the team and complaining about lack of first team opportunities at the same time. By the time I mostly sort out the problems, I had little time to turn the tide.
Players
Transfer-In
Evert Bijlsma (free tranfer). One of the top performers. Had I not have the other future star, Semenov, He would have been featured even more this season.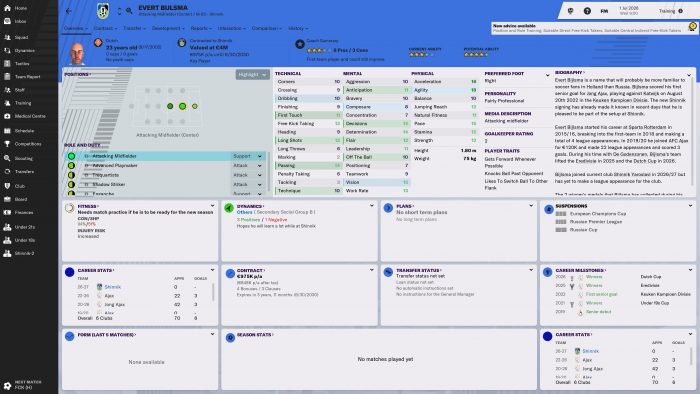 Alexandr Novitskiy (free tranfer). A solid goalkeeper that started most of the games. I am still not sure it is the wisest move to spend a foreigner slot for a goalie though.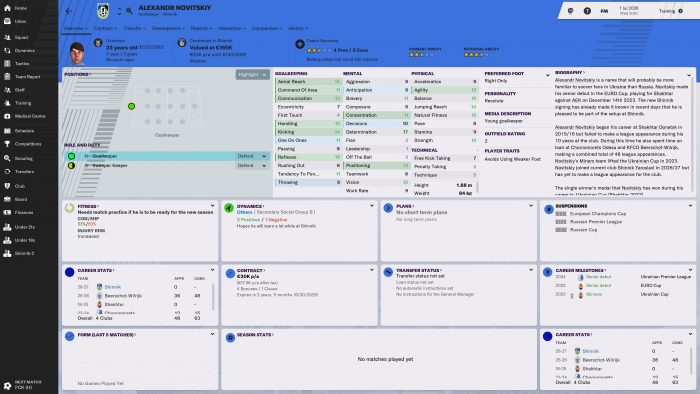 Régis Chevallier (free transfer). As belligerent as his name ("King Knight") sounds. Started the season extremely poorly, by getting himself a red card twice, and both times happened at the beginning of the respective games. However, he improved a lot in the season and by the end he seemed a reliable choice between him, the unhappy Hansen, the inconsistent Leovac and the injury-prune Capanni.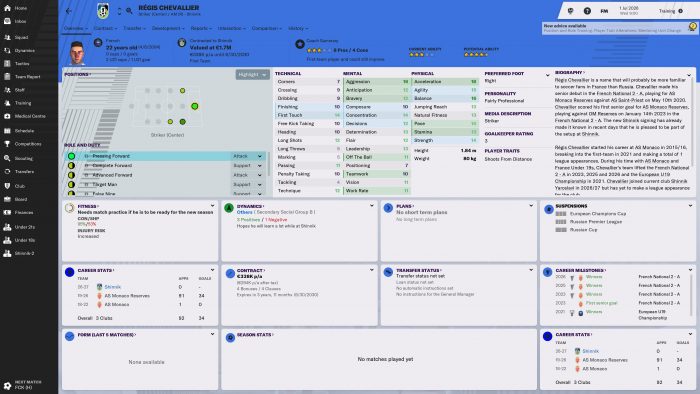 Sontje Hanson (free transfer). A real world Ajax production. Plays well as a striker, plays well as a shadow striker. Only problem, I thought I gave him enough time to play, but he didn't agree. Sold as quickly as possible to reduce cost and avoid unsettling others. Overall, he is part of the sad story of this season.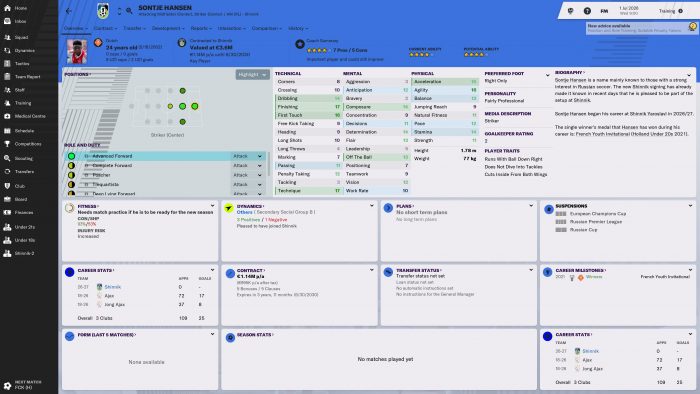 Andrey Ivannikov (free transfer). Became the third choice for shadow striker after Bijlsma and Semenov, but due to being a Russian he has more chances to feature. Still, not as good as expected.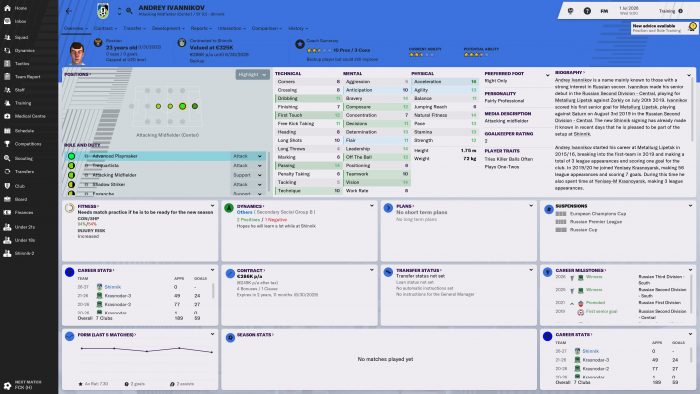 Raúl Gutiérrez (free transfer). Doesn't complain but never get going either.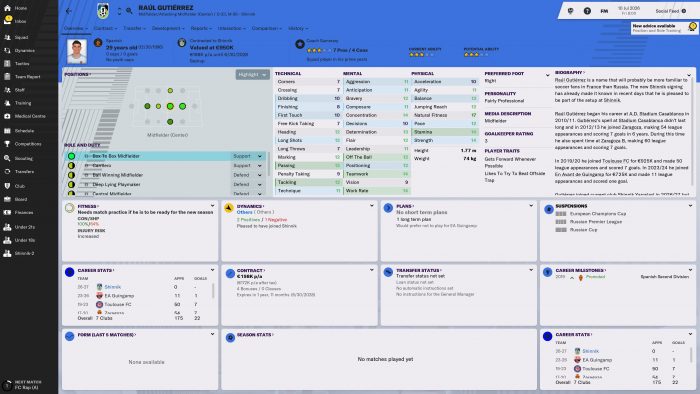 Viktor Claesson (free transfer). He had played in the Russian league for years, spoke good Russian, and thus almost immediately become a team leader upon joining. However, his preferred tactical role (a left-wing Raumdeuter) isn't part of my default tactics and making way for a short term sign feels weird. Ultimately, I can't figure out how to use an offensive player without pace nor stamina, besides as a super sub. He wasn't flattered by the super sub idea, so another unhappy guy in the locker room.
And, probably due to his high status, the first time I heard he was unhappy he was already complaining to all players. The second time, already to the reporters. There was never a chance to settle this privately…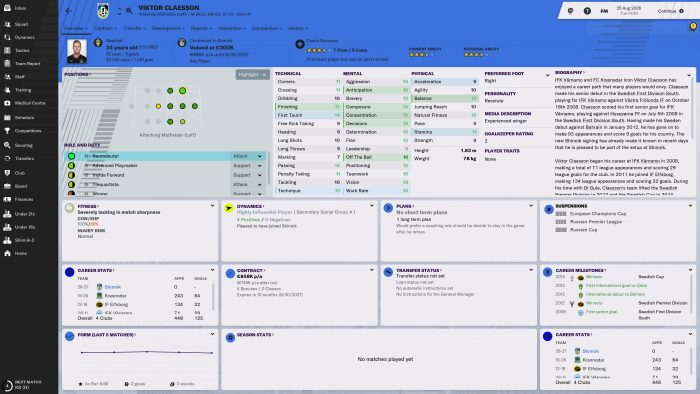 Alexandr Tashaev (free transfer). Screenshot taken at the end of the season. Another unhappy guy who quickly signed for another club. Admittedly, despite the scouts' low opinion for him I should have him start a few games to see what happens. He was decent in the cup games he played.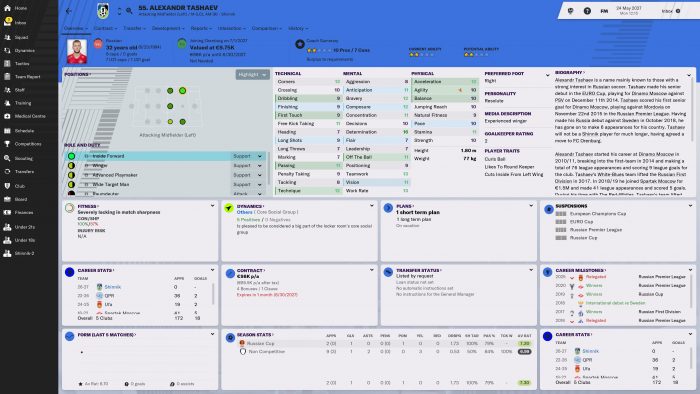 Finally, Godfred Donsah (€300K) during the mid-season break. He scored a goal in his first Shinnik match, but afterwards, disappointing. He wasn't unhappy yet, but there is always the danger…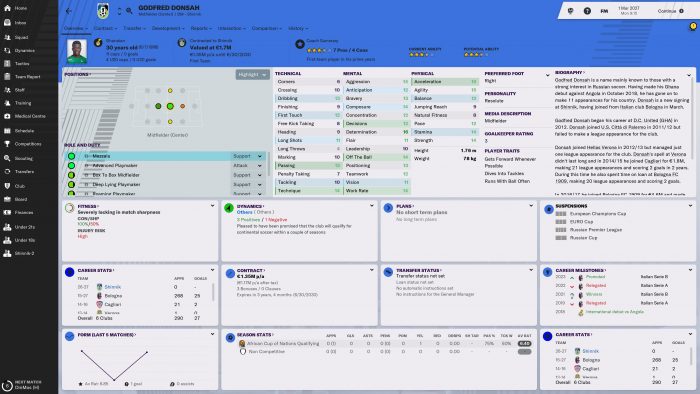 Besides these, I signed lots of young players with good mentality but lacks ability or potential. Alexandr Kalinin (free transfer) might be an exception as he looks like at least a good backup player.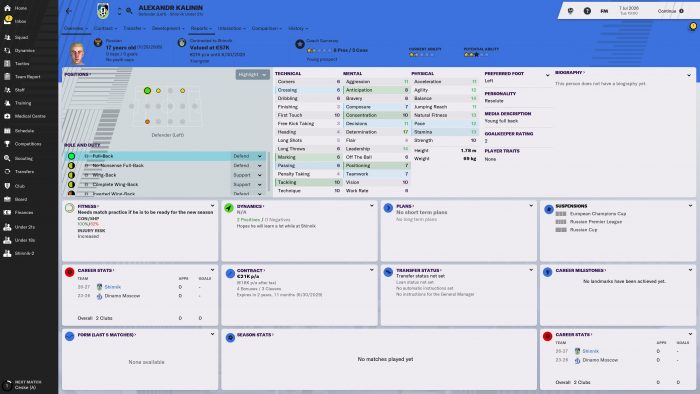 Transfer-Out
Berezov (€5.5M) was angry because I promised European Championship but only qualified for a qualification round. Andrea Marcucci fetched €115K, which still puts us at a loss because he was never good enough to play.
Hansen, Claesson and Tashaev have transfers arranged already.
Youth Intake
I sign young players for both high potential and good mentality. But there are nobody with good mentality this year, so I only signed the top three players.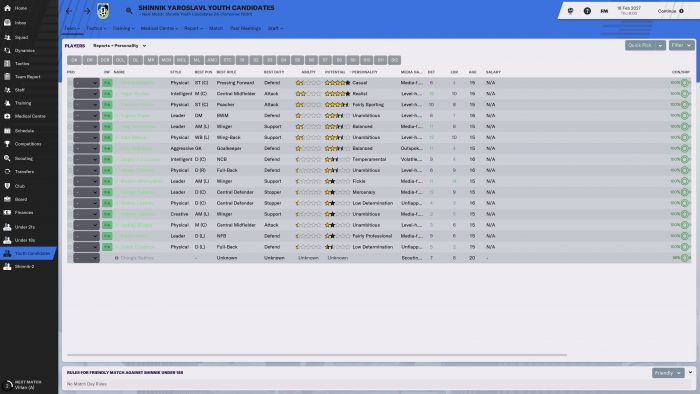 Yegor Ryzhov. He turned out to be one of the top performers of the senior team, scoring one goal and contributing one assist in his 4 starts and 1 game as a sub. Now he is a fairly professional player whose stated goal is "feels the team has more potential and wants to help them realize it".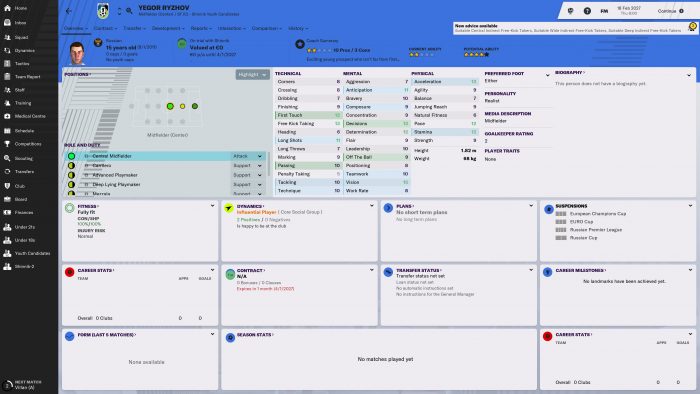 Dmitry Galperin. Has the potential, but the casual personality is going to be troublesome. Imagine this: other guys are training hard, while this guy finds a corner in the training room, and plays Football Manager 2019 on his laptop! He even spends more time writing about what happens in his game on a blog, than improving himself!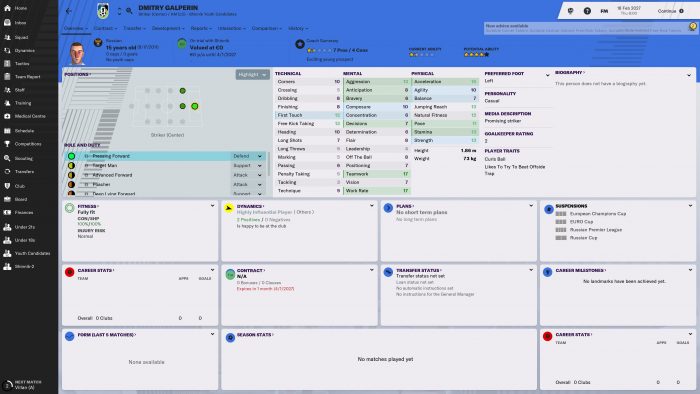 Vladimir Kirillov. Short poacher-type strikers seem to be over-represented among generated young players. In other words, they get generated often but seldom make it to senior teams. I am usually not impressed with how single-dimensional they are. But Kirillov has heading and teamwork, so it might adds something to him.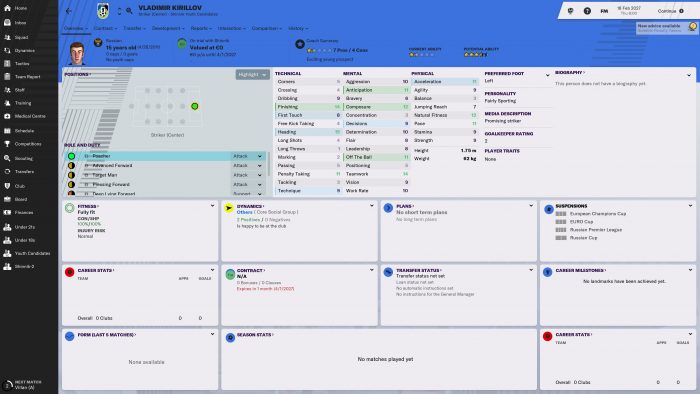 Matches
European competitions were a disaster for us. In the Championship qualification round I met Sporting Lisbon, then in the Group Stage of the Europa League I met Chelsea. It always felt like uphill battles.
The domestic league was a mystery. At times I was four games behind top teams due to schedule problems. The team was at times ranked 7th or 8th but it was all bad statistics and offered little insight, but it prompted the club management to give me one final month for improvement. Thankfully, the month was packed in action and the team happened to be in a good run, so the improvement goal was easily reached. Then another poor run saw us ending up in the 5th position and missing out European competitions.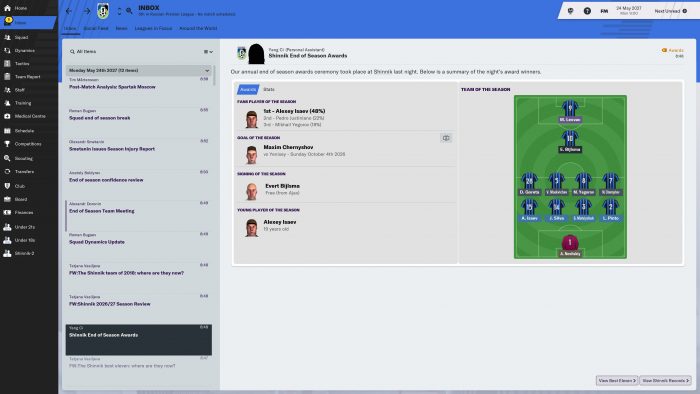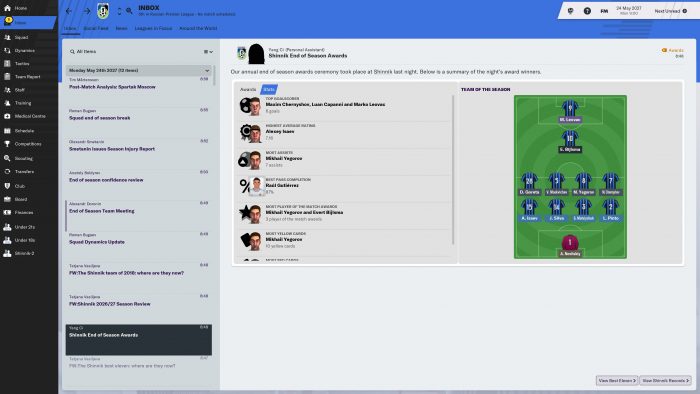 Player development
Semenov has been excellent in training and saw major development in key attributes. His actual performance leaves much to be desired though…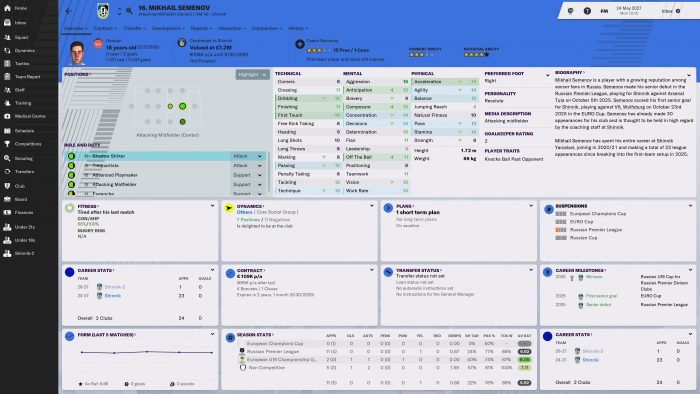 And Ryzhov… who only joined the team for half a season and already made a difference.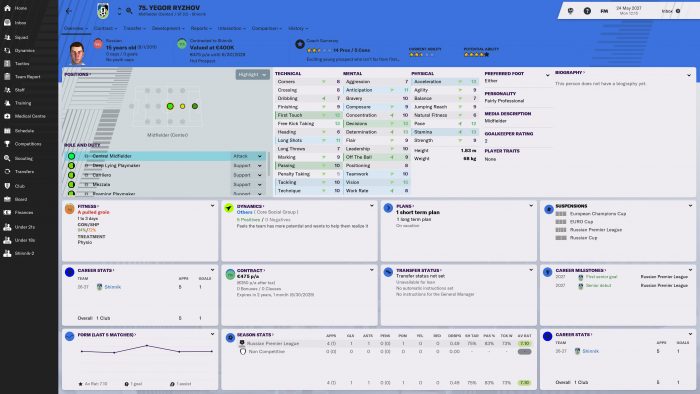 Few of other players have very notable developments.
Concluding Words
So the game is in its 9th season and it is ever exciting — now I escaped the board's decision to fire me, but they remain unhappy about this season and I am now in a dangerous position.
Two seasons' (mis)management left me a squad with a curiously high person count but still have a few positions (right winger, for example) seriously lacking. There are much work to do next season, and the allowed margin of error is narrowing…