Football Manager's schedule generation has been a bit weird: the teams with European competitions often have lots of matches rearranged to make way for the European games. It is not uncommon that a team with European games to have played 4 fewer games than a team without.
For the past few seasons, I qualified for Europa League, and I was affected by this problem. The board often criticized me for the low league position, without taking the schedule into consideration.
This season, however, is the reverse problem: I have been constantly at the top place, because I am the only strong team without European competitions. It was all roses from the club board, but I know that once the season ends they will judge me on the actual ranking, which, again, makes it feel very weird.
Anyway, I maintained pretty good form to near the end of the season. When I had 3 games left, I needed to win the first game against Zenit to win the Russian Cup; win the second game against Zenit to potentially win the league, and, win the last game to secure a place in the European Championship. Unfortunately, I whiffed on all three, so all the way back to Europa League.
Squad Changes
Transfers
Matvichuk was unsettled by Rostov's interest. I don't understand why… Rostov plays in the same league and does not have a higher reputation than us. Anyway, I don't feel like forcing him to stay. Instead I signed Magomed Giraev (€550K). The good thing about him is that he is much more similar to Justiniano and Silva, making rotation much easier.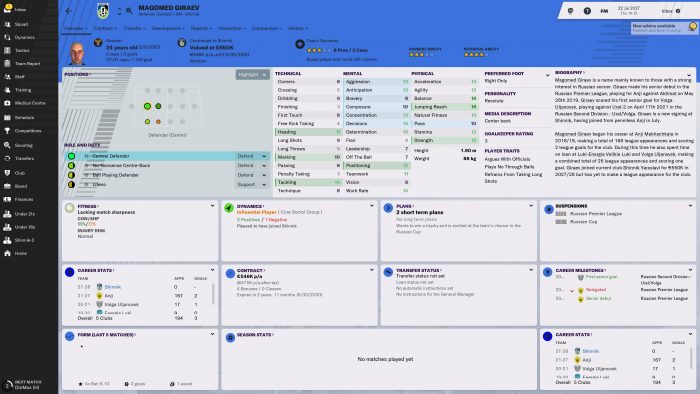 Then, during the mid-season break, Chevallier who scored 10 goals (7 league and 3 cup) in half a season wanted to go to Espanyol. Again, I let him go, but this time I spent a whopping €5.5M on Yury Ovsyannikov. Unfortunately, there was a rule unknown to me which says that a player can't be registered for three teams in the same season. As a loanee he already registered for both Dinamo Moscow and Sochi, so he couldn't play for me in the season at all.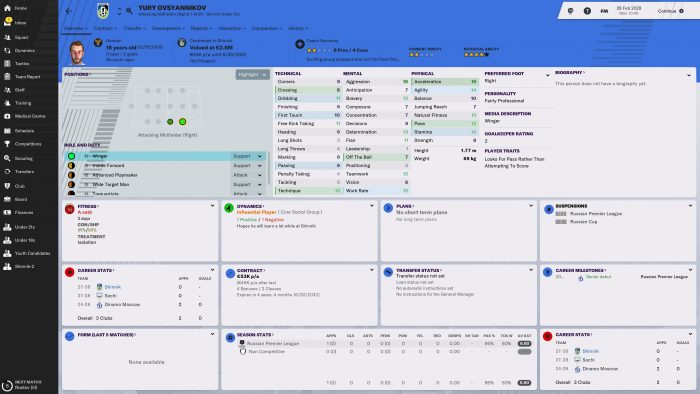 Besides these, I also signed Philipp Max, Florin Andone, Gianluca Sanna (mid-season) and Alexey Kartashov (mid-season) on free transfers. Max was supposed to be a cover for the left back position, but Isaev was good and consistent, so Philipp doesn't get play time. Andone already has a retirement date set, so he was meant to be a one-year solution to avoid a potential weakness in front. It turned out that we did indeed have a weakness in front and Andone was useful, but not exceptional. Sanna does not get play time because Goreta was so much better and Dorokhov gets all the remaining time. Kartashov was useful, but still hard to get play time because Semenov is becoming a star, and Bijlsma is angry enough that I had to give the remaining time to him.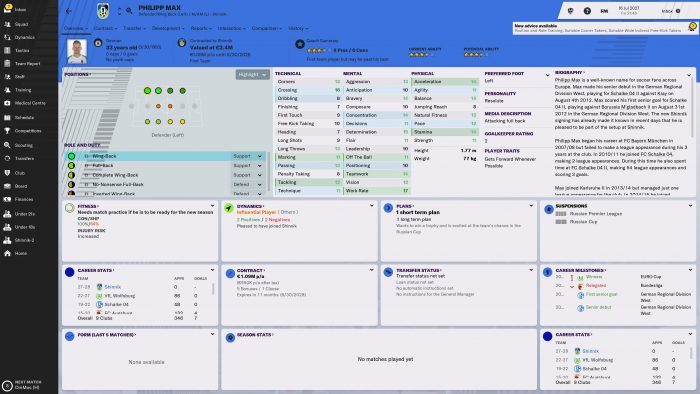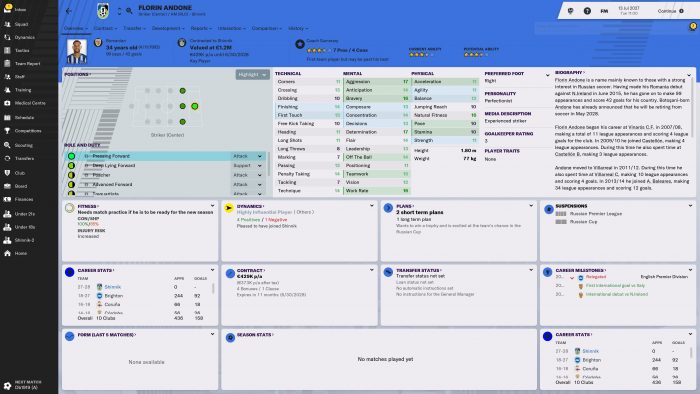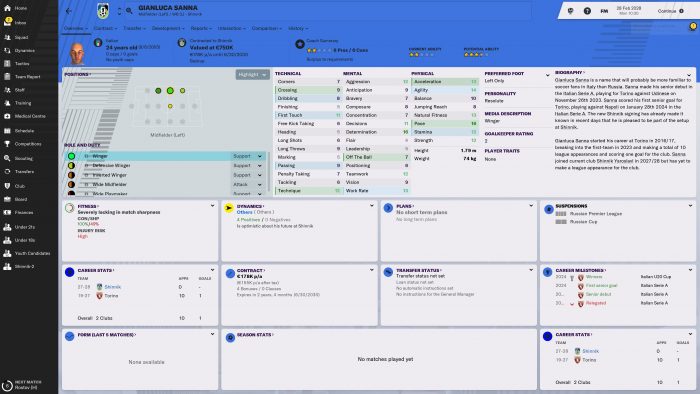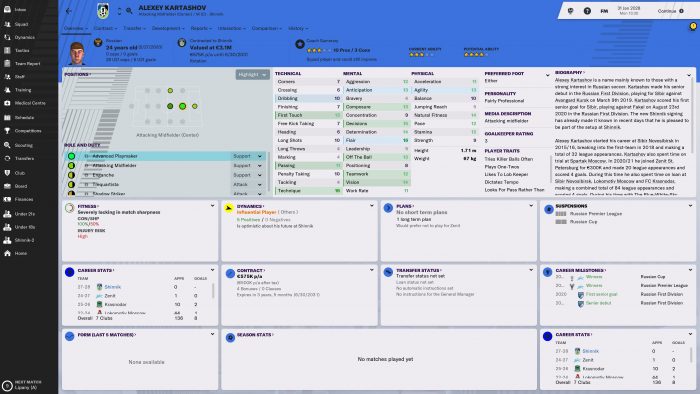 And finally, I signed the youngster Islam Dolgov (screenshot taken at the end of the season) as another left back option, and he was one of the reasons Max didn't get to play.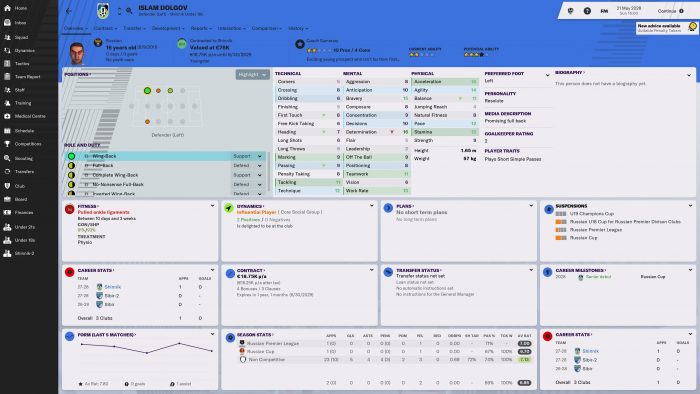 Transfer-out
Besides the above-mentioned Matvichuk, Chevallier and Max, Tashaev, Hansen and Gutiérrez also have transfers arranged in the last season. Paulson left on a free transfer. Terekhov and Megamadov started to feel like surpluses, so they were sold for some extra revenue.
Youth Intake
This year's youth intake is described as a potential golden generation.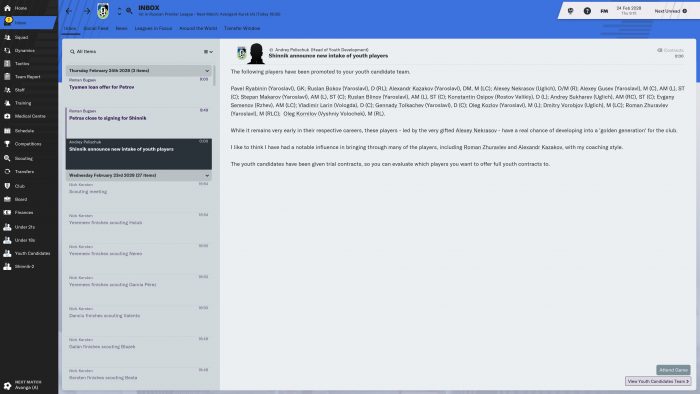 Golden, perhaps, but something is definitely lacking there…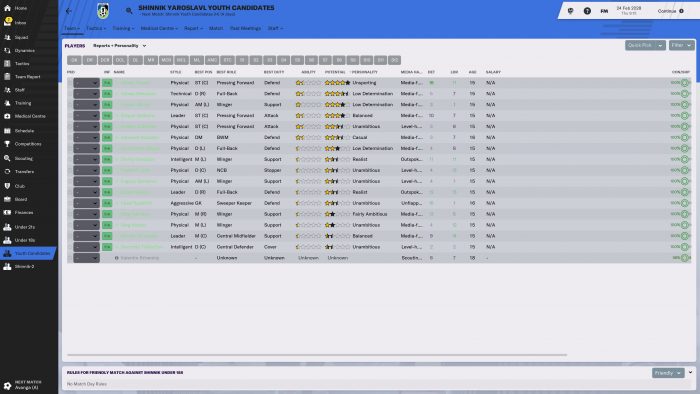 I signed the top three and fired the others. They actually have quite some potential, but I doubt the potential offsets the negative influences they might bring to youth teams.
Competitions
The game is in a confused state with regards to European qualification. It says that I achieved it, but actually I didn't, possibly because the last slot was decided by whether the Russian Cup winner is among the top four in the league.
And, as already mentioned, we ended up in the third place for the domestic league and the runner-up for the cup. Which is arguably the best result except Season 8, but the fact that it took a very poor run to prevent us to achieve more is saddening.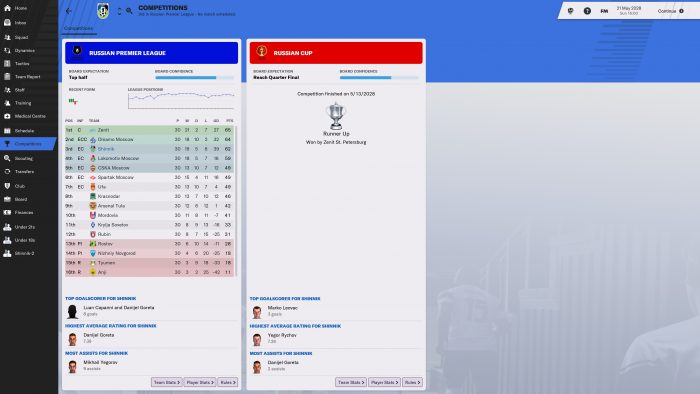 Finances and board
The finances situation is poor, but said to be stable (if you trust the in-game projections, which seems to be always off). I think that the situation is caused by us failing to qualify for continental football in the last season. The next season should see things improve.
However, a takeover happened during the season. The new boss apparently has different priorities. I talked to them, and apparently they dislike "signing young players for first team" but like "develop players using club's youth team".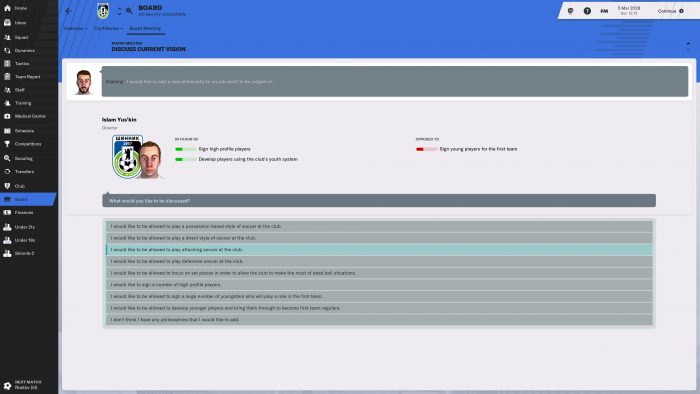 I thus added the develop player one into the club's philosophies. Hopefully, this will make club requests with regards to youth development easier. The old board was very stubborn against the idea of improving youth recruitment, for example.
The end of season awards. Most good stuff goes to Goreta, who has been incredible. Chevallier is the forward in the Team of the Season, despite having only spent half a season here. Giraev is indisputably the signing of the season.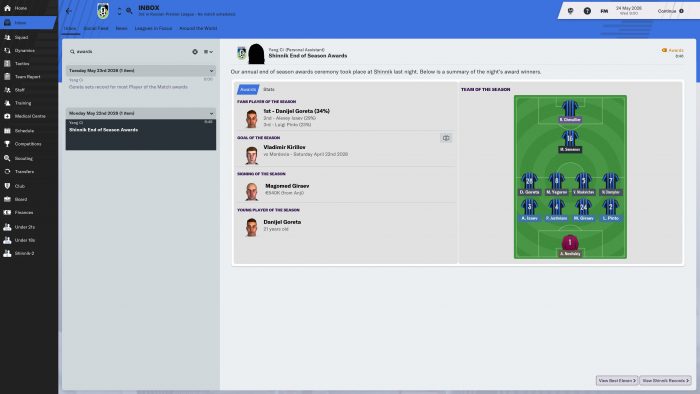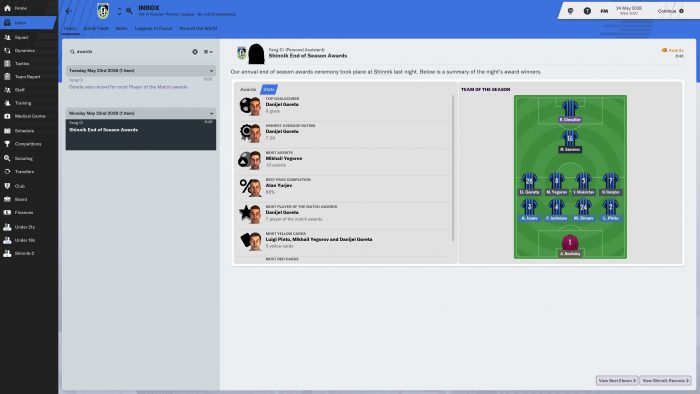 Player development
Development story number one, Mikhail Semenov. He is still not a top performer, but 6 goals, 3 assists and 2 PoMs are a respectable stat. Reflecting this, he is now touted by media as a wonderkid.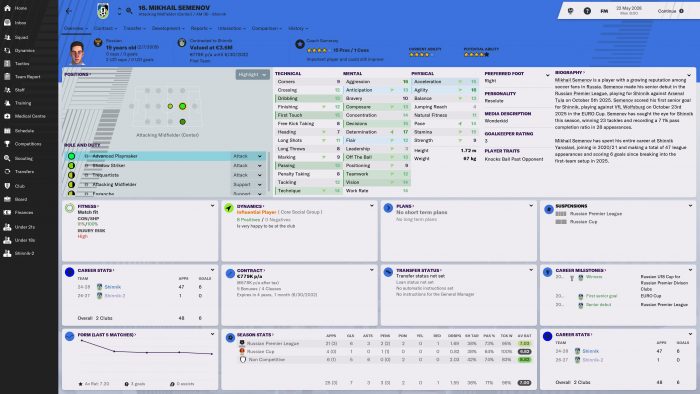 Number two, Yegor Ryzhov. Despite the recommended role being central midfielder (attack), he is actually solid defensively as well, with enough height, strength and tackling to deal with threats of various kinds. But what is easily overlooked is his ambidexterity, which makes his first touch all the more relevant.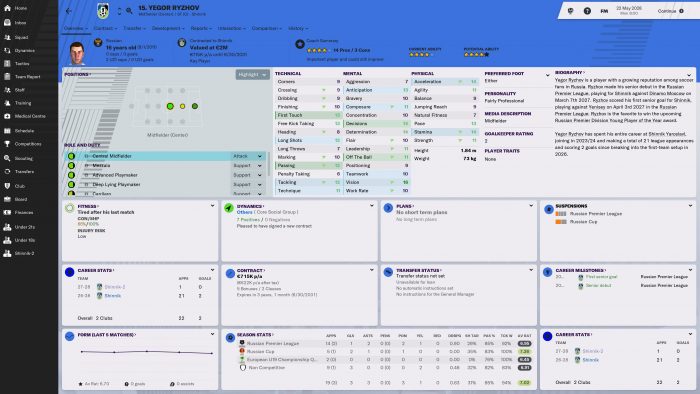 It is hard to say who is number three, since nobody really compared to the two in terms of improvement. Still, Goreta is worth mentioning because he is about the best player this season (sans Chevallier).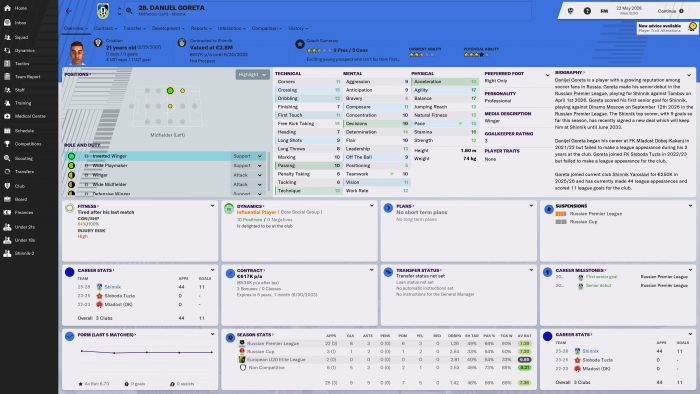 Finally, Kirillov, who I feel won't actually work out. However, he scored 3 times (two of which are penalties though) and won one PoM. The problem, like I said in the last season, was that his playstyle seems to be only relevant against particular opponents, so that unless he gets really good, it would be very hard for him to start games.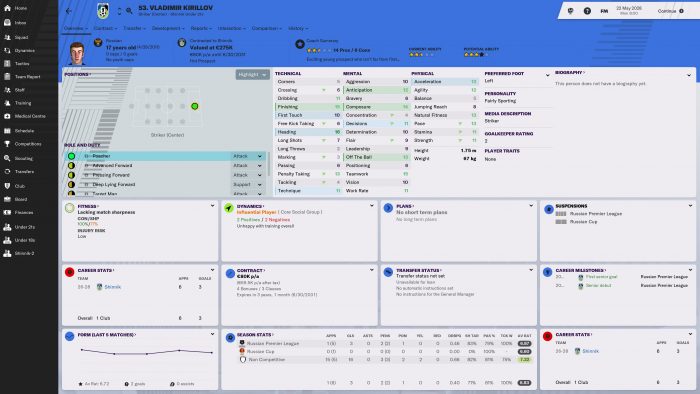 Concluding words
It now feels that S9 was a particular disaster and we are now back on track. Problems remain to be solved, but at least I am now safe from immediate resignation and things are once again improving.