Season 11 is full of worries. The team is weakened in multiple ways. Financial woes. Unhappy players.
But… it is also the first season I won the premier league.
Player Changes
Transfer-In
Victor Hatuka (€1.5M). The deal was to loan him back for a season, which turned to be much worse than I thought. Not only it's a financial burden, but also his personality changed from Perfectionist to Determined. And AMC is such a crowded position.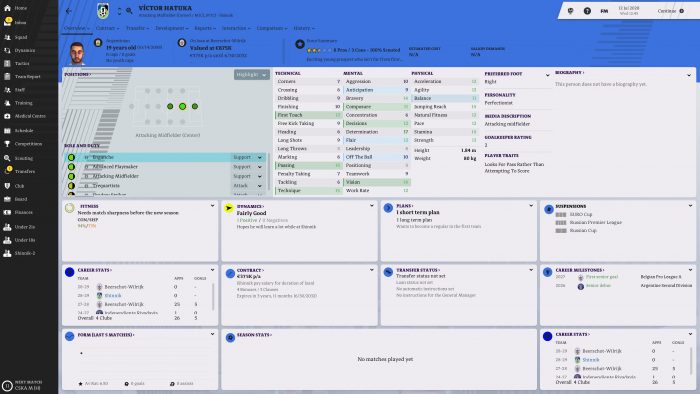 Branko Hustic (Free). Yes. That Hustic. His four years at AC Milan was less than successful, but he is still better than everyone else at the position besides Semenov.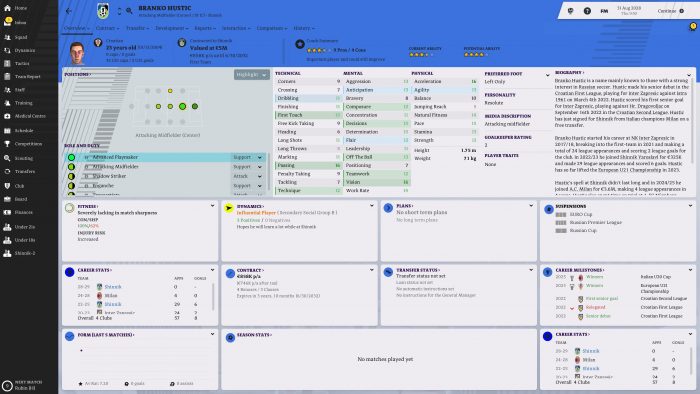 Tomas Petras (Free). Felt inadequate because I also had Ovsyannikov.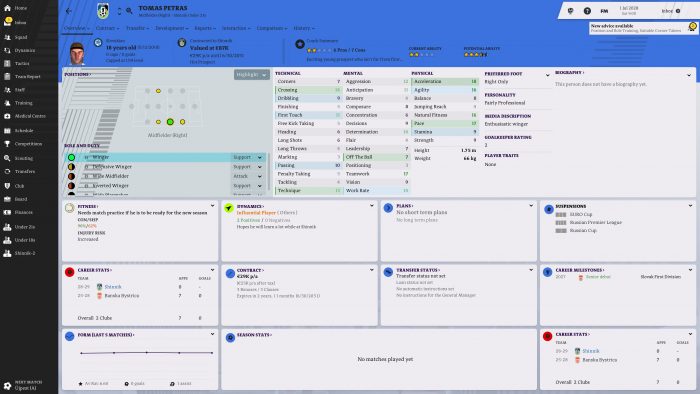 Matteo di Benedetto (Free). Served as a first-team player.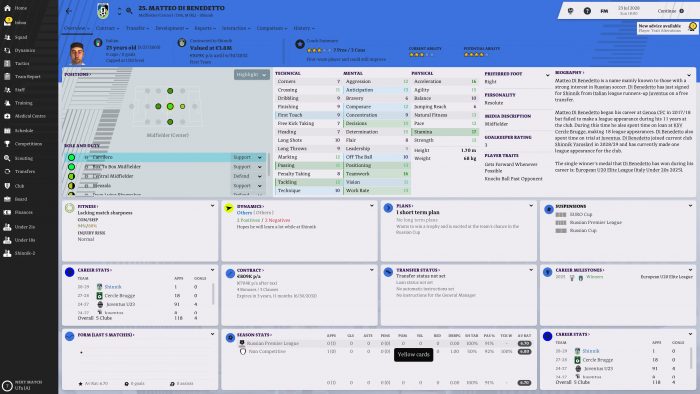 Nicolas Pohl (Free). Screenshot taken at the end of the season. He was OK as an AMC and OK as an MC, but the pecking order is low for both.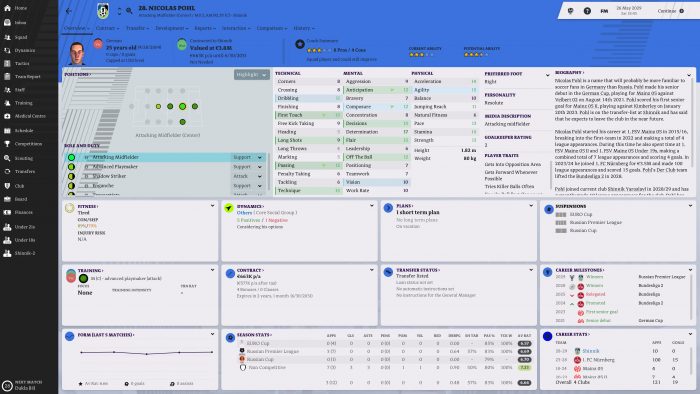 Transfer-Out
Ivannikov (€450K), Bijlsma (€3.9M) and Kartashov (€1M) because I already have Semenov and Hustic for the position and also potentially Hatuka for the next season, so I do not really need all these backups. They were all sold at discount prices, but I signed them on free transfers in the first place, so no regrets.
For forwards, Osipov (€725K), Galperin (€250K), Larionov (€500K) and Leovac (€475K). Osipov actually produced a few good matches, but he wanted more first team chances which I obviously could not afford. Galperin and Larionov have the potential but not the personality to blend in my squad. Leovac was a sad case, since he was suddenly unhappy about broken promise (about first team chances) near the end of the season, when I really could not afford a morale drop. He was worth at least €3M but obviously I can't ask for that if he had only two or three months contract left.
Ryzhov was unsettled by Milan's offer, so sold for a potential €11.5M. However, he would only leave at the end of the season, so I paid another year of salary while largely only using him as a super sub / big match player. All the while he kept improving. Now I feel that perhaps I should have just forced him to stay, since our reputation is quickly improving anyways. But then perhaps I wouldn't be able to achieve this with unhappy players.
Considering that I also signed Hustic back from Milan, I am pretty sure that Hustic will has a few warning words about being over-ambitious.
Finally, Godfred Donsah to Shandong for €675K.
These sales have left me with very limited options for the central forward, and despite largely retaining the old central midfield pair of Yegorov and Moskvichev, the performance has slipped as well.
Youth Intake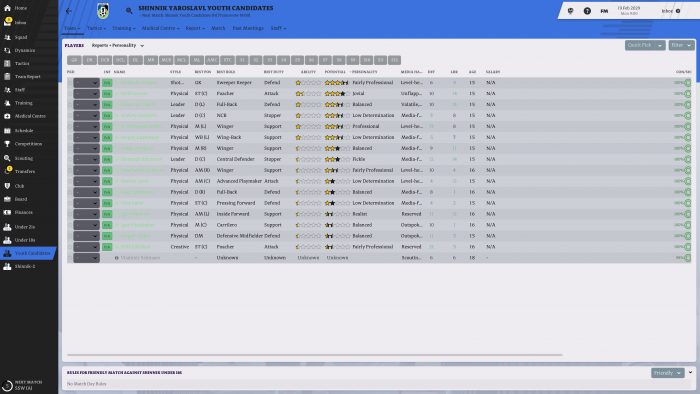 I think only Arapov and Andreyushenko are notable this year.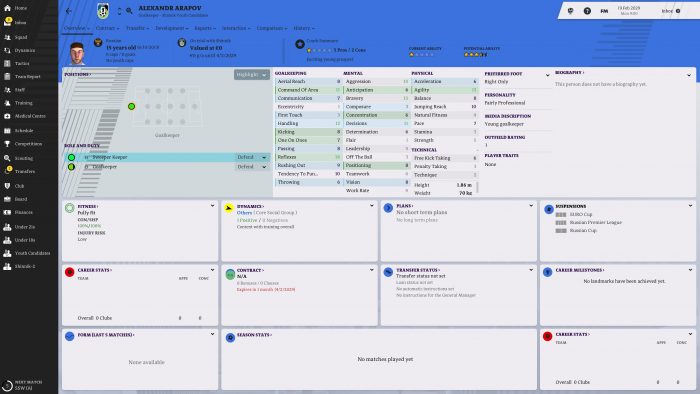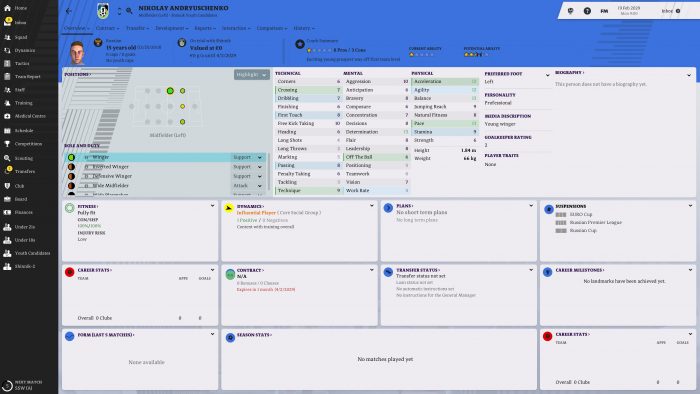 Season Summary
We ended up with 66 points, roughly on par with historical champions.
In the Europa League, we ranked the first in the group stage, and progressed through the first knockout stage only to be defeated in the second.
The Russian Cup drew us and Zenit in an early meeting, so we were knocked out earlier than expected. But losing to the expected champions isn't really a big deal in my opinion.
All in all, we won the league at the pre-season odds of 19.0. Admittedly that just says if an average bot retries 19 times they would also win once, and there is no evidence that I am better than the average bot, but who cares. I am the player.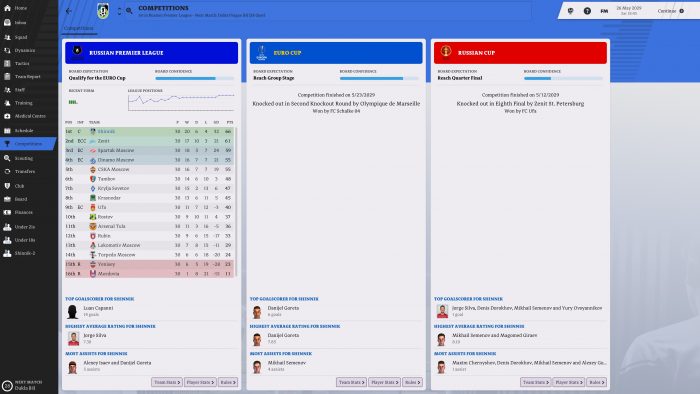 Awards and stats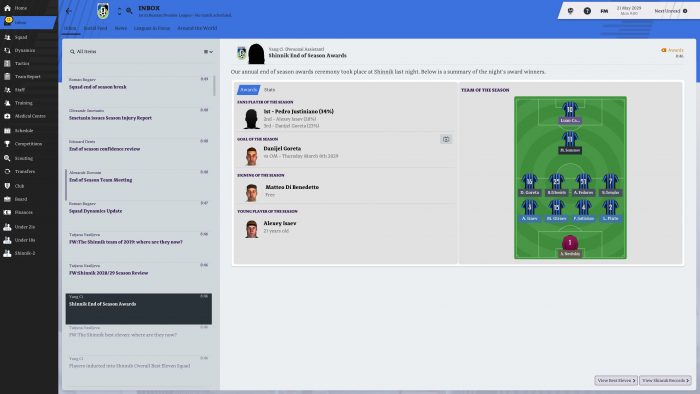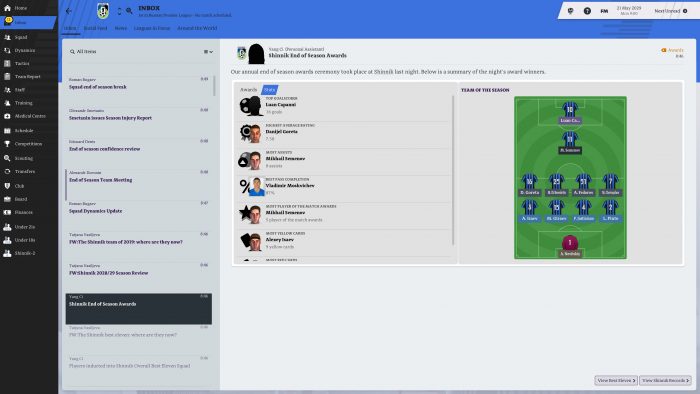 Player Improvement
The number one improvement goes to Ryzhov, but he is sold so there is no point looking at him.
Semenov is still a joy to look at though. Just don't look at the negatives about how he feels he wants to move to bigger places.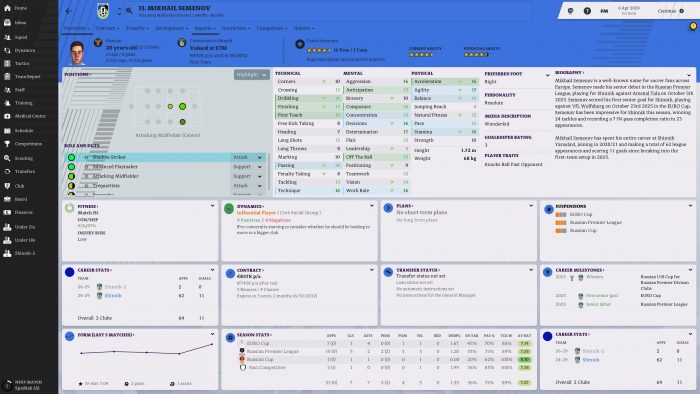 Concluding Words
The season is a milestone moment. When I finish this long game and look back, I would probably conveniently say "the first decade" and "the second decade", because it is the 11th year in which we reached the top and broke into the European Championship.
However, in the same season we suffered a lot in terms of squad depth. There are a lot to be done to retain the team strength, let alone improving it.