There was no update to the game for quite a few months. There were multiple reasons, but mostly because the ongoing real world event had negatively impacted my willingness to continue playing this game. The thought that the save game involves real people who might be completely disgusted with the idea of getting hired by the team I'm controlling, or getting that additional nationality through naturalization, has put me off the game for long.
Later, I thought, perhaps exactly because the real world is full of woes, I should look at the game as a more ideal place. It isn't reflective of the world, but it is how it should have been. Along this line of thought, then, perhaps, I should just play on.
OK, back to the game.
Player Changes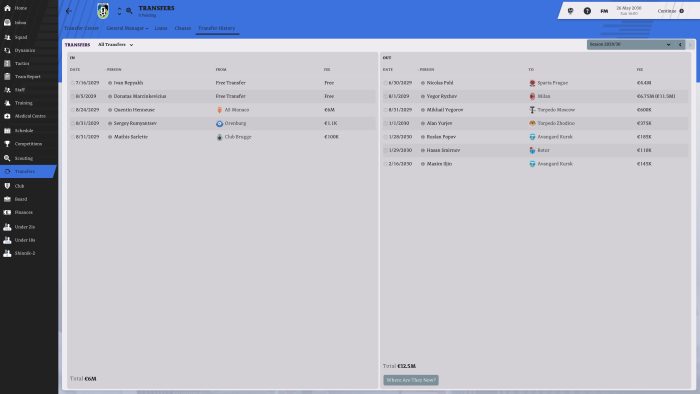 Transfer-In
Quentin Henneuse (€6M). Again, perfectionism does not last long in my team, he became resolute soon after. He went on to contribute 10 goals and 1 assist for the team.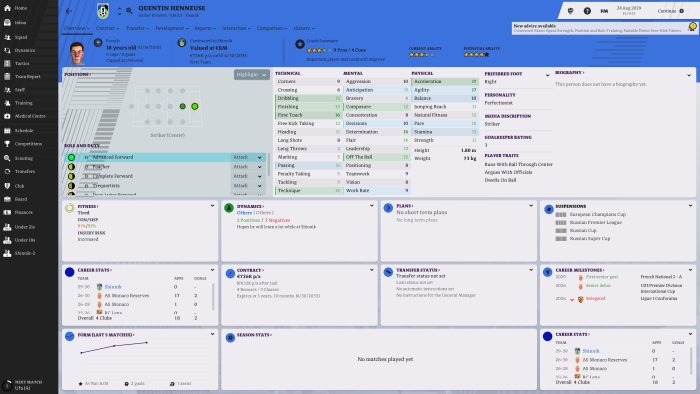 Ivan Repyakh (Free). Contributed 22 appearances. The real future on the right wing might be Ovsyannikov, but he is too injury-prone to be the sole option. Repyakh was the satisfactory alternative. He was also amazingly versatile, so he always has something to contribute.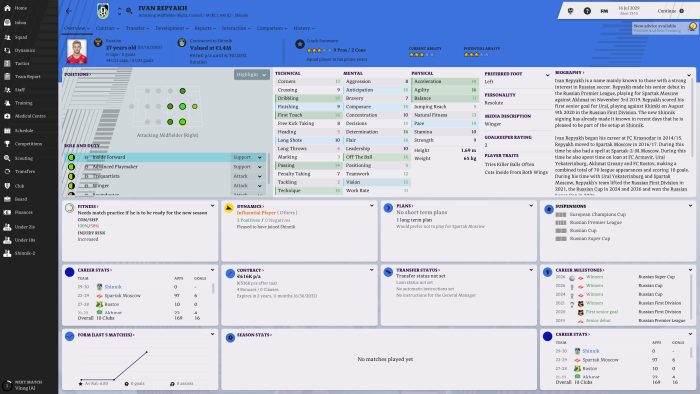 Donatas Marcinkevicius (Free). Strong, quick, still improving, and leading the U21 team. The only problem is that it takes a foreign play slot. Which is why I use Donatas in all international matches in place of Isaev.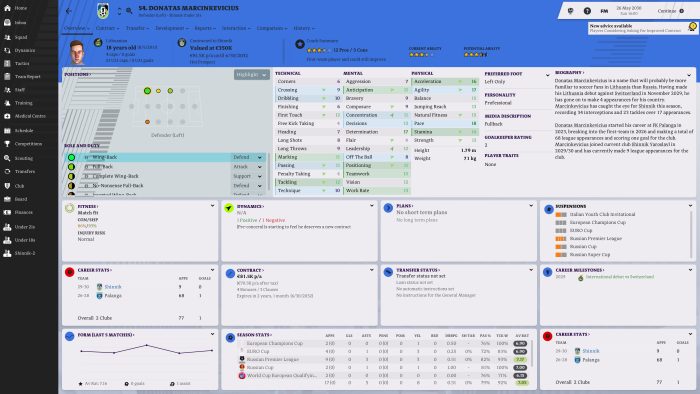 Other transfers include Sergey Rumyantsev (€1.1K) for the U18 team, and Mathis Sarlette (€100K) who was probably a mistake (I thought he could help the U21 team, he couldn't).
Transfer-Out
Yegor Ryzhov (€6.75M, potentially increasing to €11.5M) went to Milan, as part of a deal in the last season. He went on to have 27 appearances for Milan and having an estimated worth of €31.5M now. Bright future, just not for my team.
Nicholas Rohl (€4.4M). Decent result for a player I signed on free and didn't do much to break in the first team.
Mikhail Yegorov (€600K). Unfortunate results, but I was unable to retain the hero for many seasons.
Other sales include Alan Yurjev (€375K), Ruslan Popov (€185K), Maxim Iljin (€145K) and Hasan Smirnov (€110K).
Youth Intake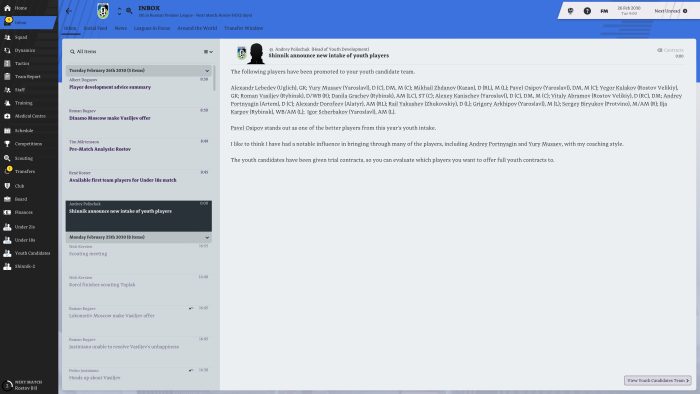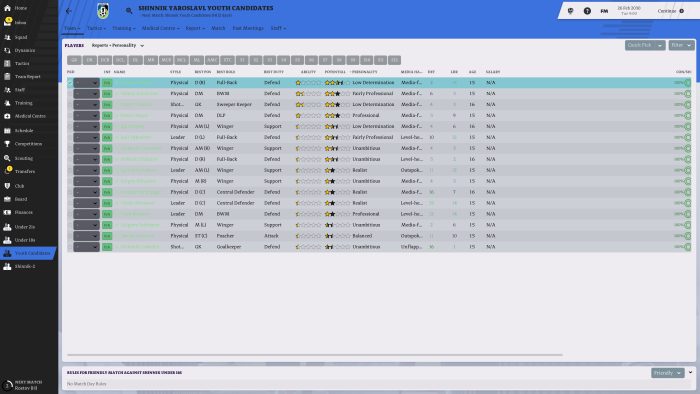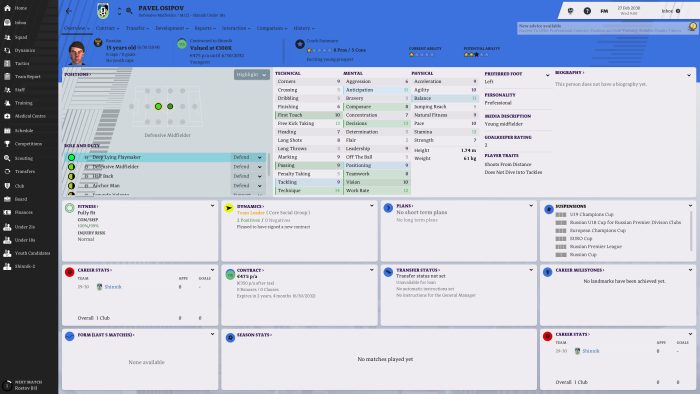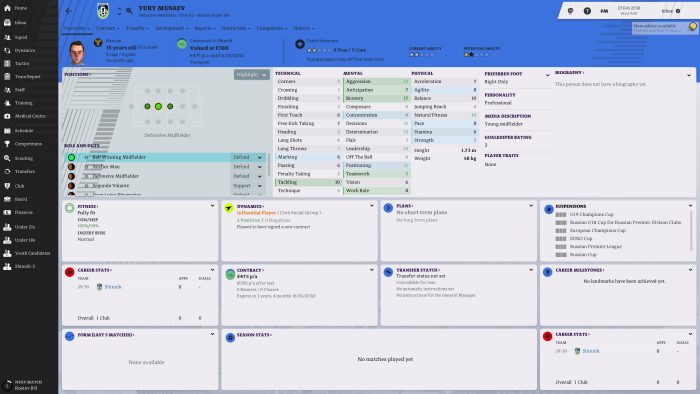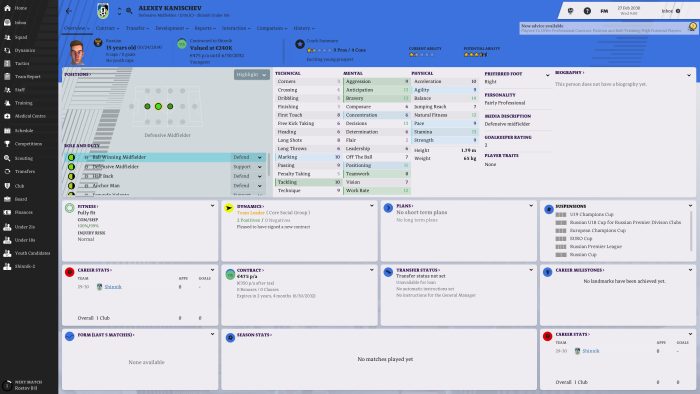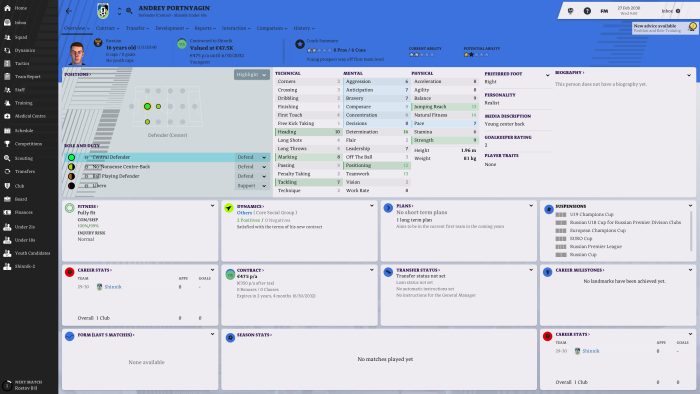 Naturalization
Silva and Pinto naturalized, making available the precious foreign player slots. So does Capanni, but I am not sure whether it happened this season or the last one.
Season Summary
The season had a brilliant start with me winning the super cup. The domestic cup did not end well. Continental performance were above expectation, but we were unable to win that Europa League. The league performance was actually decent: we are only 4 points below last season when we won the league. The change in rank is due to opponents getting stronger, not we being worse.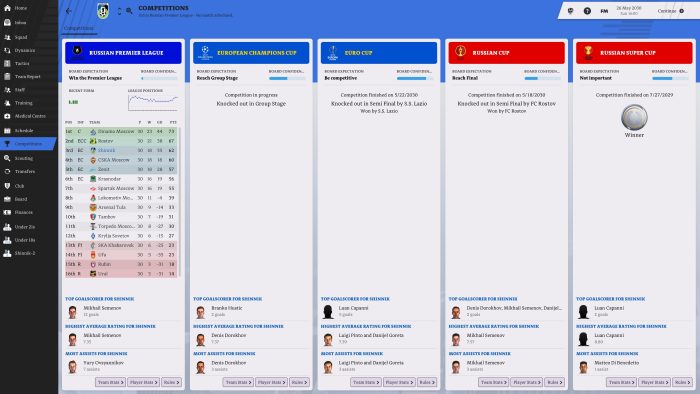 Awards and stats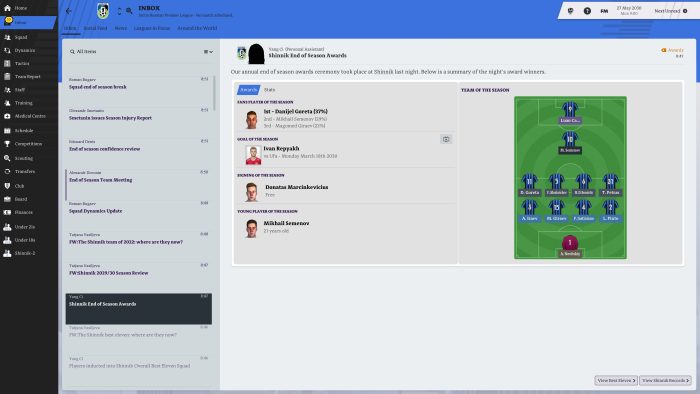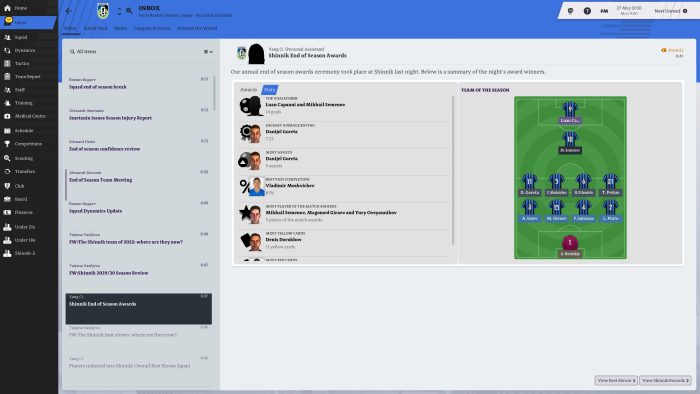 Player Improvement
The biggest improvement was probably Marcinkevicius, who had become our first pick left-back and is still 18 and improving. However, no screenshot was created.
Semenov improved a bit. He was under constant bids and I was trying all I can to hold on him, so as to not repeat the mistake of selling Ryzhov. However, on the last day of this season I was forced to accept an inquiry because he has a minimum release clause anyways. But if he goes, at least we will be left with €28M transfer fee.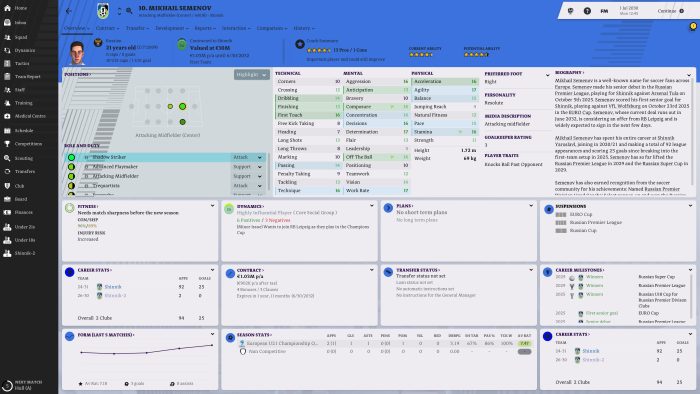 Alexey Gusev broke into the first team, featuring in 12 matches and scored 2 goals. There is still some doubt how he will fare, since we have fewer matches in this season.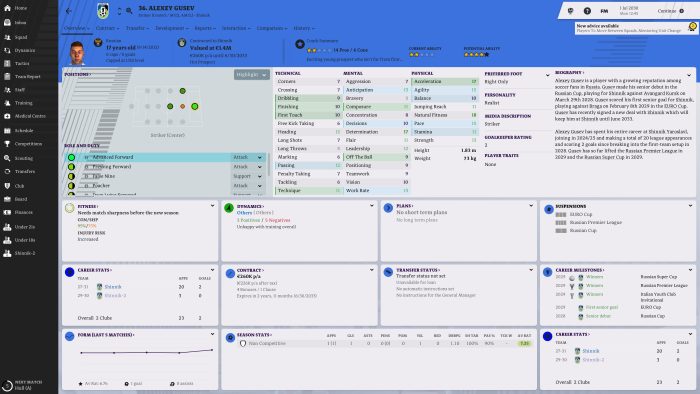 Nikolay Andryuschenko played a few matches for the first team as well.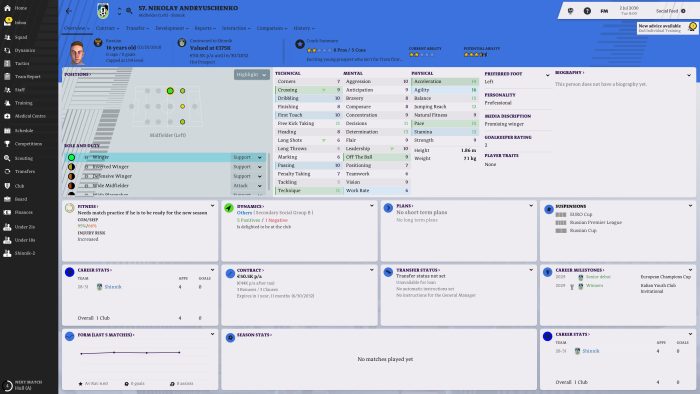 Yegor Ryzhov, while not part of the team, was still watched over and he made a big improvement as well.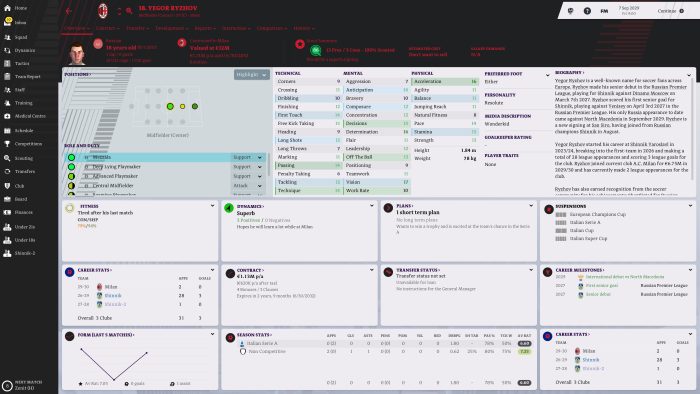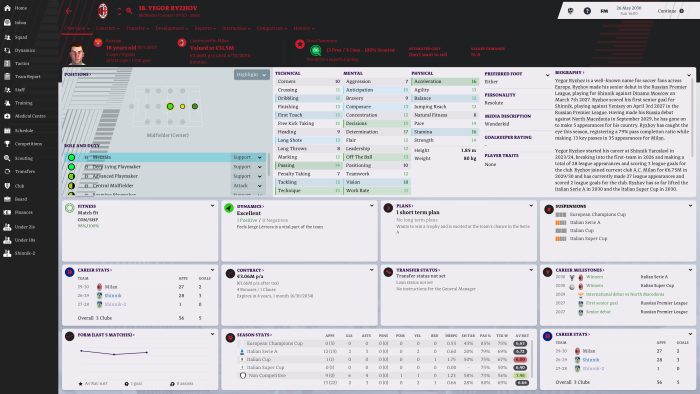 Finances
The club's finances stabilized after the selling of Ryzhov. But what a cost to pay! The club also immediately increased the percentage of budget I get on selling players, and allowed me to upgrade the training facilities. Then at the end of the season, when said projects would start, they announced they are getting canceled because the money simply does not exist.
Then, we get hit by a tax bill claiming that we are making millions of profit.
I am confused and can't help but the game is calculating some financial data wrong.
Concluding Words
We did not fix the central midfield problem after the departure of Ryzhov: Repyakh can only help so much and Sarlette was mostly a disappointment. The team otherwise was performing decently. However, its financial situation is probably better than the previous few seasons, and it is up to me to find ways to turn this into long term gains.