Going back to the game proved to be fun. I feel I am looking forward to a future FM game as well, perhaps on FM 2023.
Anyways, it is a season with an extremely long streak of games without losing, and a second league win.
More importantly, the financial game plays very differently this time…
Player Changes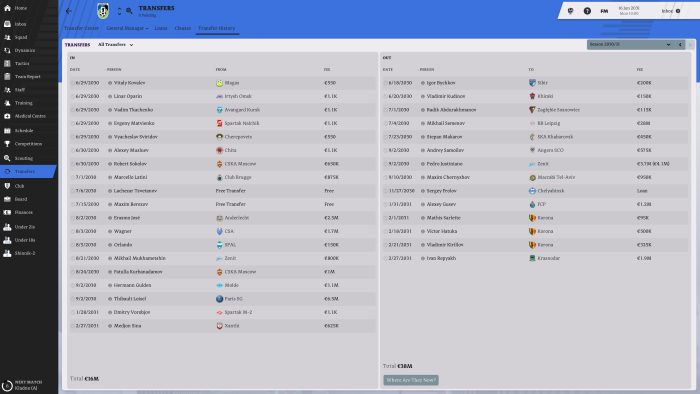 Transfer-Out
This year I'll talk about the transfer-outs first. Because of one huge moment: Mikhail Semenov. He received an inquiry from RB Leipzig. Ever determined to keep him at the club, I responded €28M plus a clause demanding a future payment of 50% of the profit from his next transfer. Considering that Semenov has a buyout clause at €28.5M, my demand was almost a "no".
To my surprise, RB Leipzig accepted my offer. And Semenov was obviously unsettled by that inquiry as well. And it happened, as I saw no further possibility to keep him at the club. Might as well cash in with that extra clause I managed to negotiate.
Pedro Justiniano (€4.1M) was another weird transfer. Upon signing Gulden, I received an offer for Justiniano, then I negotiated for what I thought was a reasonable price. Looking back, it was probably not a good enough deal.
Maxim Chernyshov (€950K) left because apparently I have Ovsyanikov, Petras and Repyakh before him in the right winger pecking order, which means he no longer has much to do at the club. The transfer fee was a good compensation though.
Then, for a period, Repyakh was also unhappy about lacking first team opportunities. I gave him a few starts and he was happy, but then due to match congestion I rotated between him and the other wingers. Then his response dropped to "wants to start more matches" and then he was injured for two weeks. Past experience is that if a player wants to start matches but was injured, then they would reconsider the demand. However, I was not quite sure if a two week injury was long enough to trigger that reconsideration. Hence, I was feeling very unsure whether I could satisfy his demand. And knowing that he was popular in the squad, an unhappy Repyakh is worse than a Repyakh playing for another team and scoring against us. Hence, I sold him to Krasnodar for €1.9M, and he became the star player there and caused problems in all subsequent matches against the team.
Bychkov (€200K), Kudinov (€150K), Abdurakhmanov (€115K), Makarov (€450K), Sarlette (€1.2M), Hatuka (€900K), Kirillov (€325K) all do not seem to be good enough to play. So earning some transfer fee from them was the best deal I can get. Also, I recently discovered that my coaches are a bit overworked, and the club does not want to add head counts for coaches, so reducing the player number helps.
Transfer-In
Robert Sokolov (€650K) was brought in as the first step to deal with the problem that Justiniano and Silva are getting older.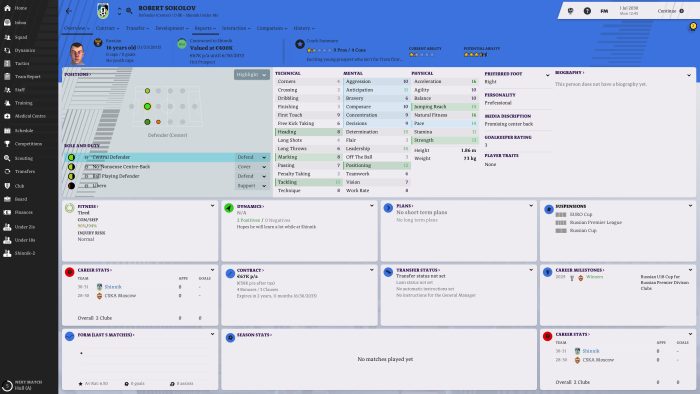 Mikhail Mukhametshin (€800K) was the second step. He has the potential but needs one or two years before becoming a first team player.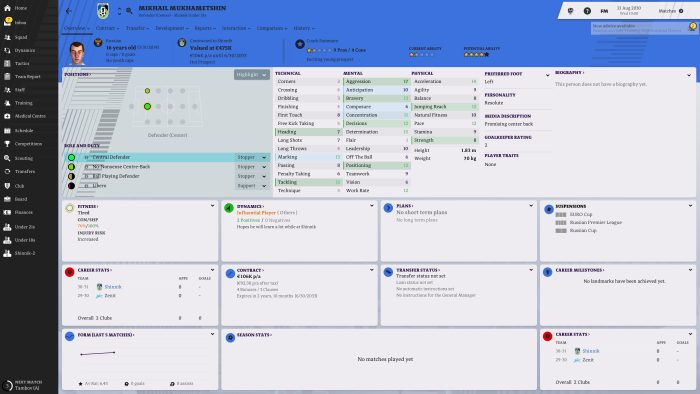 Hermann Gulden (€1.1M) was the third step in the same direction. However, bringing him in somehow led to Justiniano heading out, so the net effect might be negative. Anyway, Gulden is good as well.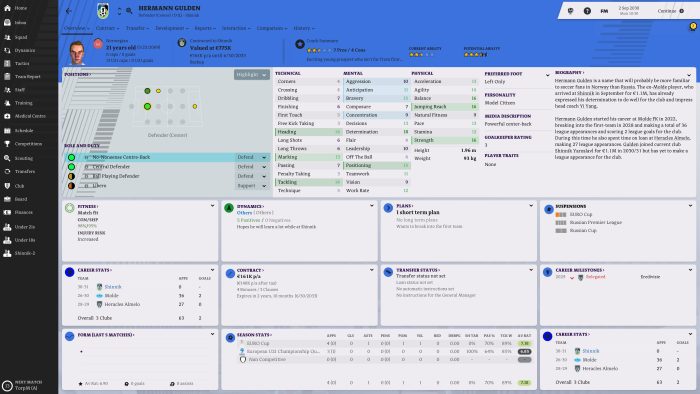 The weakest position at the beginning of the season was probably the midfield. Hence, I brought in Marcello Latini (€875K). Admittedly it did not go well, he was more injury prone than I had hoped. That and his modest ability and that he takes a foreigner slot means I often use another player instead of him for various reasons. He started 1 game and was used as a substitution in another 8 games this season, quite disappointing.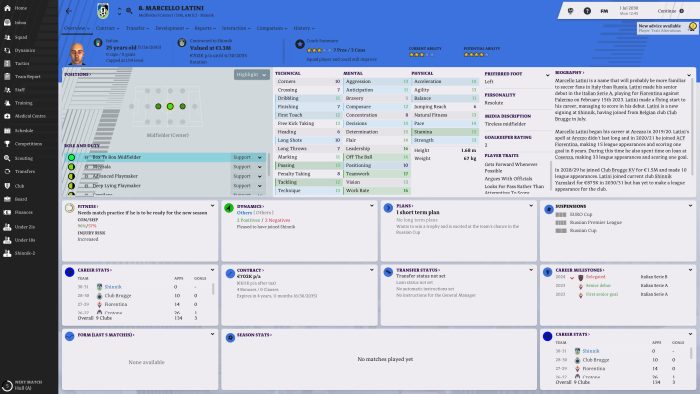 Then, the addition of Thibault Loisel (€6.5M), the highest transfer fee I paid this season. Apparently he has more potential, and scoring 7 goals in 26 games (22 starts) was not bad either.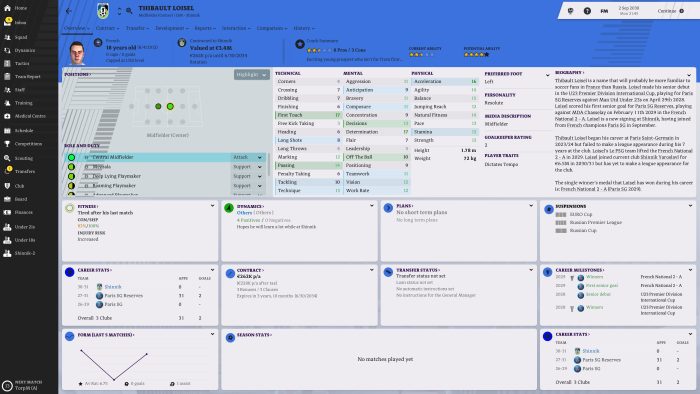 Let's now look at the Attacking Midfielder/Shadow Striker position. Semenov left the club but we have Hustic, so this is a position that needs some reinforcement, but not in urgency.
Lachezar Tsvetanov (free transfer) was an obvious choice: doesn't cost the club much, but provides a much needed cover for the position. He didn't feature much, but when he's on the field he generally performed well.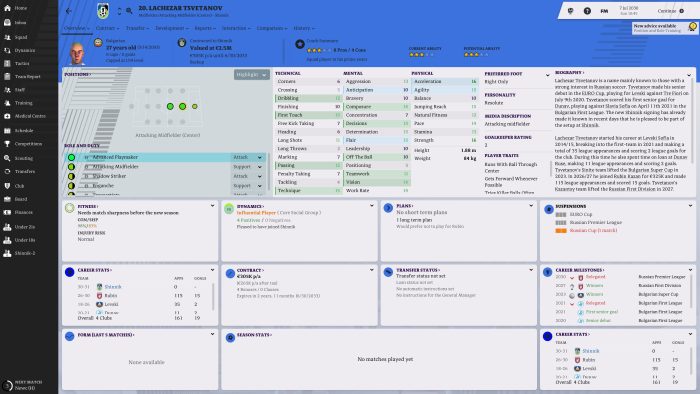 Maxim Berezov (free transfer). Yes, last season I signed Hustic back from Milan on a free transfer, and this season I signed Berezov, also on a free, from West Ham. Basically my Shadow Striker setup returns to the Season 6 one.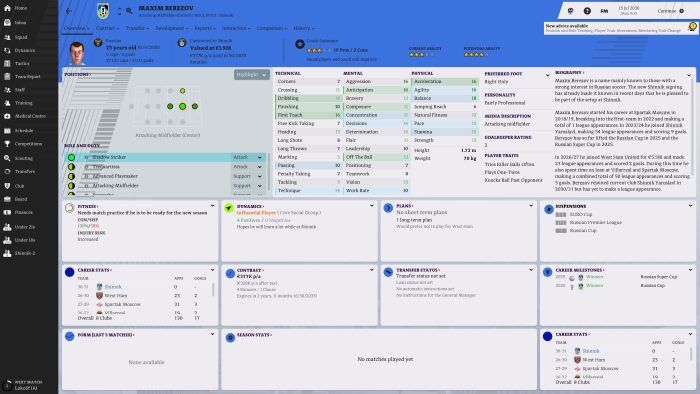 Fatulla Kurbanadamov (€1M). Probably not needed at this moment, but I figured out that he might be the next Semenov.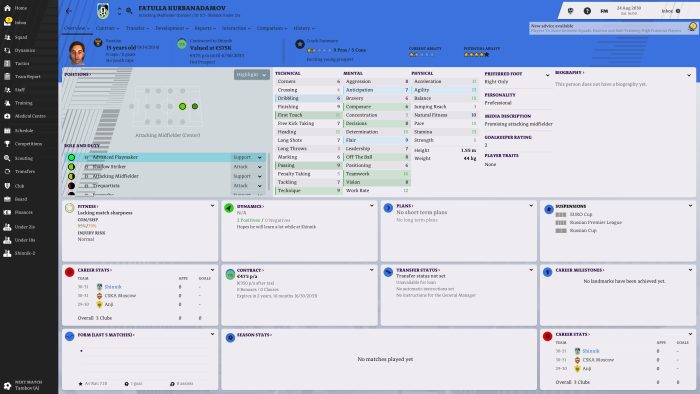 Erasmo José (€2.5M). I wished I have a younger tall forward. José actually scored a few goals this season, but most come from shooting, not heading. Perhaps I still need to figure out how to use him.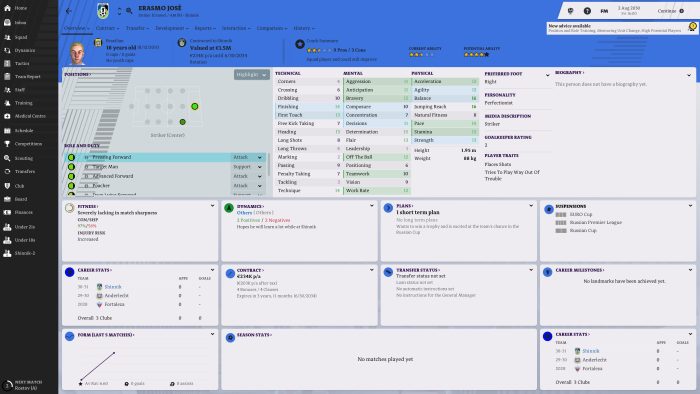 Wagner (€1.7M). In theory he can play in both positions. In reality his star rating is only for the defensive midfielder. I didn't use him much, and when I do, his performance was pretty average. His language course did not go well either.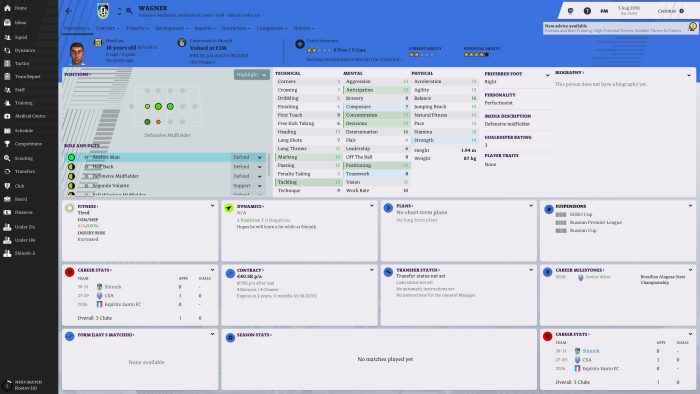 Orlando (€150K). He spent this season unhappy about the lack of first team soccer. Ironically, due to injury and international duty and match congestion, Orlando actually played in 11 matches, starting 8. He is actually among the more successful players I signed this season! And the transfer fee is €150K, what can I complain (besides that for the morale I'd better sell him quickly).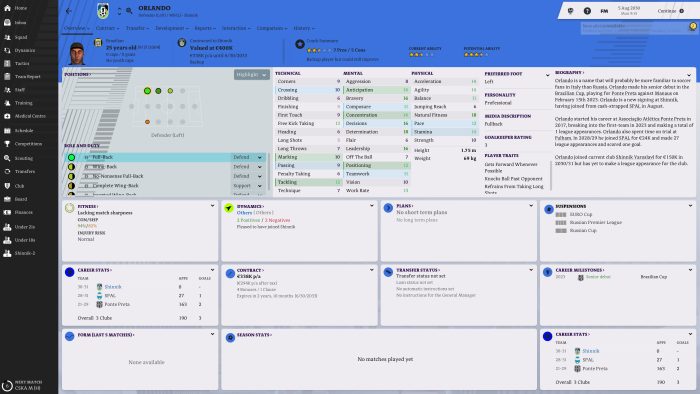 Medjon Sina (€625K). I signed him after selling Repyakh. It turns out that when Ovsyannikov and Petras are unhappy about first team soccer, there is little chance I can use a third right winger.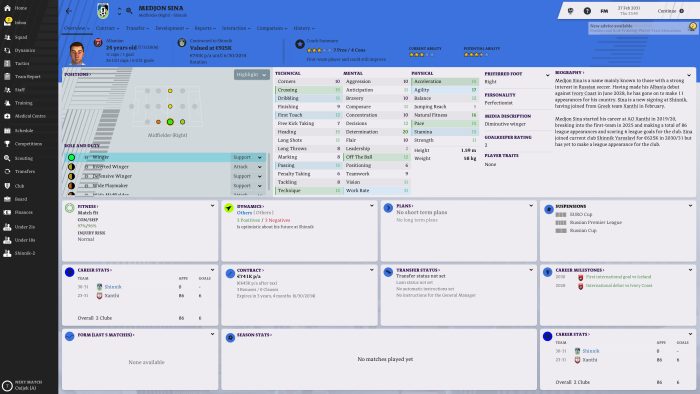 Dmitry Vorobjov (€1.1K). Among the many young players I signed for no good reasons, this player at least has some potential.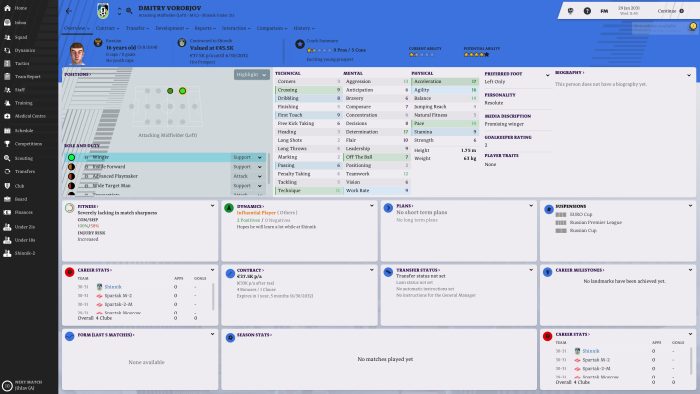 Youth Intake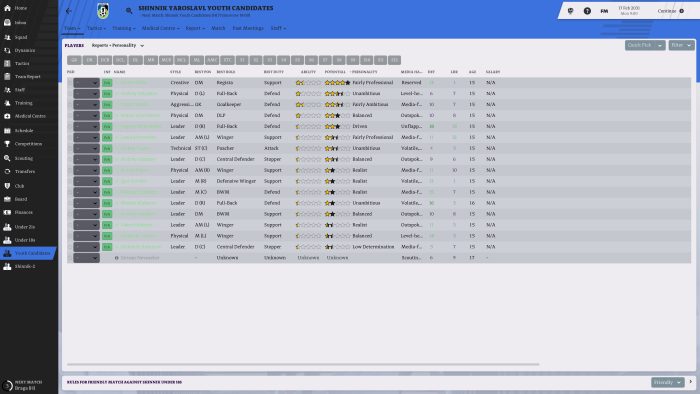 Probably not the best batch either. I signed the following players, who I think could be useful. Unfortunately, the best player among them, Victor Rybin, proved extremely injury prone and had two major injuries in the half season after I signed him.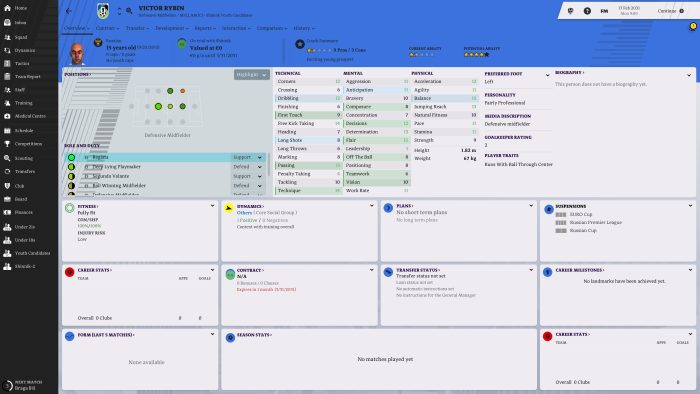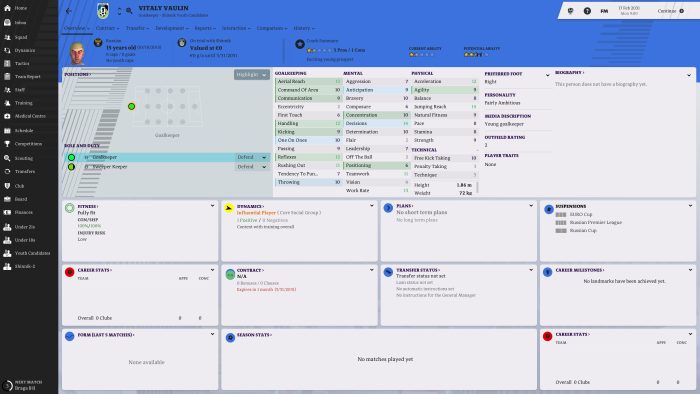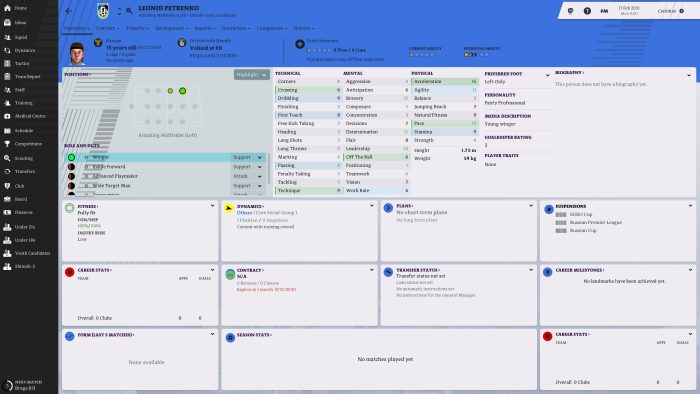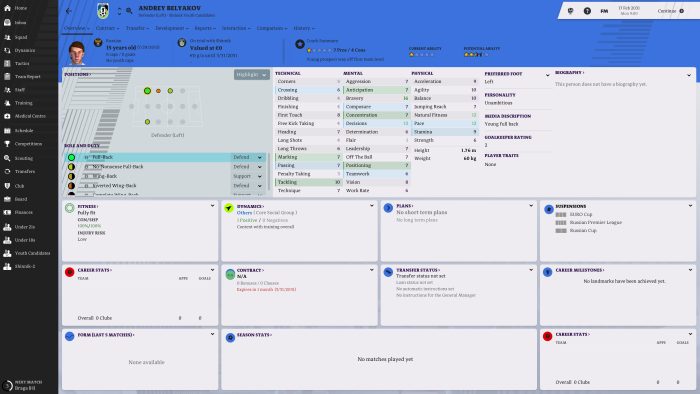 Season Summary
The first half of this season featured a long unbeaten run. 29 consecutive matches, including a few from the last season, laid the foundation of the performance of this season. The second half featured more setbacks, but keeping the top spot of the league wasn't too difficult. We were also the runner up for Russian Cup.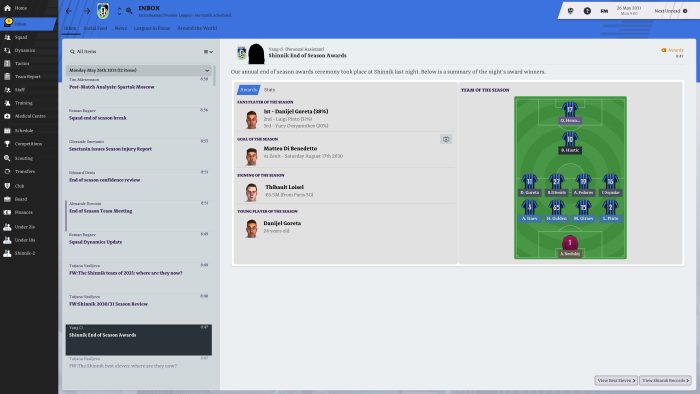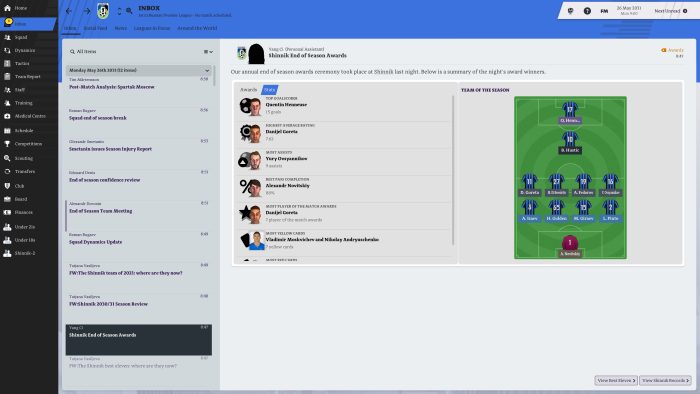 Player Improvement
Kurbanadamov showed a ridiculous amount of improvement. The only problem is that his personality changes into "unambitious"…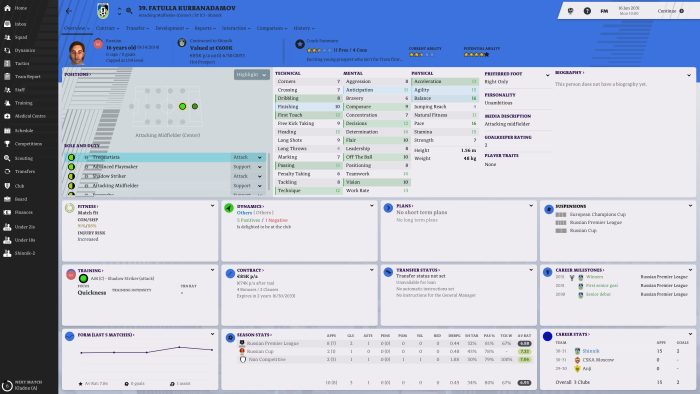 Henneuse blended into the squad well. He lost some attributes (possibly because he grew taller?) but gained others.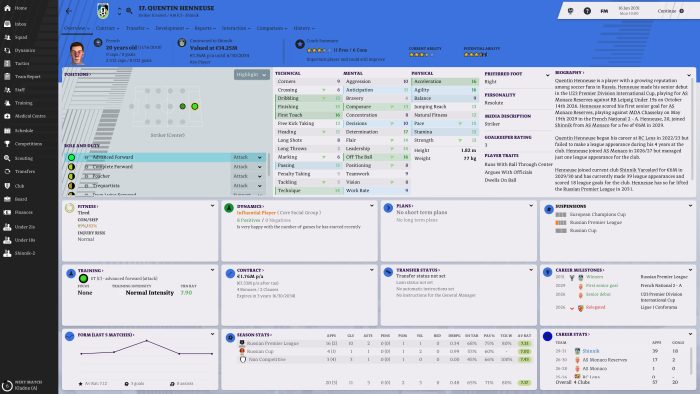 Andryuschenko improved a lot.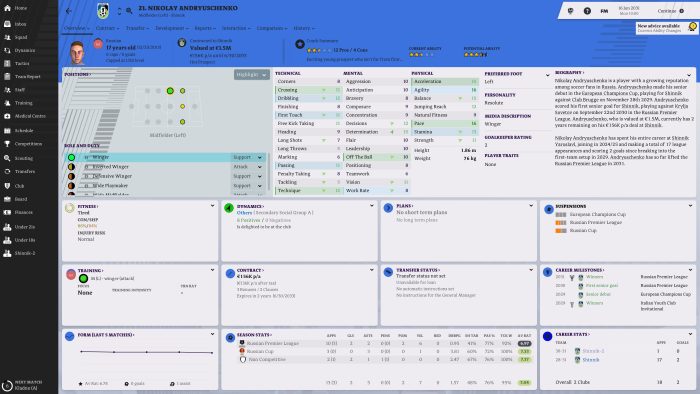 Finally, Sokolov fixed his one obviously weakness (marking) and is becoming a regular player.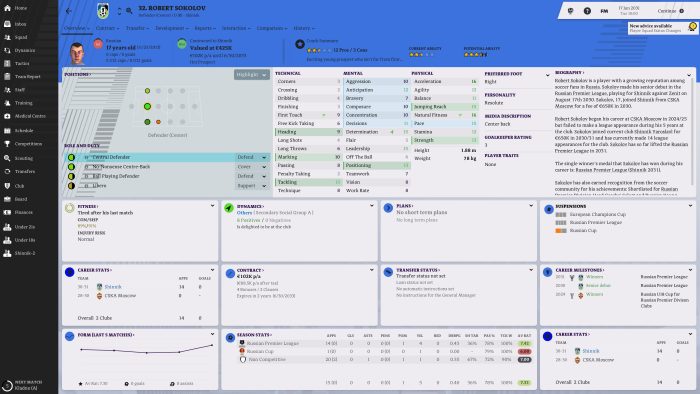 Finances
Due to the high transfer fee for Semenov, the financial situation of the club had improved. Hopefully, this time the facility upgrades would not be canceled for financial reasons again.
Concluding Words
The season is our second league win, and provides another chance at the European Championship. Hopefully this is a year that will be well remembered.
It remains to be seen whether our current success is sustainable.