Another season, and financial woes strike back as expected!
The performance was actually pretty good. We ended up at the second place, which was the highest among all seasons where we entered the Champions League. For some reason like fixture congestion, such seasons are always hard. So I guess I should be satisfied.
Player Changes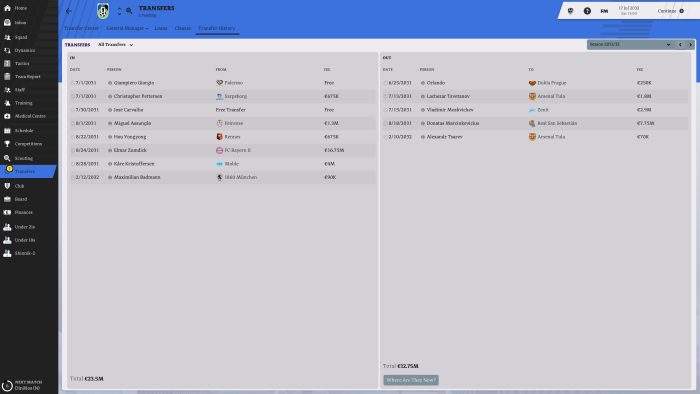 Transfer-In
Christopher Pettersen (€675K). I figured out that he was cheap enough and good enough. He contributed 3 goals this season, mostly because how good the other two strikers are.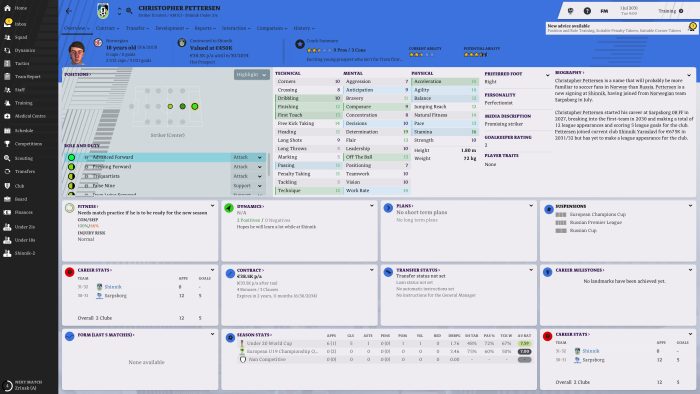 Giampiero Giorgio (Free). When free, signing good players like him never hurts. However, admittedly I always felt bad to spend a foreign player slot on a defender when I have another few good ones to choose from. He nevertheless featured in all continental matches though.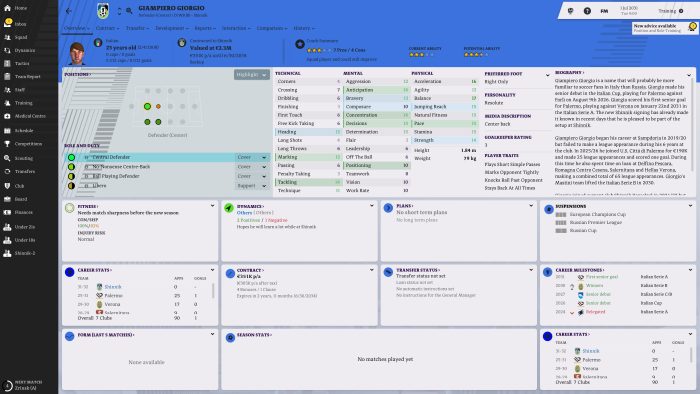 José Carvalho (Free). I signed him as a cover for left backs. Which never worked out because reasons I'll talk later. I sold him after one season for €250K, which is also his annual wage. So, essentially free.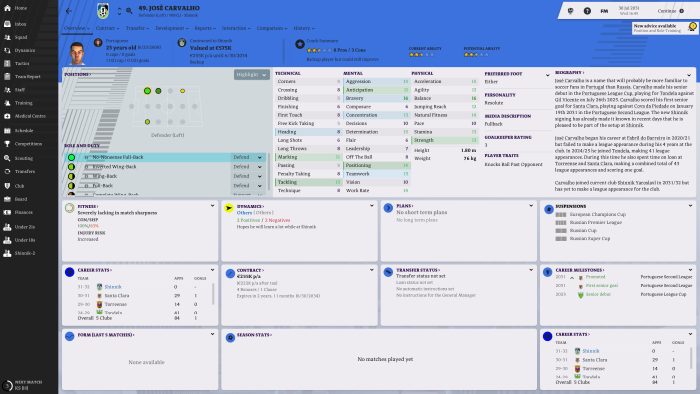 Miguel Assunção (€1.3M). A better Pinto, except Pinto was a Model Citizen as well as the captain as well as not foreign. So in practice he wasn't played often. However, when he was played he was good.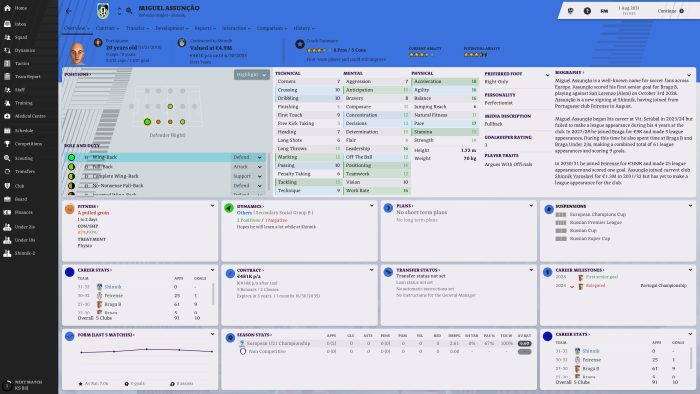 Then, the dreaded complaint hit me. Pinto was worried that our squad has no depth, whatever that meant. And all of my team agreed. I was like, they didn't even tell me which part of the squad they thought needed strengthening!
The result was panic buying. Hou Yongyong (€675K) because I was worried my midfielders were too weak. Which was sort of right, but Hou wasn't the solution. He was good as a substitution as well as a useful tactical option, and contributed an assist in his 4 games, which was fair considering his playing time. The problem was that I never felt like starting him.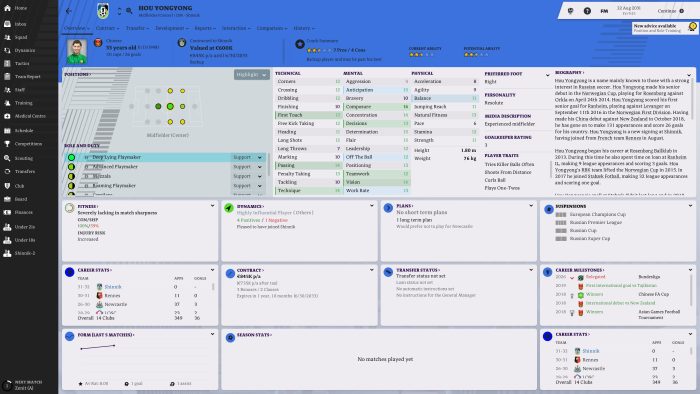 The second part of the panic buying, Elmar Zumdick (€16.75M). Yes, that expensive. And he was worth every penny. He was better at everything than Isaev, who was solid as well. And he was much taller, which meant he was much less vulnerable to tall wingers, which wasn't common, but is currently deployed by Dinamo who won the league this season. So I guess that makes him more important.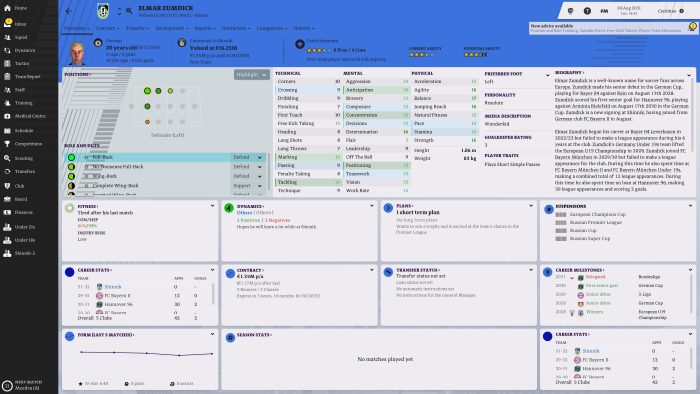 Finally, I signed Kåre Kristoffersen (€4M). Which nicely fixed the problem that Goreta suddenly could not find his form. Or, rather, perhaps that's the reason Goreta was out of form for this whole season. Anyways, no complaints for Kåre. He was outshined by Andryuschenko, but that was Andryuschenko being good, not him being bad.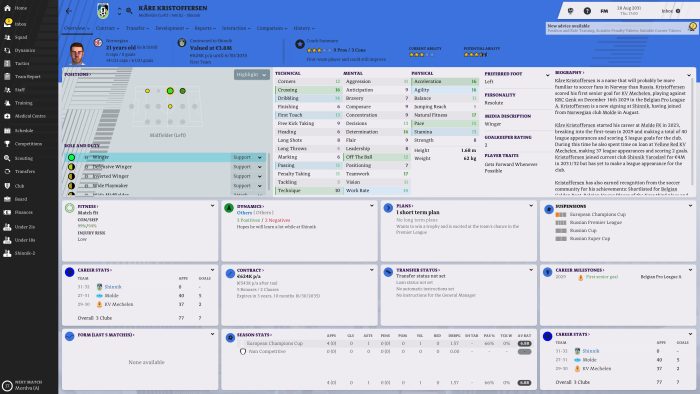 Anyways, signing these players led to the terrible financial situation this season.
Finally, there was Badmann joining us at the end of the season (€90K). The deal was signed two or three seasons ago, during circumstances I could not remember. It was because I didn't anticipate the restriction of Germany U18 players playing abroad. I am not sure how he will contribute in the future, to be honest… Lesson learned.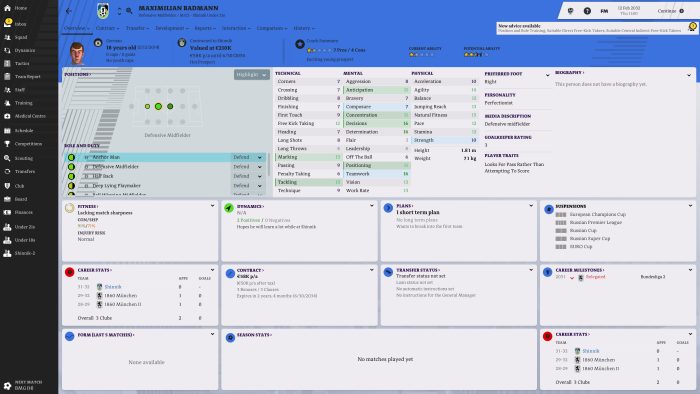 Transfer-Outs
As shown above, Marcinkevicius (€7.75M) was the biggest one. He wanted to move to bigger leagues, which was not something I can deal with. Orlando (€250K) and Tsvetanov (€1.8M) wanted first team soccer, so it's nice I got something in return. Moskvichev (€2.9M) received a decent offer so I agreed, but it was probably a mistake. Finally, Tsarev went for $70K.
Not technically one of these, but I have also sold the "future profit" clause of Semenov for approximately €10M. That was actually the biggest income this season.
Youth Intake
Again, I am not sure what to do with this year's youth intake. Actually, I immediately replaced my Head of Youth Development afterwards. Now thinking about it, I should have probably kept two more players, but it had already happened anyways…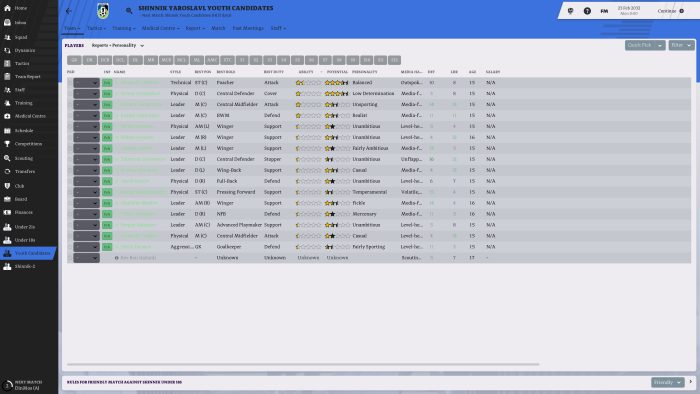 Alexandr Ustinov looked promising. His mental abilities look like he can be nurtured. However, he is short and slow. A skillful poacher as is. I think I need to figure out how to use him (and, perhaps, whether to convert him into an attacking midfielder).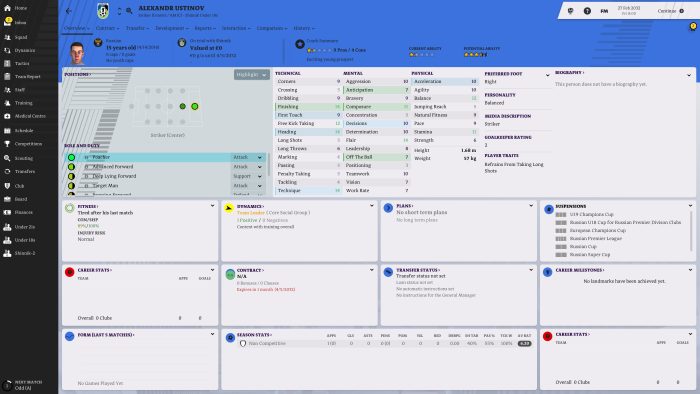 Artem Chistyakov. I kept misspelling his surname. Anyways, the personality "low determination" was worrisome.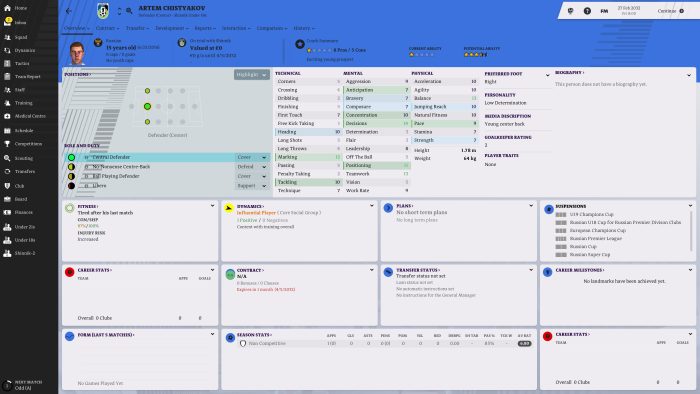 Season Summary
League runner up. Knocked out in the group stage of the championship, but then we are in the same group as Milan and Real Madrid, and we won one match against each, which I think is memorable. The other cups are less important.
Also, we have won the super cup again!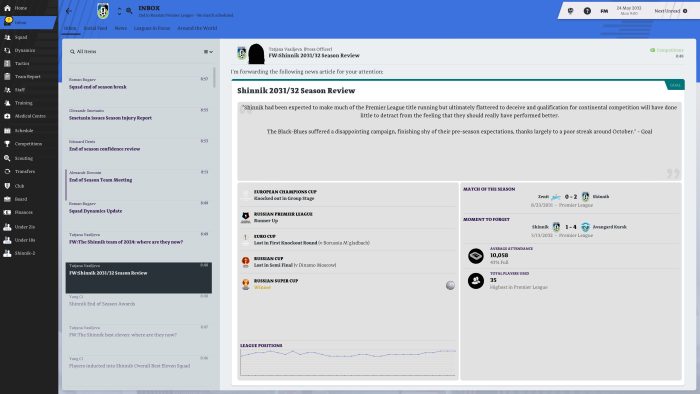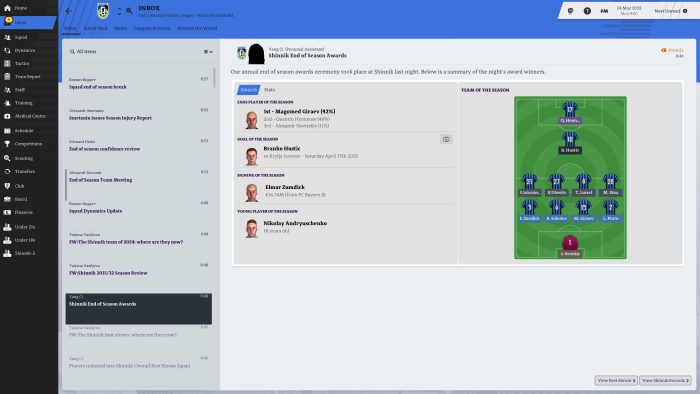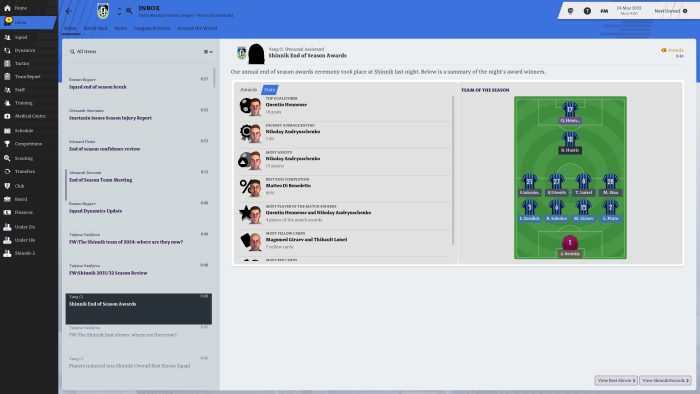 Player Improvement
Osipov has become usable as a first team player.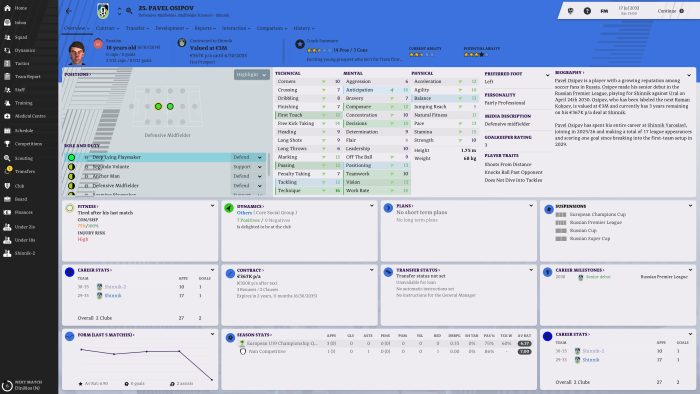 Kurbanadamov does not get as many chances as the last season (I'm still wondering about "unambitious"), but he continued to improve.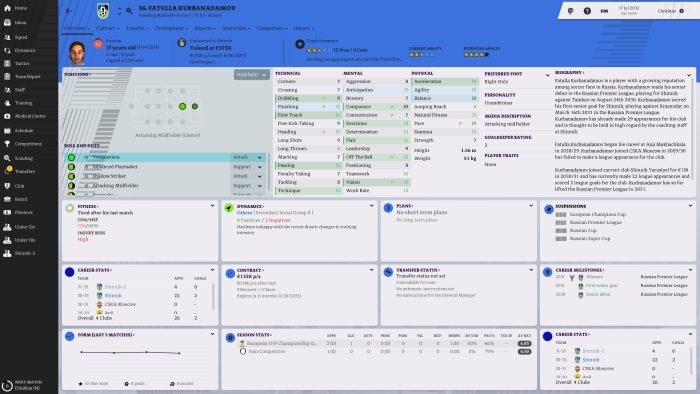 Andryuschenko has probably already hit his ability ceiling, but he has been very good this season.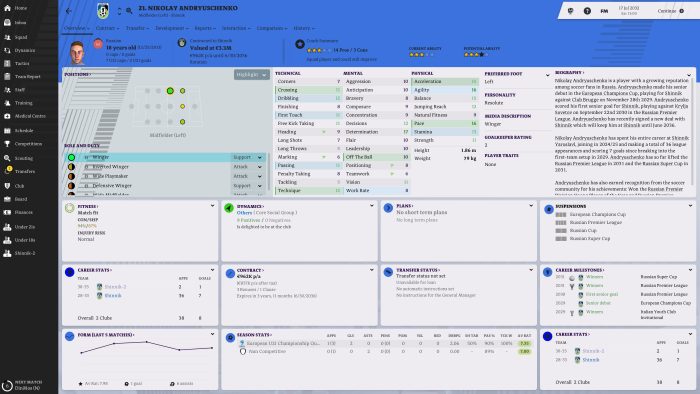 There wasn't any plan to start Vaulin, but at some point Novitskiy was injured so he got some starts.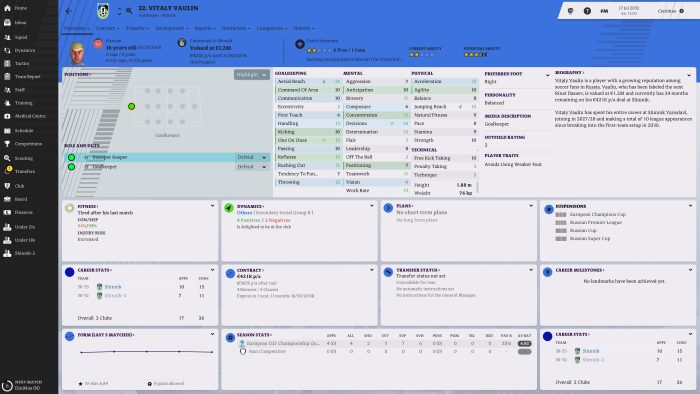 Thibault Loisel started in many games and subsequently improved. Not as much as I would like, though.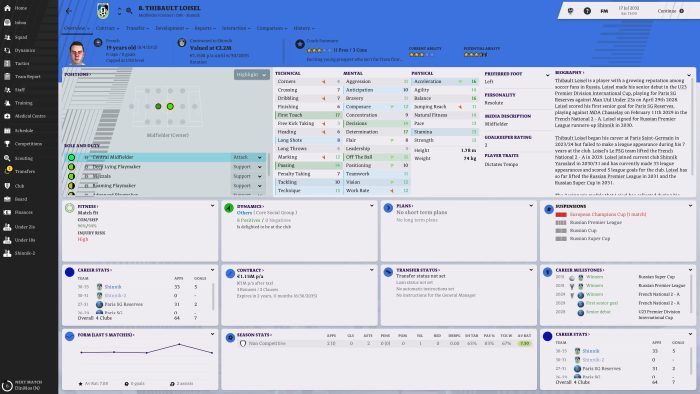 Erasmo José improved a little.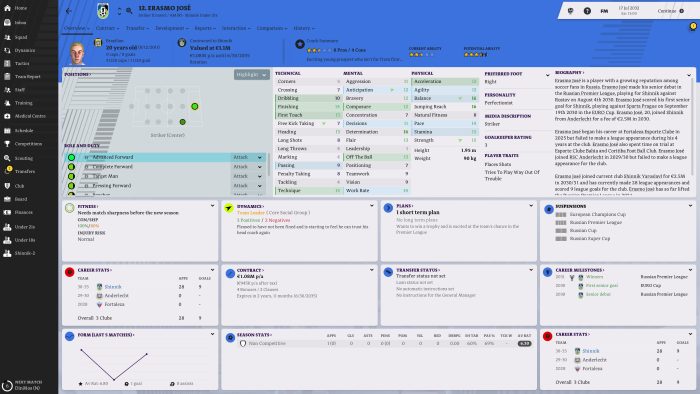 Dmitry Vorobjov failed to start many games. The left winger position is quite cramped at this time.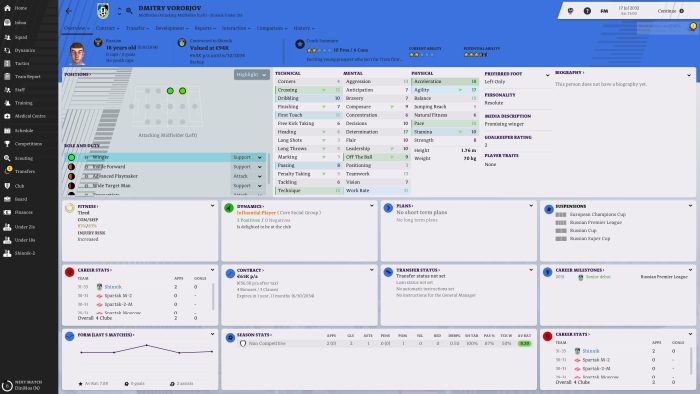 Victor Rybin had an average rating of 7.02 for league games last season. He was an interesting player: not strong or quick, but he has the technique. Watching him kicking free kicks always felt promising, and he ended up scoring or assisting in many occasions as well. However, I am not sure his ability improved as much as I wanted.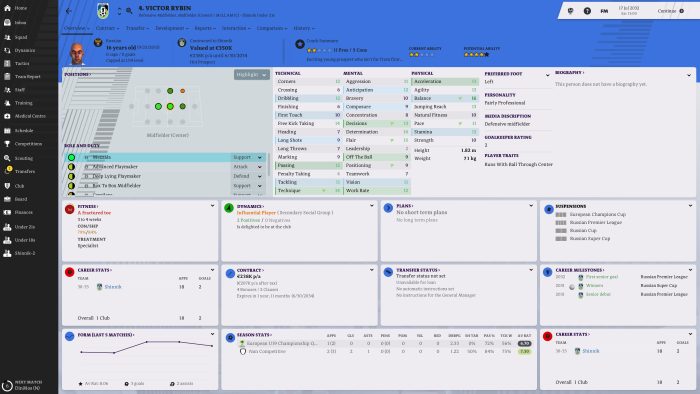 Sokolov. Still not the best defender, but scored and looked generally useful.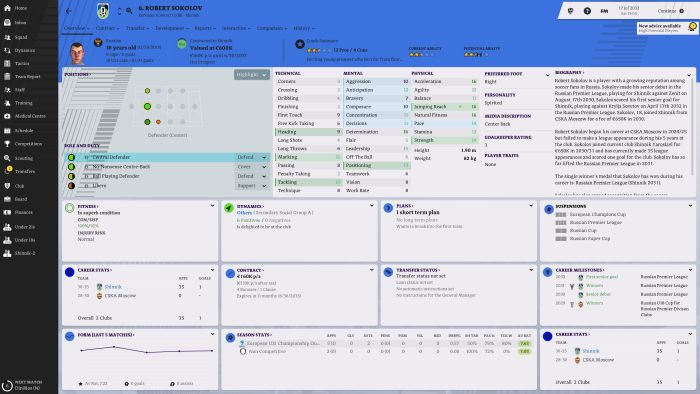 Wagner. I had no idea why I wanted to use him, until I realized he was 194 cm. Sometimes threatening to win most of the headers of their goal kick helps a lot in the possession battle. And ain't that what you need for a midfielder.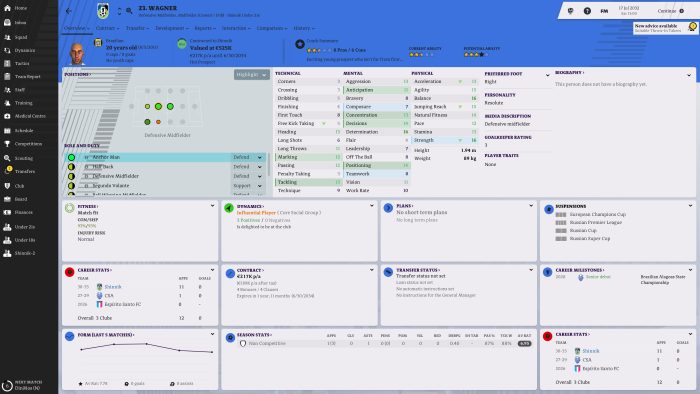 Team Overview
The best eleven of this season is as shown. Apparently, despite having many decent midfielders, the midfield really needs help.
Also, Hustic scored fewer goals, and Goreta was completely out of form. Which hurts the team a lot.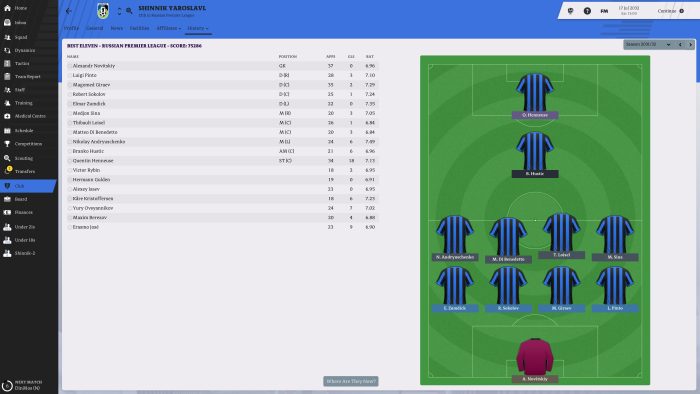 Finances
Apparently, the club is not in a financial crisis. Having managed to break into the championship again, we received some hefty income, helping to stay afloat for at least another season.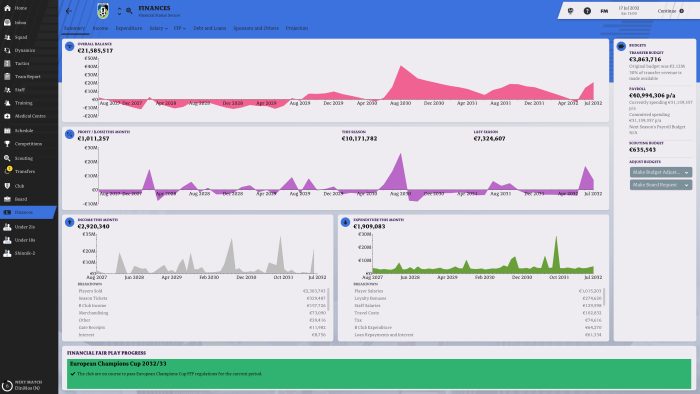 However, the thing is still tricky: we spend money for a whole season, then get a huge income only at the very end of it. And that was a few days after the planned facility upgrade! Obviously, our accountants never bothered to predict this kind of income!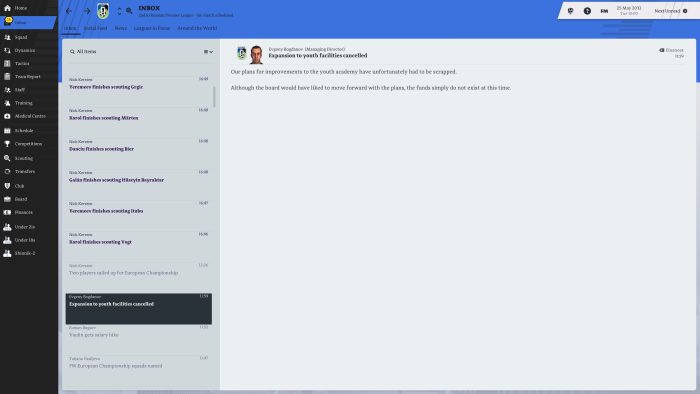 I guess, we will have to keep more cash at the end of the season to get the upgrade going…
Concluding Words
This is the first time I enter the championship in two consecutive seasons. Apparently, now I need to keep this going to avoid potential financial ruins. On the other hand, I guess this means we are getting ourselves ready for bigger challenges…