This is the first season we won both the league and the cup, which is something to remember.
Player Changes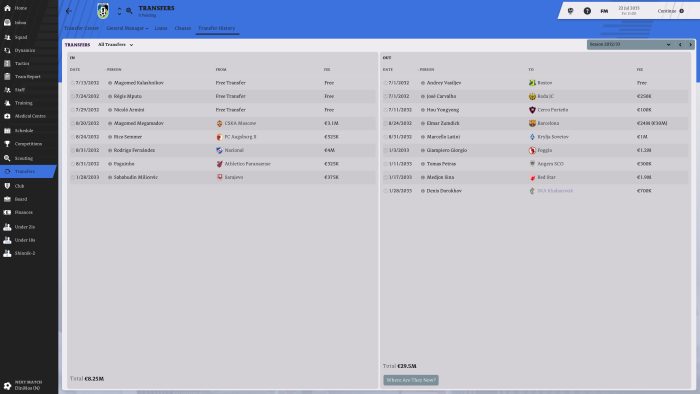 One-Season Deals
Régis Mputu (free). Was actually very good. However, Hustic and Berezov are already hungry for games enough, I can't really afford to play another AMC. He was sold for a hefty fee (€4M) though.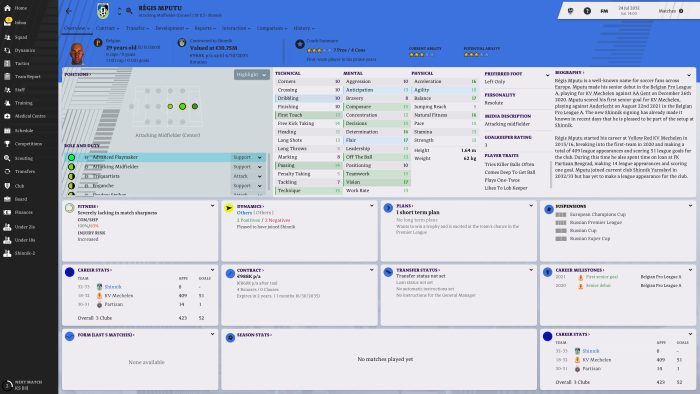 Magomed Kalashnikov (free). The same, but for central midfielders: were the existing ones not performing so well, Kalashnikov would probably see more action. He was sold for €825K though.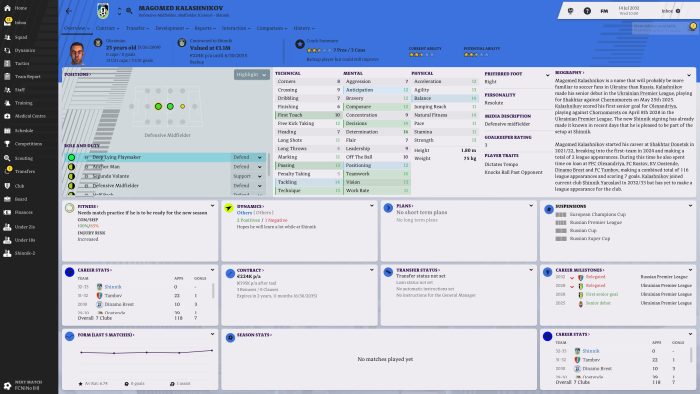 I also signed Armini for free, then received €375K. The intention was to utilize his versatility, but Isaev and Pinto never needed a substitution this season…
Transfer-In
Rodrigo Fernández (€4M) is the signing of the season. And for good reasons. He is quicker than all wingers I ever had, and can still improve. The media description of a wonderkid recognizes his quality as well. He went on to feature in 30 games this season, scoring 9 goals and providing 12 assists, and getting player of the match 3 times. All the while still learning the language!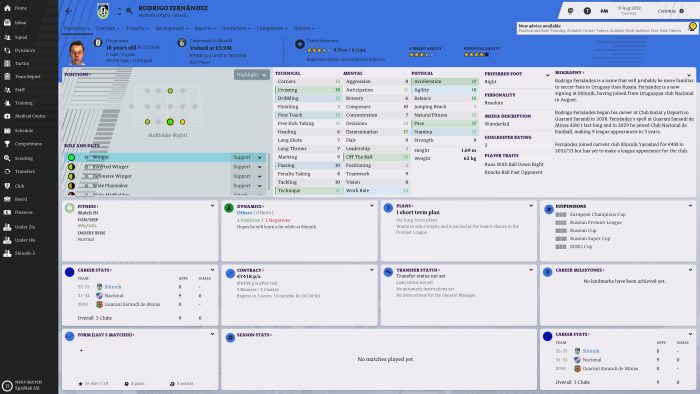 Rico Semmer (€525K) because Zumdick left the club and I need at least one left back as a backup. He was adequate as a backup, though featured fewer times than I wished.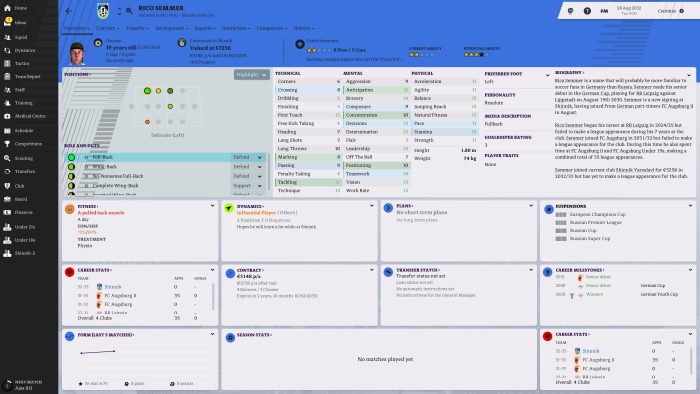 Magomed Megamadov (€3.1M) for a similar reason. Generally, Assunção is ahead of him in the pecking order, except Assunção had injuries and sometimes the foreign player slot count also mattered. So, a formidable option. Not sure I should have paid €3.1M for a backup player though.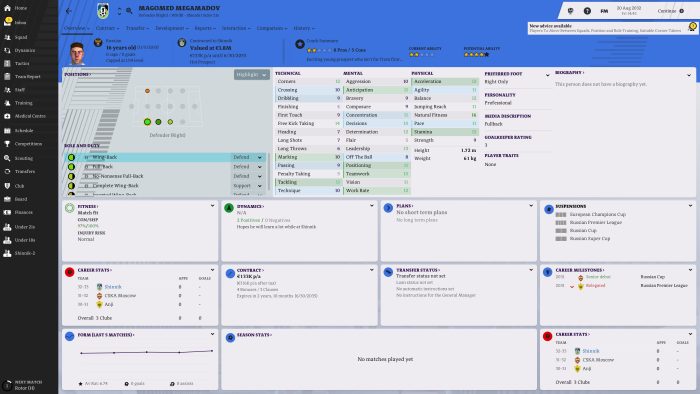 Foguinho (€325K). Did not play.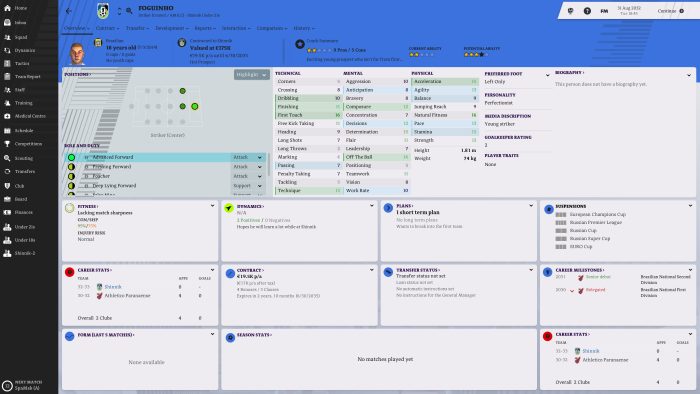 Sabahudin Milicevic (€375K). He's good enough when I signed him, and he improved a lot during the season. I guess I will have to spend that foreign player slot for him in the future seasons, as he immediately broke into the Bosnian national team.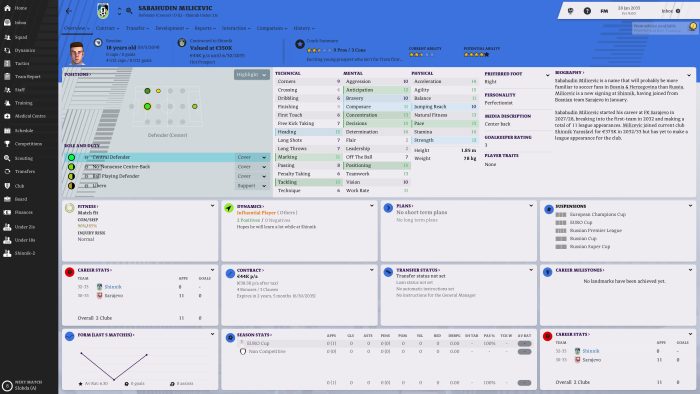 Transfer-Out
Zumdick received interest from Barcelona. I tried to force him to stay, which did not work well. At least, I negotiated a deal of €24M. His dream satisfied but apparently he is not starting for Barça. Perhaps a few seasons later I could re-sign him?
Other players were sold generally for a profit or because they want first team football which I cannot afford.
Youth Intake
I am not sure if upgrading youth recruitment and replacing the Head of Youth Development help much, but at least we have a few hopeful players this year……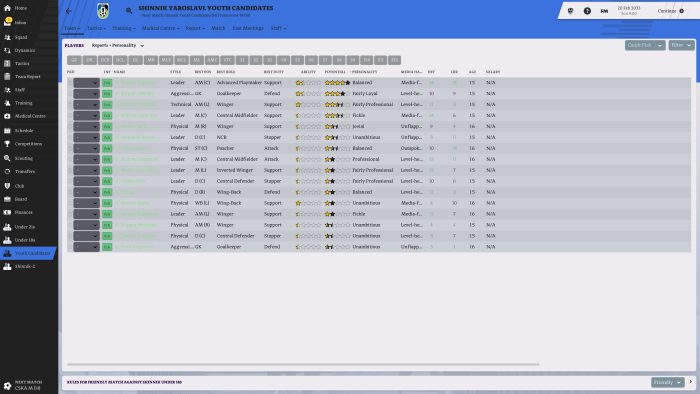 Maxim Yegorov has many good things about him. The only problem is the AMC position is incredibly crowded at the moment.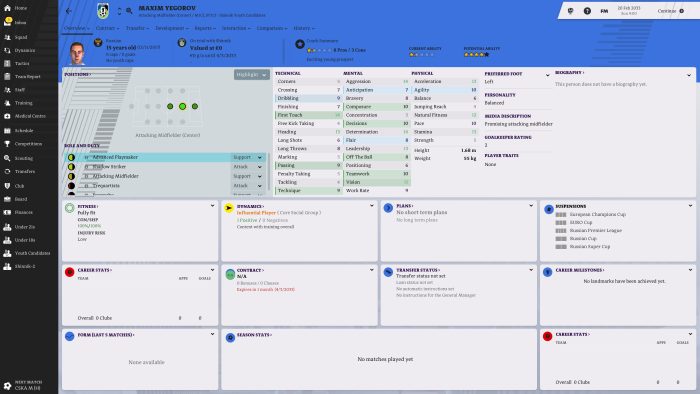 I keep receiving goalkeepers of decent potential, but apparently it's very hard to improve their personality…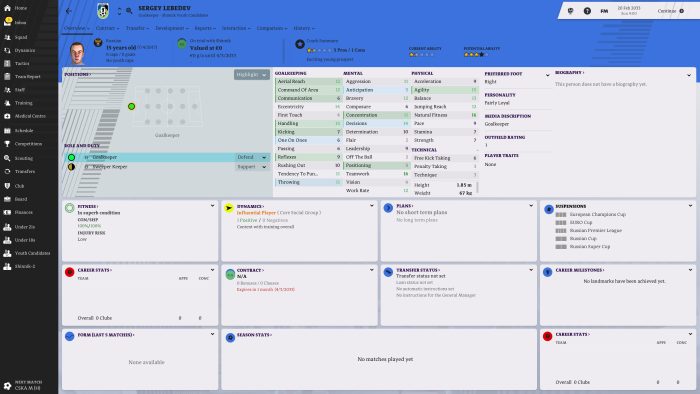 Yeremin is tall and has decent mentality. He's out of position for my team though.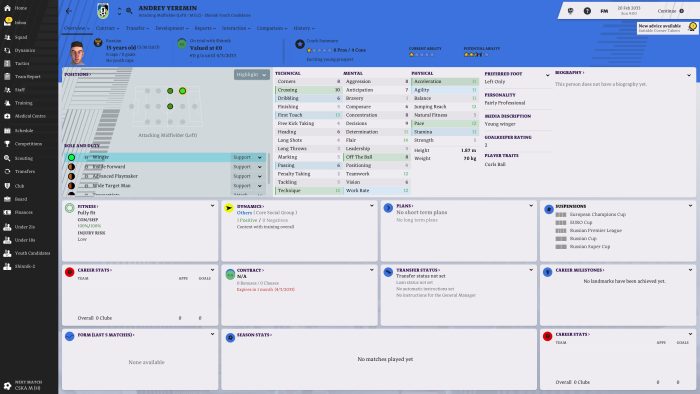 Gavrilov has some potential but the current ability is dire. And, that's from "exceptional junior coaching"?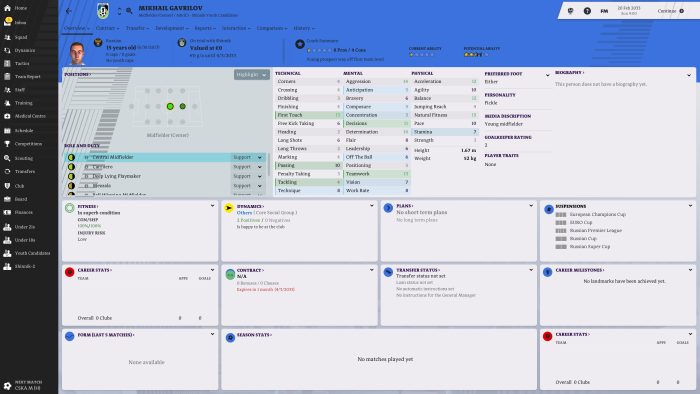 I signed Larin because I have only two right wingers at the moment. However, would I even consider starting him even if the other two are not available?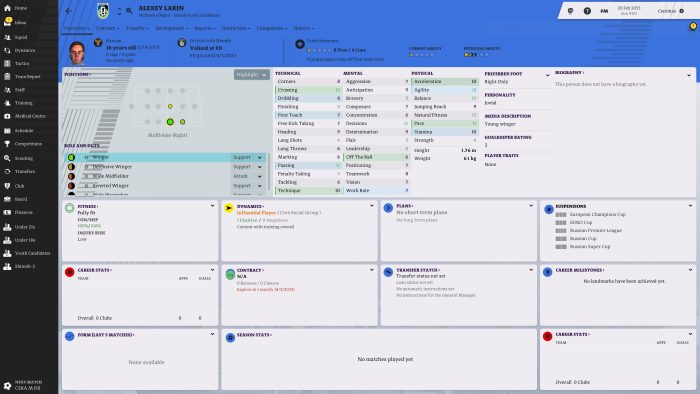 And we have a randomly generated Chinese player this time. Unfortunately he isn't worth signing…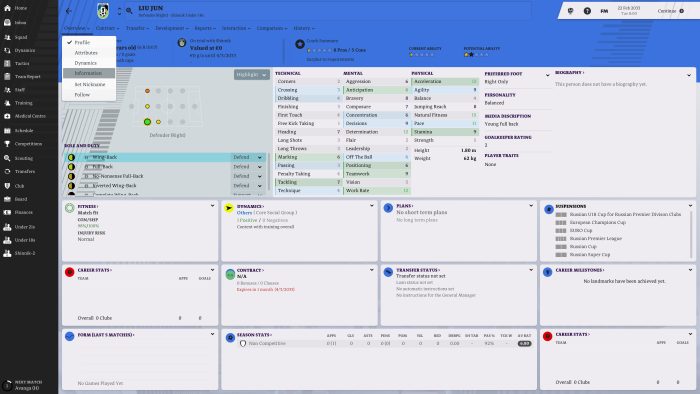 Season Summary
This screenshot says it all, we dominated the domestic competitions.
However, we failed to win the European Championship playoff, and had to make do with another season in the Europa league. Which, financially, was much less viable than the real thing. We lost in the first knockoff round against Olympique de Marseille.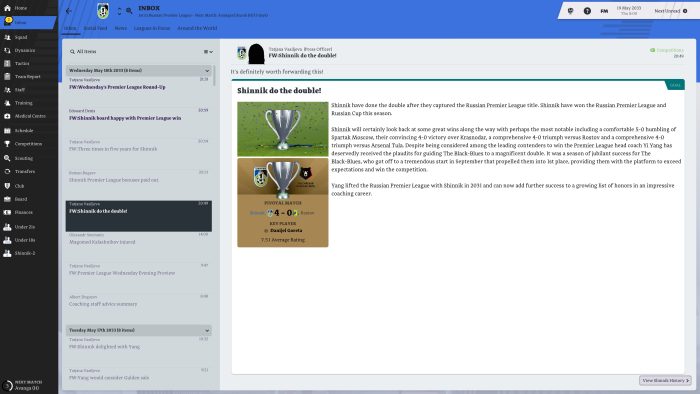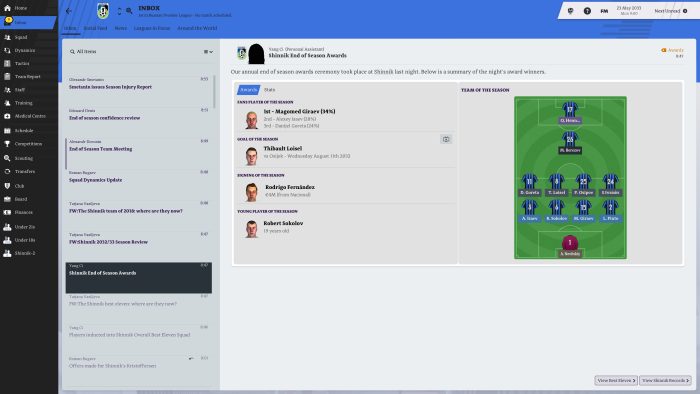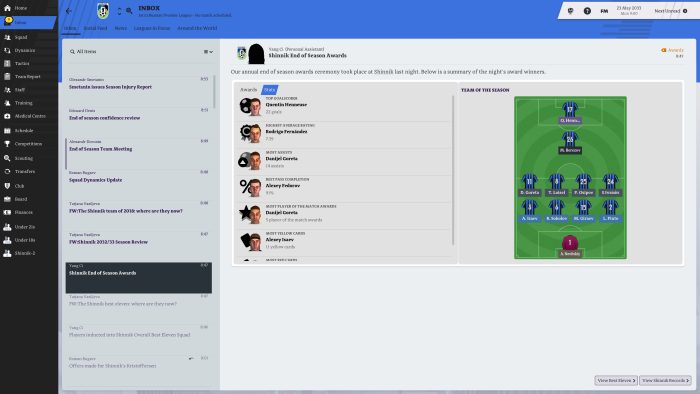 Player Improvement
Pavel Osipov probably has the biggest improvement this season.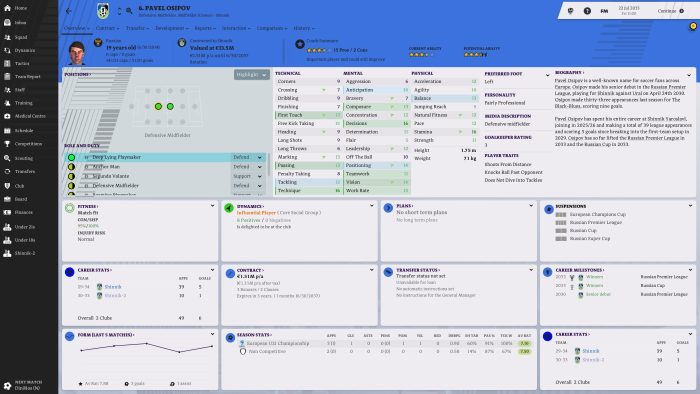 Milicevic achieved amazing improvement in half a season.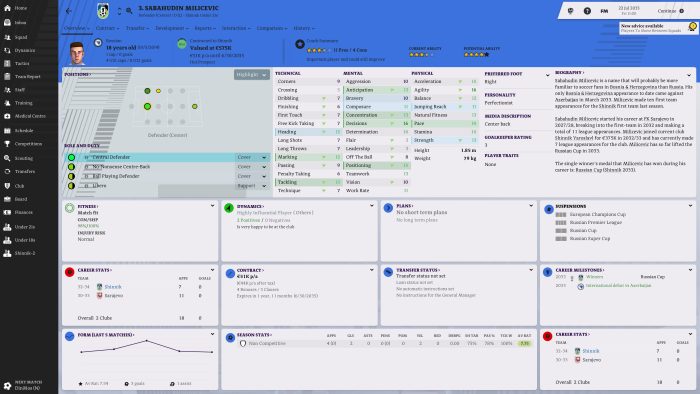 Pettersen has improved a lot as well. However, he lost professionalism for some reason. A potential line of reasoning was that Isaev lost professionalism in the last season, and Isaev's social group included Henneuse and Pettersen, and thus they lost professionalism as well…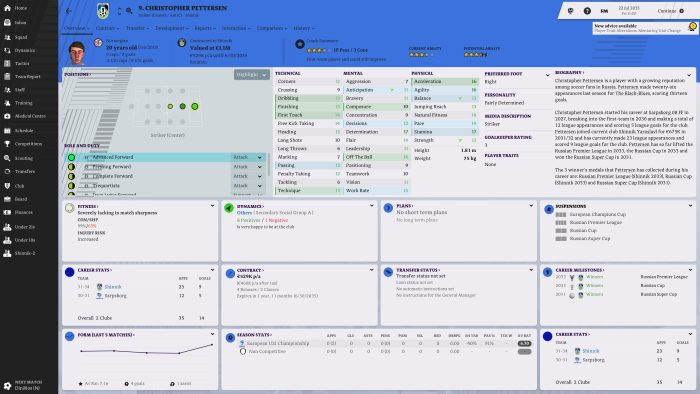 Rodrigo Fernández improved a lot. The screenshot happened after an injury, but he's recovering.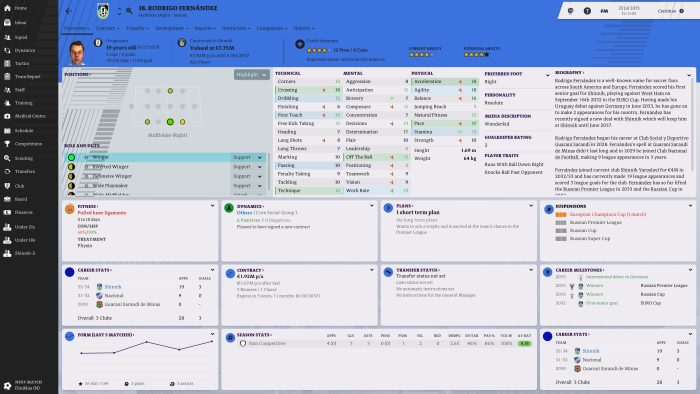 Kurbanadamov remains unambitious, but he is still improving.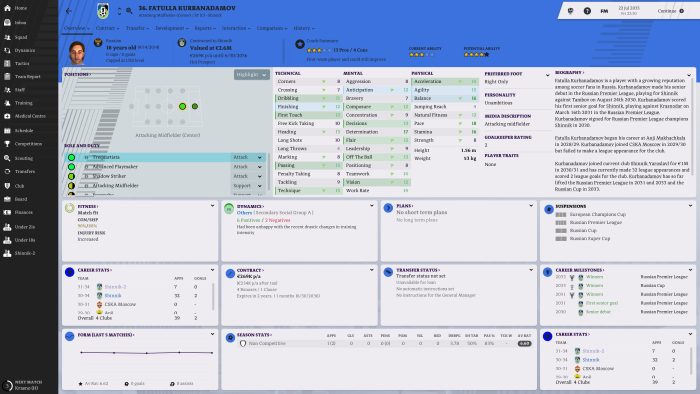 Dmitry Vorobjov becomes a first team player.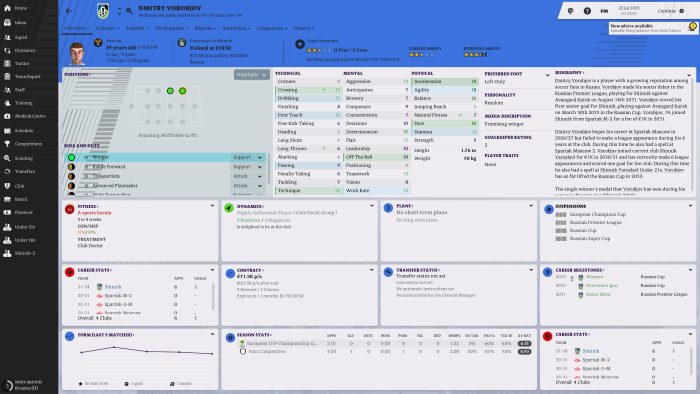 Team Overview
I finally understand how to use Henneuse's agility. And Goreta provides another amazing season. Milicevic failed to enter the best eleven only because he was signed in the winter and only participated in the second half of the season.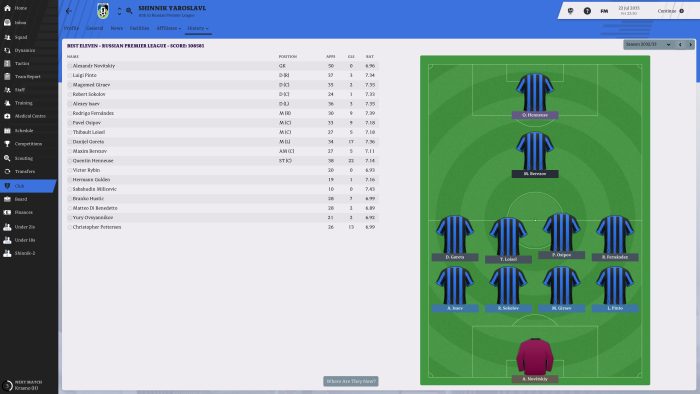 Finances
As said before, apparently the Europa league is €23M below the European Championship in terms of income. Our financial situation resets itself but that was because we sold Zumdick for a huge fee, which is something we are probably unable to do again this season. Hence, I think it is clear that I need to stay in the European Championship to be stable financially.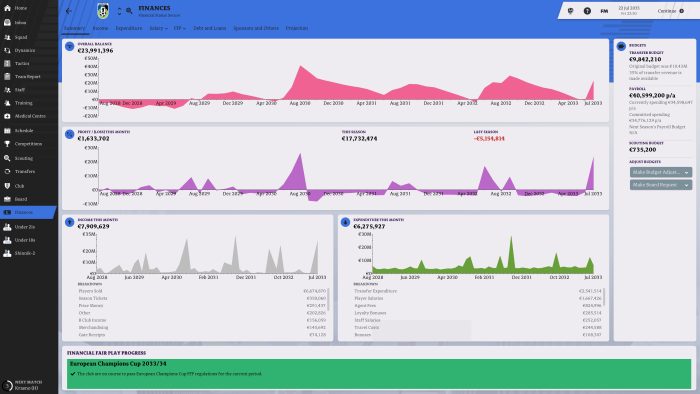 The €23M number comes from this commercial summary…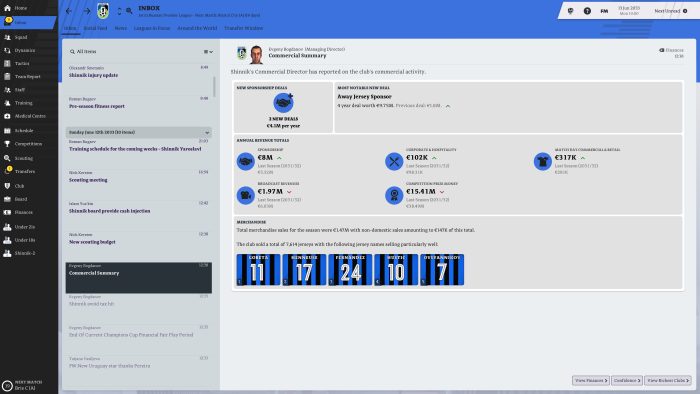 Anyways, we are hit again with the "we don't have the money to upgrade youth training facility" message this year. But I figured out that by immediately asking the board again after receiving extra income, I was able to re-schedule it to early this season, when the club should have some cash.
Concluding Words
The next seasons sounds like an important opportunity to build upon the recent success. Another season in the European Championship, and we should be much safer financially and attain higher reputation.