The season is also special in its own: it is the first time we win the league consecutively. I am pretty sure this is not yet another random statistical trick to make up things, since that being in the European Championship does seem to have some negative impact to the league performance. Fixture congestion, having to buy more players to avoid people complaining about the lack of squad depth, and having to deal with too many players complaining about playing time as a result, these are all unique challenges to consecutive winners.
And, despite being actually a very shambolic season, we somehow managed to overcome the above-mentioned difficulties.
Player Changes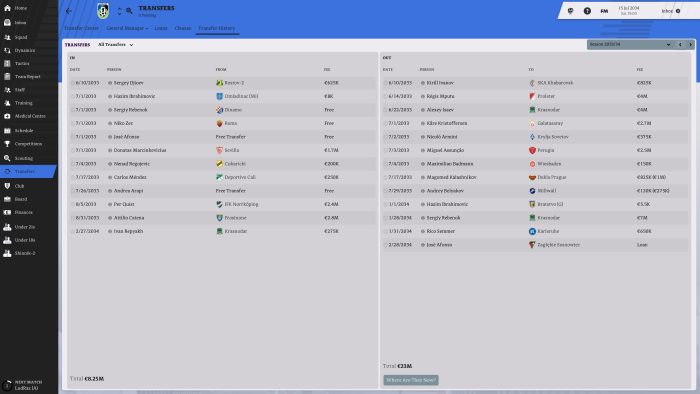 Did I mention that my forward duo changed from "resolute" to "determined" last season? Now I understand that the real sin was pride, having too much success at a too young age sometimes does damage to one's personality. But at the start of the season I did not figure this out, hence I conjectured that it was Isaev's influence in his mentor group. Which would make some sense as well, but it was probably not the dominant reason.
Anyways, the transfer decisions in this season were heavily affected by this conjecture. If you wonder why I was buying so many strikers and selling Isaev who was performing well, then the answer is this.
One-Season Deals
Sergiy Rebenok (free transfer in, €7M out). Wanted to replace Henneuse and Pettersen, but in the end that never happened, and he did not get to play much. It was a good profit though.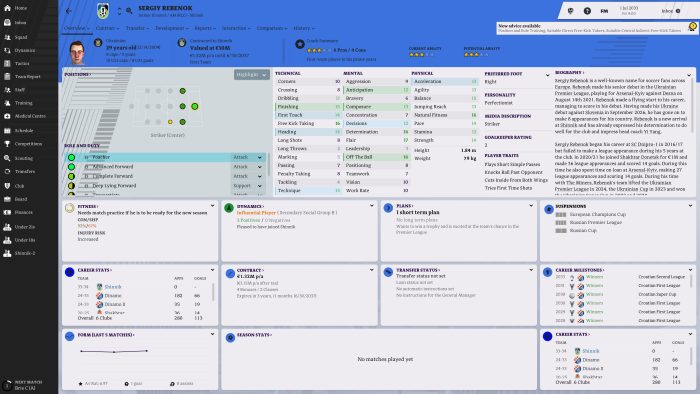 Renad Regojavic (€200K in, €400K out). Similar story, but for Isaev. I have better choices than him on the left back position (something I could not foresee at that time), so he was only utilized a few times.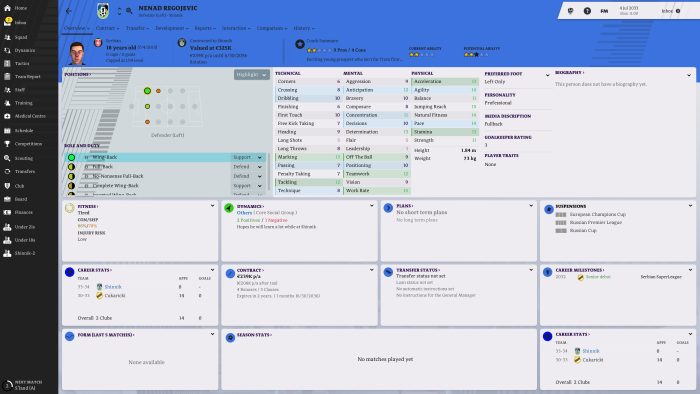 Andrea Arapi (free transfer in, €500K out). Technically can play both as a central defender and as a central midfielder. In practice, it means he lacks quality in both positions and I cannot find a way to utilize him.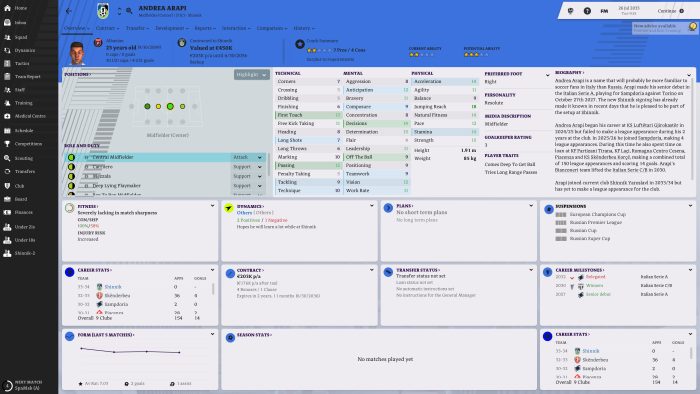 Transfer-In
Donatas Marcinkevicius (€1.7M). He's back! Now that I (wrongly) sold Isaev, Marcinkevicius being back is about the absolutely best thing I could have, except Zumdick being back which would have been better, but it had not happened yet.
In 2031, he left us for Real San Sebastián (well, it's the in-game name for Real Sociedad) for €7.75M, one year later it's Sevilla for €3.7M. So, €1.7M is an absolutely fair price. The Spanish clubs really have good full backs though.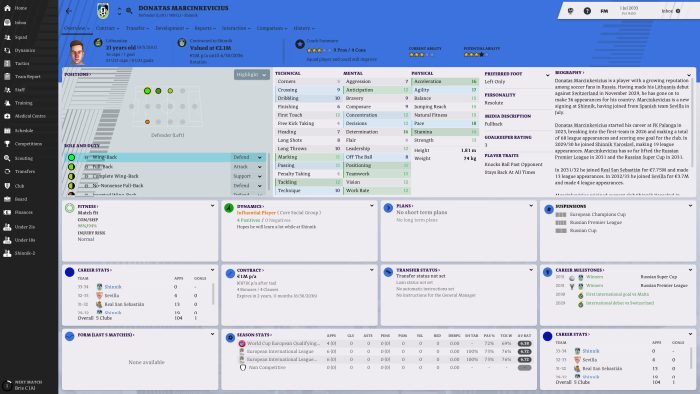 Per Quist (€2.4M). He's the ideal replacement for Henneuse, if I could find a way to make him to score. So far, no results. It also took me some time messing around options until I realized I needed early crosses to really play to Henneuse's strengths, that is, awesome first touch and agility. But Quist is different and I need different means to get a result.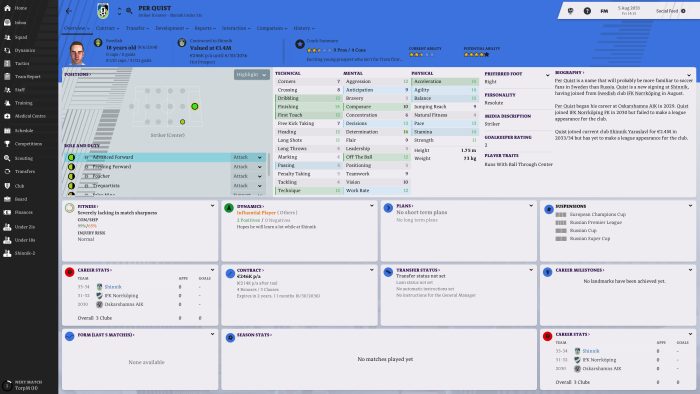 Attilio Catena (€2.8M). I didn't plan it, but Pinto was injured early in the season and I don't think one Megamadov can handle all the matches, so I brought him in. He has been awesome in the few matches he started.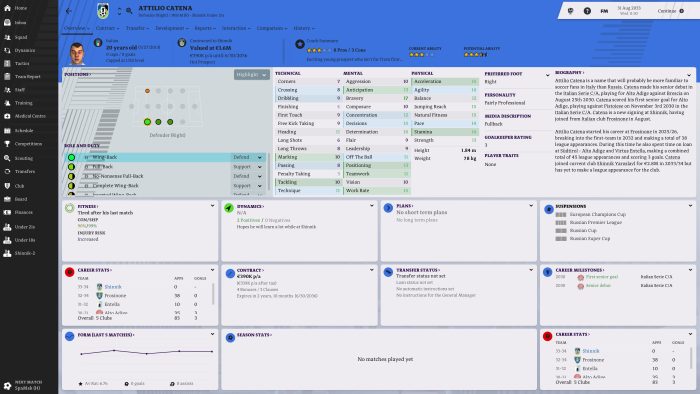 Niko Zec (free transfer). Why are all attacking midfielder in the game so short? They can't all be Maradonas. Anyway, Zec seems to have all the useful abilities, but every time I start him he was playing poorly. At first I thought it was a language problem or a tactics familiarity problem. But a few months later he is still poor, which puzzles me.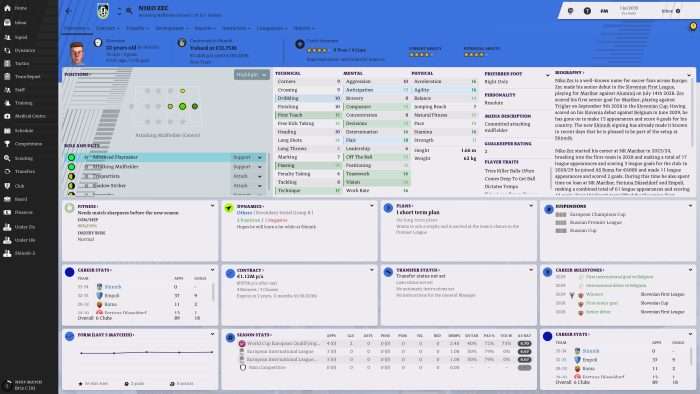 Carlos Méndez (€250K). He is the reason Regojevic doesn't see much play. Good and still improving.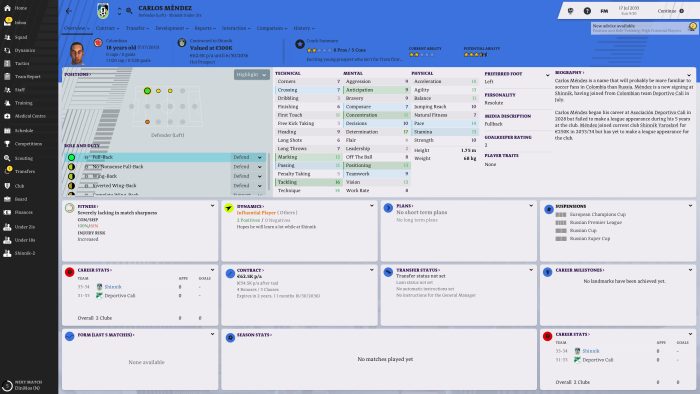 And, Ivan Repyakh (€275K) in the winter window, because Ovsyannikov was injured and I desperately need another right winger. He went on playing a few important matches, and scored 3 goals this season. Each goal was very special long shots that creates a chance out of nothing, and each goal changed the result of a match (typically, forcing a win at the 80 minute).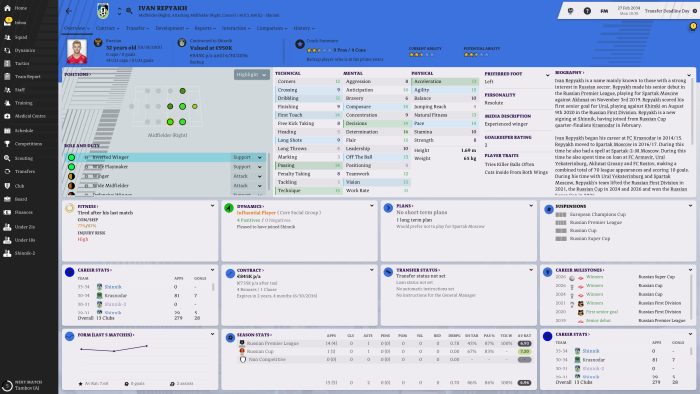 Transfer-Out
Isaev(€4M) was sold because the above-mentioned problem of a highly influential player with not high enough professionalism.
Kristoffersen (€2.7M) was complaining about having not enough chance, and with Goreta performing well in the last season I saw few option besides selling him.
Other players sold generally did not feature much in matches. However, they do create a healthy profit for the club, which is nice.
Youth Intake
Youth intake time!
Me complaining about the lack of quality in youth intake has been a running gag for the previous seasons. But here's the proof that I was not just retelling the joke every year: I actually look at the team and give my thoughts! It was just that they have been poor for a few years.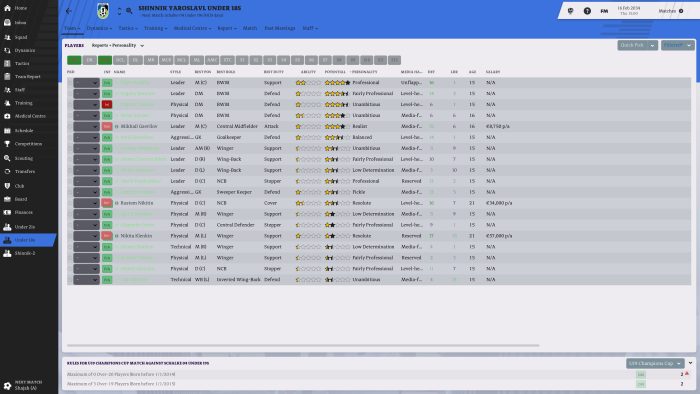 Elşän Yusifov is the evident that our youth setup is able to produce good players. He is almost good enough to start games immediately, making up his lack of strength and technique with his hard work and teamwork. Note that his style is listed as "leader" in the overview, despite a leadership of 1! He's the kind of "leader" who tries to make everyone else happy, I guess.
And, random fact: "Yusifov" means "son of Yusuf", and Yusuf means Joseph. "Osipov" means "son of Osip", and Osip also means Joseph… Kind of interesting to field the pair in the midfield.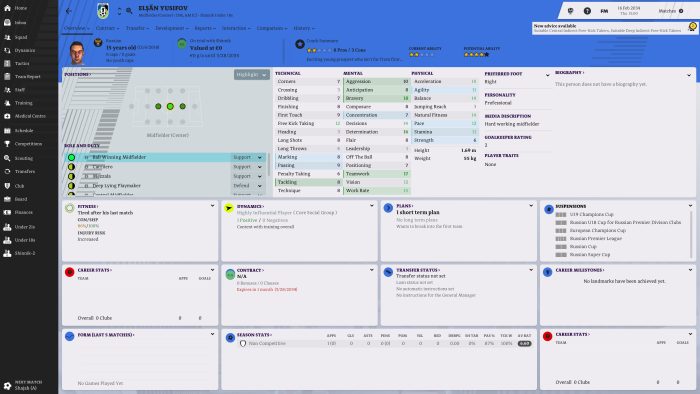 Evgeny Baranov. Unfortunately I don't often use a defensive midfielder, so the current plan is to retrain him into a central defender. Retraining like this usually fails though.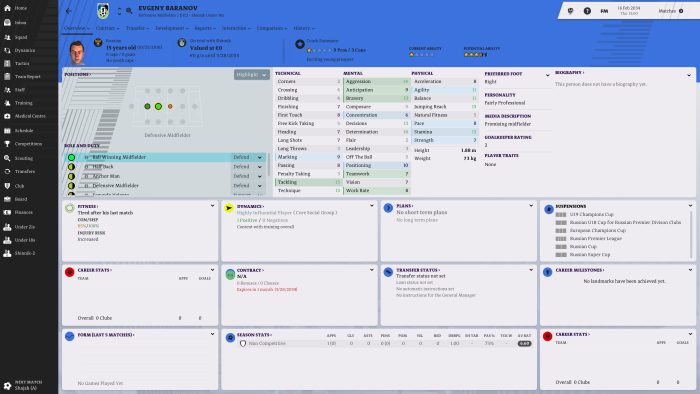 Season Summary
We won the super cup and the league. The league was particularly close: I needed a win and I needed other two opponents to not win in order to win the league. One of them was winning in the beginning, before returning to level at the 73rd minute. Then, we failed to score until Repyakh rescued us in the 92nd minute. Before the match day, the probability we win the league was probably less than 1/10, yet it happened and it felt very good.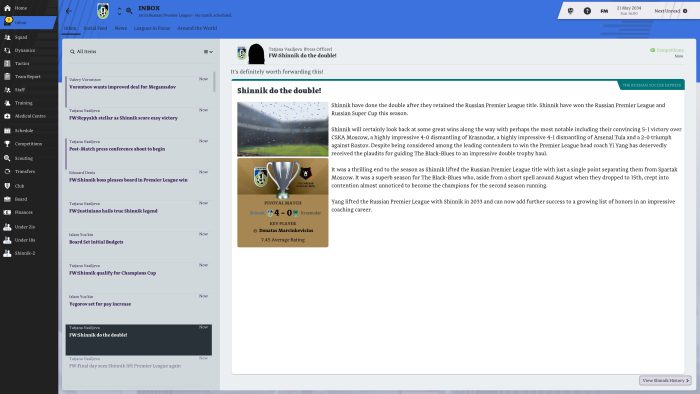 The national cup result wasn't satisfactory: we lost to a team that's also relegated this season. I think it might have something to do with me giving reduced bonus to cup matches. Will experiment with this next season.
The European Championship result was poor as well. Granted, being in the same group with Spurs and Real Madrid isn't the best arrangement, but things would have been different if I at least draw one of the games against of them.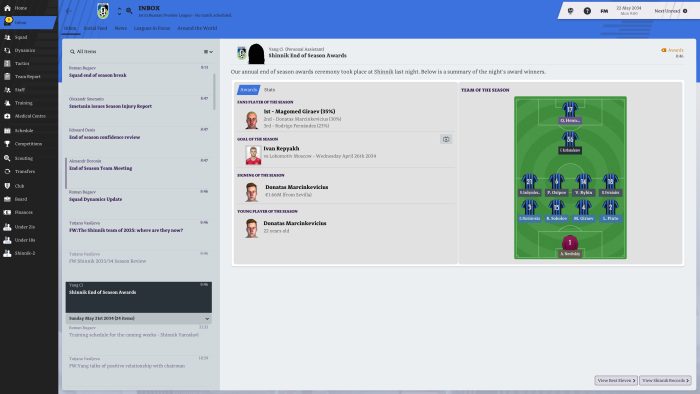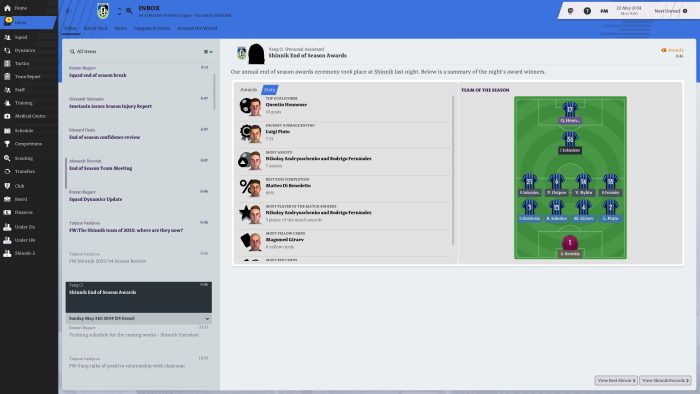 Player Improvement
At lot had happened to Kurbanadamov: he gradually improved himself, establishing his position at the club, then, after a successful season, was hit by the "might have been somewhat complacent" status. At the time of the screenshot he had already been sold — but this is already the next season 😉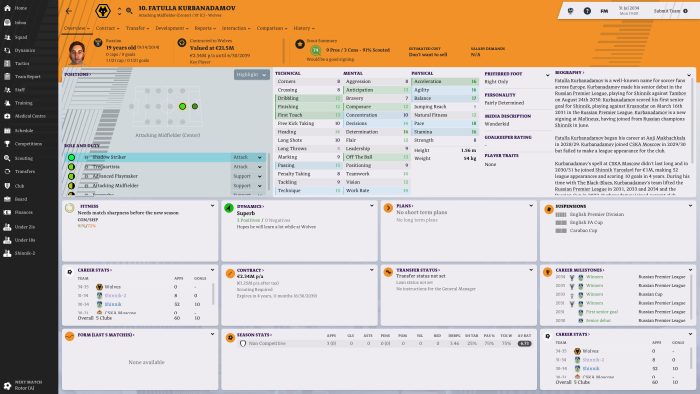 Elşän Yusifov quickly improves every facet of his game.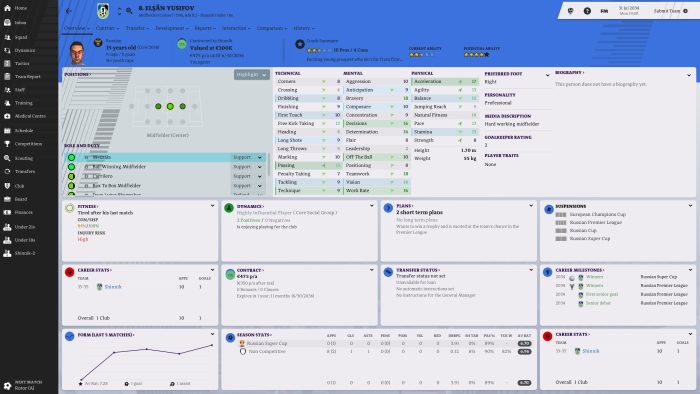 Carlos Méndez gets better as well.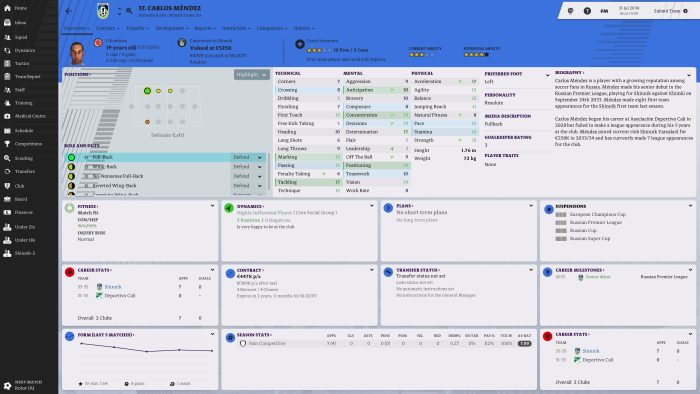 Media starts to call Milicevic a wonderkid.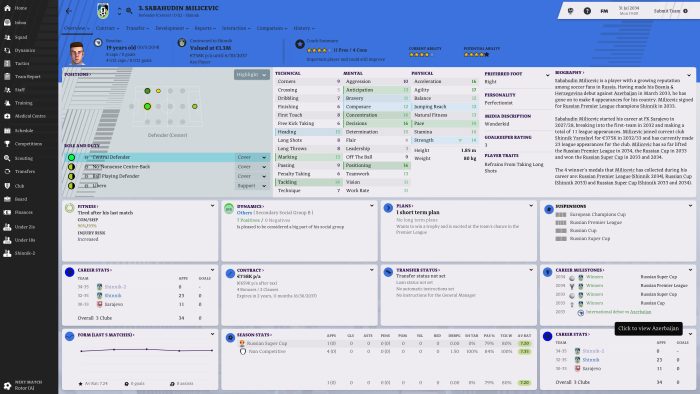 Despite the lack of success in actual games, Per Quist's improvement gives me hope that he'll be ready in the next season.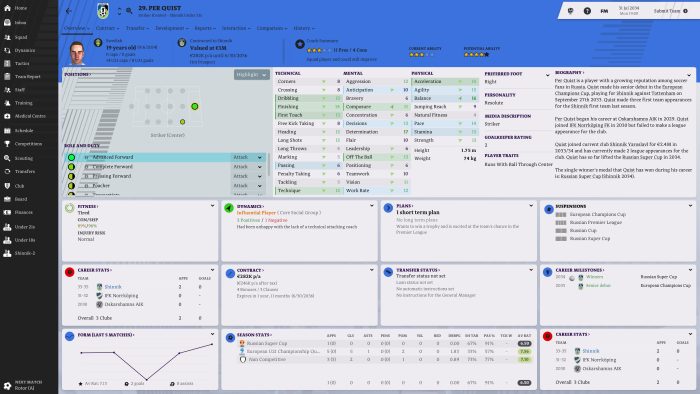 Finances
Due to profits from the transfer market and the fact that we made into the Championship consecutively, we have a ridiculously large budget now.
Also, the financial security means that upgrading facilities are no longer things to worry. We'll soon reach state of the art quality in this department.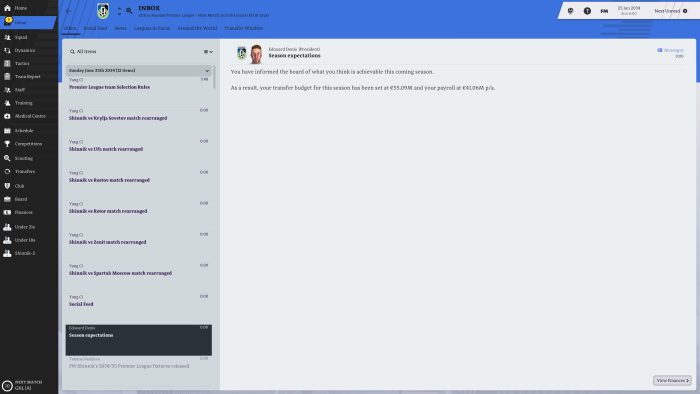 Scouting Knowledge
Scouting Knowledge was a subsystem I ignored for the past few seasons. Part of the reason was that I didn't have enough scouting budget to do much. And, region scouting rarely resulted in players I would like to use, hence I relied much more on using the "Player Search" functionality.
It was a mistake though.
The result of Player Search depended on Scouting Knowledge, Scouting Knowledge depended on region scouting. I didn't see much result from region scouting, so I aborted them, and then the quality of Player Search deteriorated without me noticing that.
The fastest way to fix the knowledge problem is to hire a staff from the respective country. However, this runs into a chicken-or-egg problem: Staff Search also depends on Scouting Knowledge, and without the latter, I cannot find anyone to hire!
Another way to break the viscous cycle is to get a foreign affiliated club. The problem is that I have used up that board request to set up a loan destination recently, and have to wait for a few months.
Hence, my current plan is to rebuild the scouting knowledge the hard way: sending out all my scouts to the top nations, spend a few months, get the knowledge, then hire staff to establish a more permanent kind of knowledge source. Failing that, I'll try it later with the affiliated club idea.
Concluding Words
There's the feeling that the "hardship" part of the game is over. However, the happy time all builds on the ability to consistently win the league and enter the European Championship, which is a very shaky basis for me to build too much upon. It could take another few seasons before I can safely say that the domestic league is no longer a thing to worry about and Europe is the true game.
And that's assuming that I survive in these few seasons.