Quick summary: club turns semi-professional and won promotion from the Tweede Klasse to the Eerste Klasse.
Club turns semi-professional
As I have said, the 4th place of the first season is actually underwhelming compared to the real life result. However, as the season ends the club suddenly announces that it turns semi-professional!
Surely, there are some balance concerns of this fan-made database.
First, the club asks me whether turning semi-professional is a good idea. I said yes, because, why not?

And then it happened.


To my surprise, however, the club is apparently rich enough to decide to build a new stadium.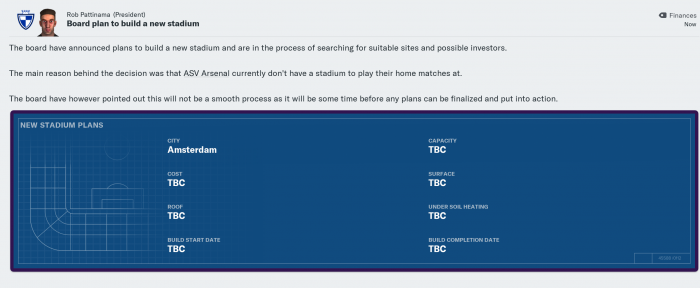 Those "TBC" are quickly replaced with real numbers.

Yeah so I will wait a year before—
Wait, it's already built. Don't ask me why, apparently they wrote a building plan of 13 months and then made it in a few days.

Yeah. A new era dawns at super fast building techniques. Anyway, this is a football managing game, not a stadium construction game, so minor error is tolerable, especially when fan-made database is also in play.
Matches
As the league has 14 teams and 2 rounds, 26 matches are to be played per season. Turns out this whole season almost became a winning streak, and we are promoted with 4 games left and 16 points above the second placed team: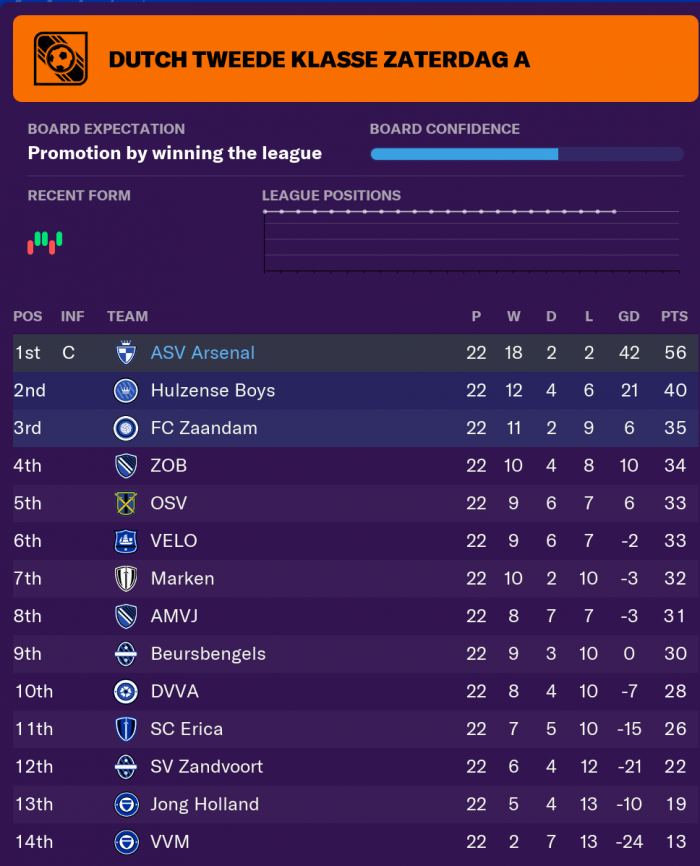 The particular match that won our title was a 6-0 victory: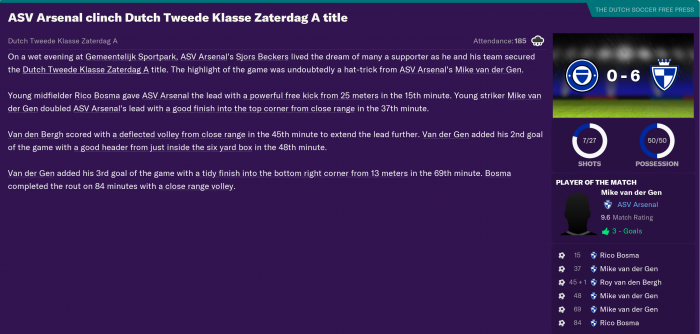 The medias think another few matches are more pivotal though.

Anyway, the four remaining matches also all ended won, and our team, ASV Arsenal, promoted with a ridiculous 68 points.

And… my players appeared in almost every statistics rank list.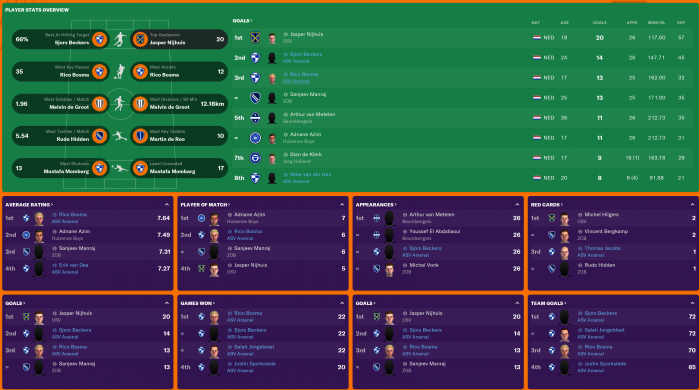 Players
The star of the season has to be Rico Bosma! Despite the screenshot showing attributes falling, actually he had a good season and his attributes have mostly improved.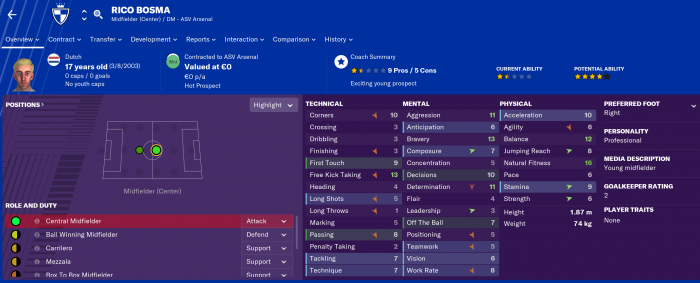 Also, he successfully changed from a defensive ball winning midfielder into an attacking central midfielder. Which is probably good for the team, since we have more defensive ones than attacking ones available.
Maurice van der Wal had a good season as well.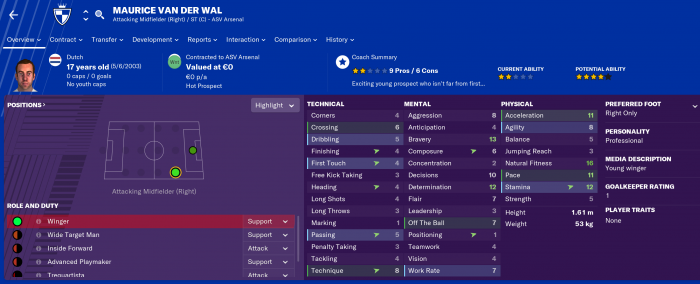 Abdul Hoek was also a youth production but I only started using him since about the middle of the season. The reason is that he is the only youth player that is both professional and has high leadership. I guess that's a very useful combination if we have the next few years in mind. On the other hand, if we promote again, maybe all the current players would be too weak. Who knows?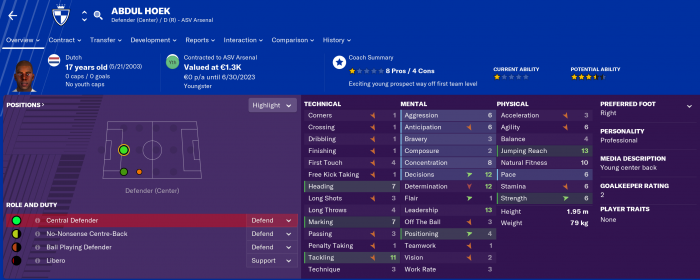 This season's youth intake might not all have the mentality I would like, but they have raw power: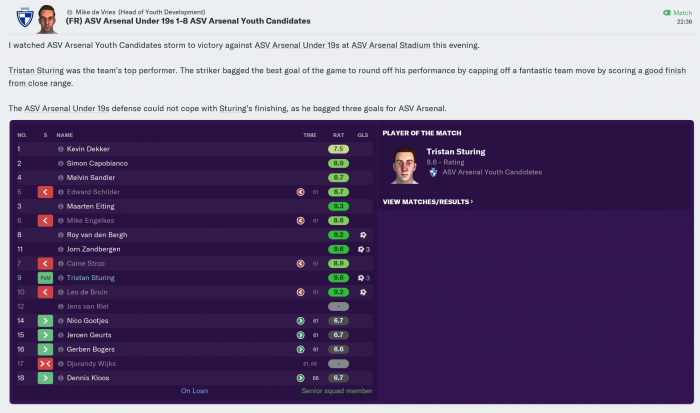 This batch is represented by Roy van den Burgh, an unambitious but really good attacking midfielder.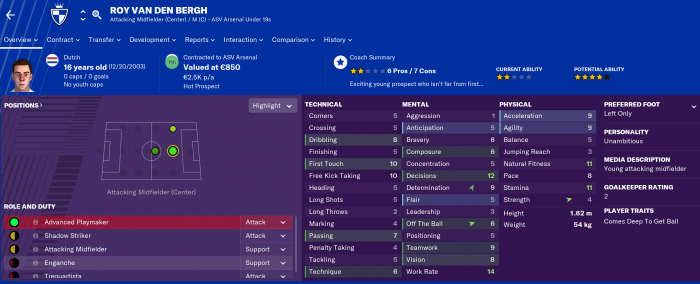 As for transfers, Mike van der Gen and Erik van Dee (played as a right back) are very good additions.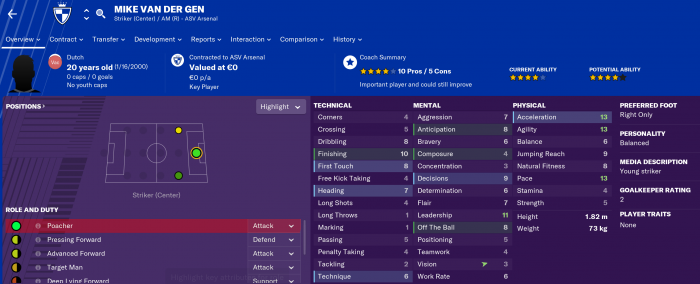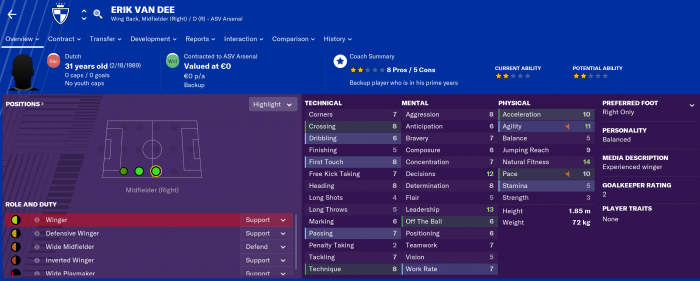 Bad news included that Xavier Netteb and Polino Luiza were yoinked by other teams. The thing about amateur/semi-professional teams is that signing a player is usually so cheap, that clubs simply do so when possible.
Seasonal Best Eleven